Strawberry Christmas Tree Tartlets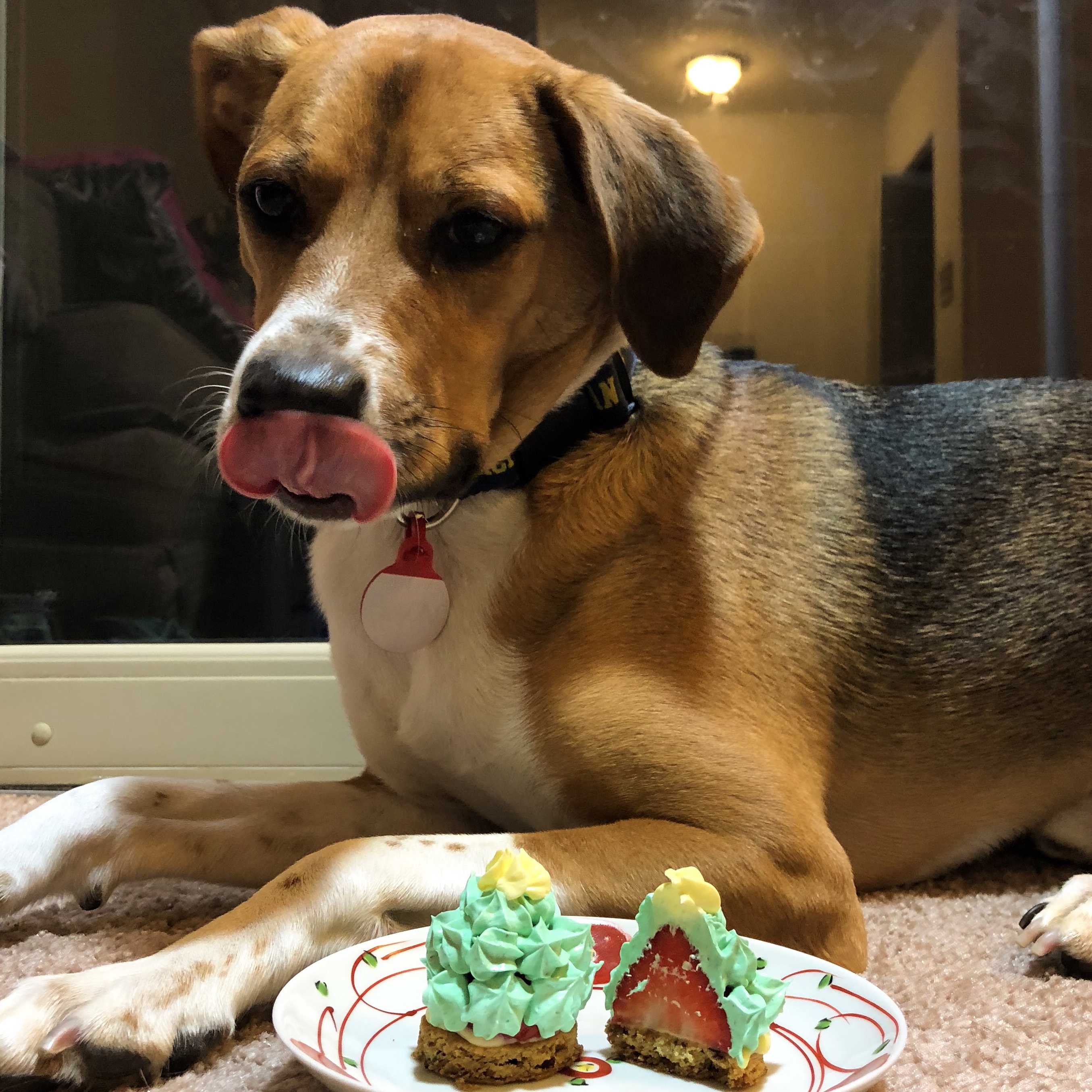 DISCLAIMER: This recipe is for humans not dogs!
A few days ago, little strawberry Christmas tree tartlets were on the front page of Reddit. Unfortunately, they were made by a chef so there was no recipe. But they were so cute! So, I decided I was going to try to re-create something similar at home and post the recipe so people could actually make them. I did hit a few snags as one always does when they see something online and decide to recreate it.
The grocery store I went to was out of star sprinkles. Seriously, how can you not overstock star sprinkles at the start of the holiday season?!?! Anyway, I had to use frosting. If you make these, I suggest star sprinkles. Less work, less mess, less time, win-win-win.
I didn't have a forest green food coloring at home so my trees turned out a lovely Springtime, leaf green. It's a new trend I'm setting. Christmas trees look better when they're cheerfully bright green.
Turns out my coffee grinder is broken. How is that a problem? Well, for one, I didn't get to have my usual coffee. More importantly, it's kinda hard to turn pistachios into dust with a blender. But again, oh well, life happens.
However, they turned out as good as I could've expected so I'm not complaining. They are a pistachio cookie base, a lil' bit of vanilla custard, and a nice round strawberry, covered in pistachio swiss meringue buttercream.
NOTE: This tutorial is set with recipes to make 24 Christmas tree tartlets.
Things you will need:
Some kind of tip to make pine needles. I used an open star tip. Also, small/medium size tips are better than large ones.
A 1.5″ round cookie cutter.
1. Bake the Pistachio Cookie Bases
I decided to make the entire dessert based around pistachios because strawberries and pistachios pair pretty well, and pistachios are green. Pistachios being green was more important for the frosting. Really, any kind of crunchy, flat cookie can be substituted for the base. The most important part is using the cookie cutter to make perfect circles as soon as the cookies come out of the oven. It's important to do it while they are super hot because the crunchy cookie base is still soft and cuttable at this point. If you try to cut them later you will either have no luck, or lots and lots of bases that crack into pieces. If you're feeling super lazy and want to do no baking, I would imagine Nilla wafers or the cookie part of Oreo cookies would work as well.
Pistachio Cookies
Ingredients
1/2

cup

shelled, toasted pistachios. (Ground)

1/2

cup

unsalted butter (softened)

3/4

cup

granulated sugar

1

egg

1/2

tbsp

vanilla extract

1

cup

flour

1/2

tsp

baking soda
Instructions
In a large mixing bowl, cream the butter and sugar together until light and fluffy.

Mix in ground pistachios.

On 2 baking sheets lined with parchment paper, place 1tbsp sized balls spread evenly. (~12 per sheet).

Immediately out of the oven, cut the centers out with a 1.5" round cookie cutters. Throw out (or eat) the edges.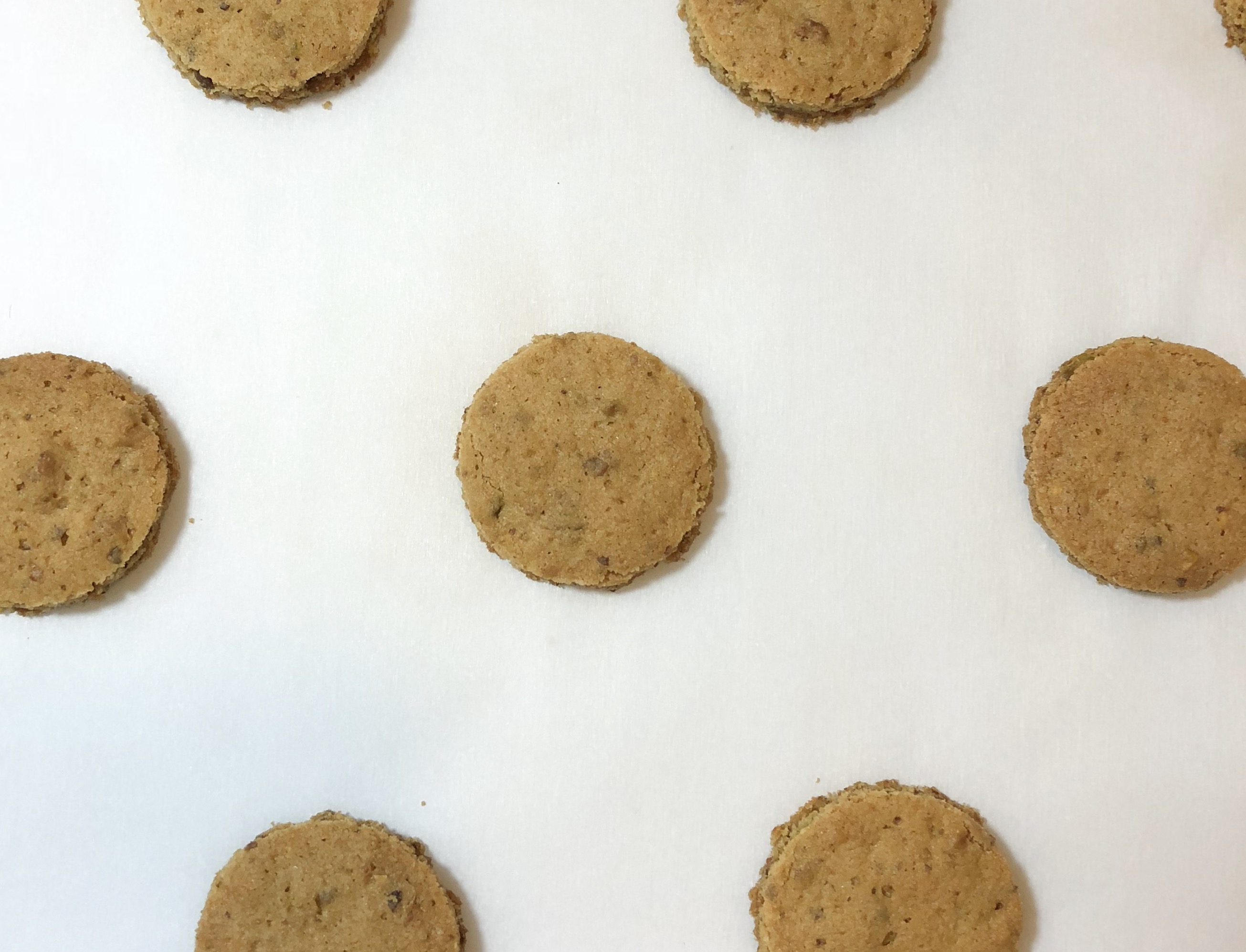 2. Make the Vanilla Custard
Top the cookies with vanilla custard. This is what you're going to use to stick the strawberries to the bases. Really, anything can be used here. You can easily swap it out for buttercream, or, if you're feeling really lazy, instant pudding probably works too.
Vanilla Custard
Ingredients
3/4

cup

whole milk

2

egg yolks

2.5

tbsp

granulated sugar

1

tbsp

cornstarch

1=

tsp

unsalted butter

1/4

tsp

vanilla
Instructions
Scald the milk in a small saucepan. (Basically until it starts to simmer but not fully boil).

While the milk is heating, whisk together the egg yolks, sugar, and cornstarch in a saucepan.

Temper the egg yolk mixter by adding a small amount of the milk in and whisking.

Whisk in the rest of the milk. Stir constantly throughout the rest of the recipe so you don't get some kind of scrambled egg mixture.

Place the saucepan on medium heat and continue whisking until the mixture reaches 170°F and it suddenly thickens.

Remove from heat and continue whisking for 5 minutes.

Refrigerate until cool, then put a dollop at the center of each cookie.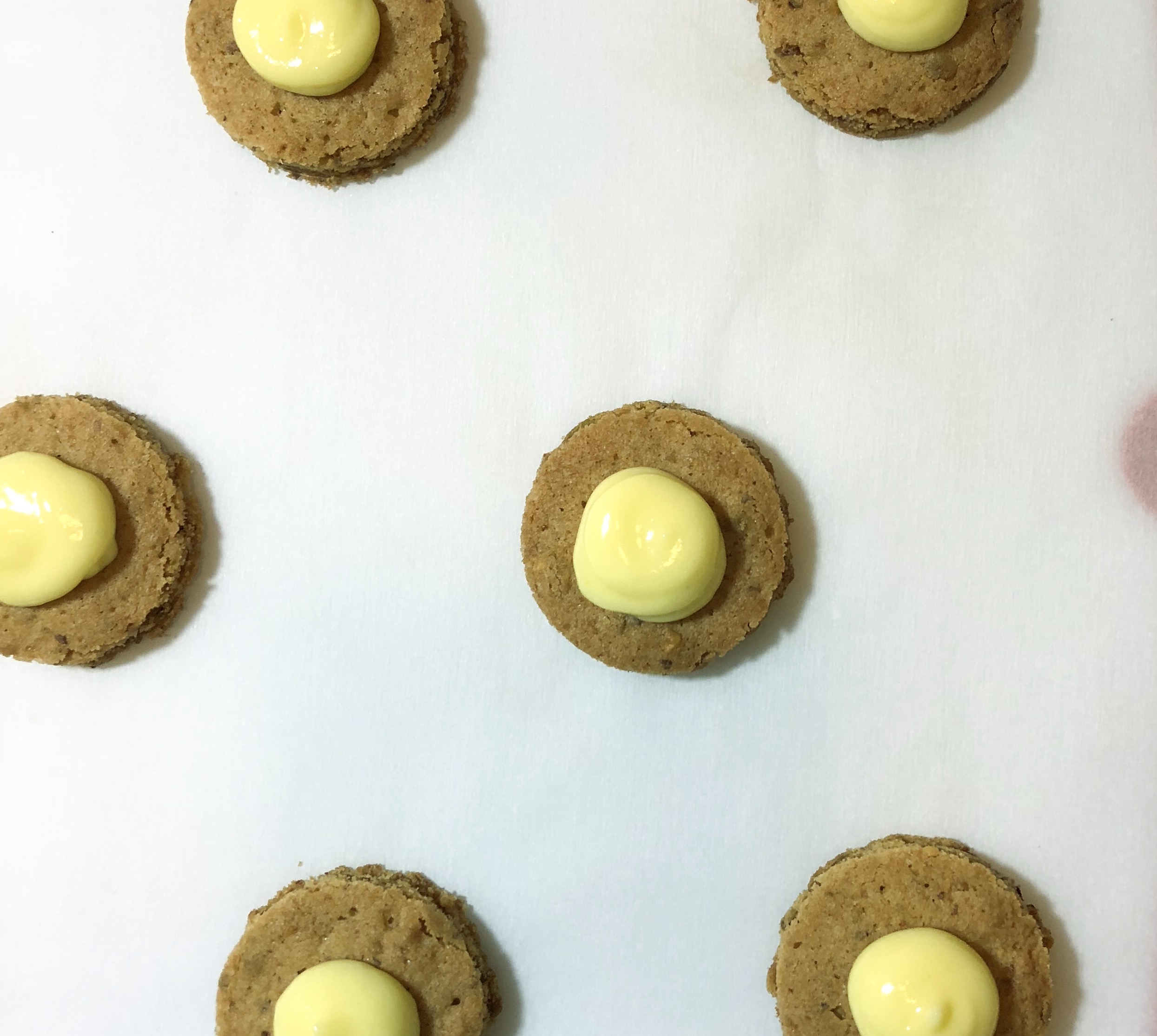 3. Add the strawberries
Pick out 24 smallish, round strawberries and cut the tops off. Keep in mind that the shape of the strawberry dictates the shape of the Christmas tree. Press them onto the bases.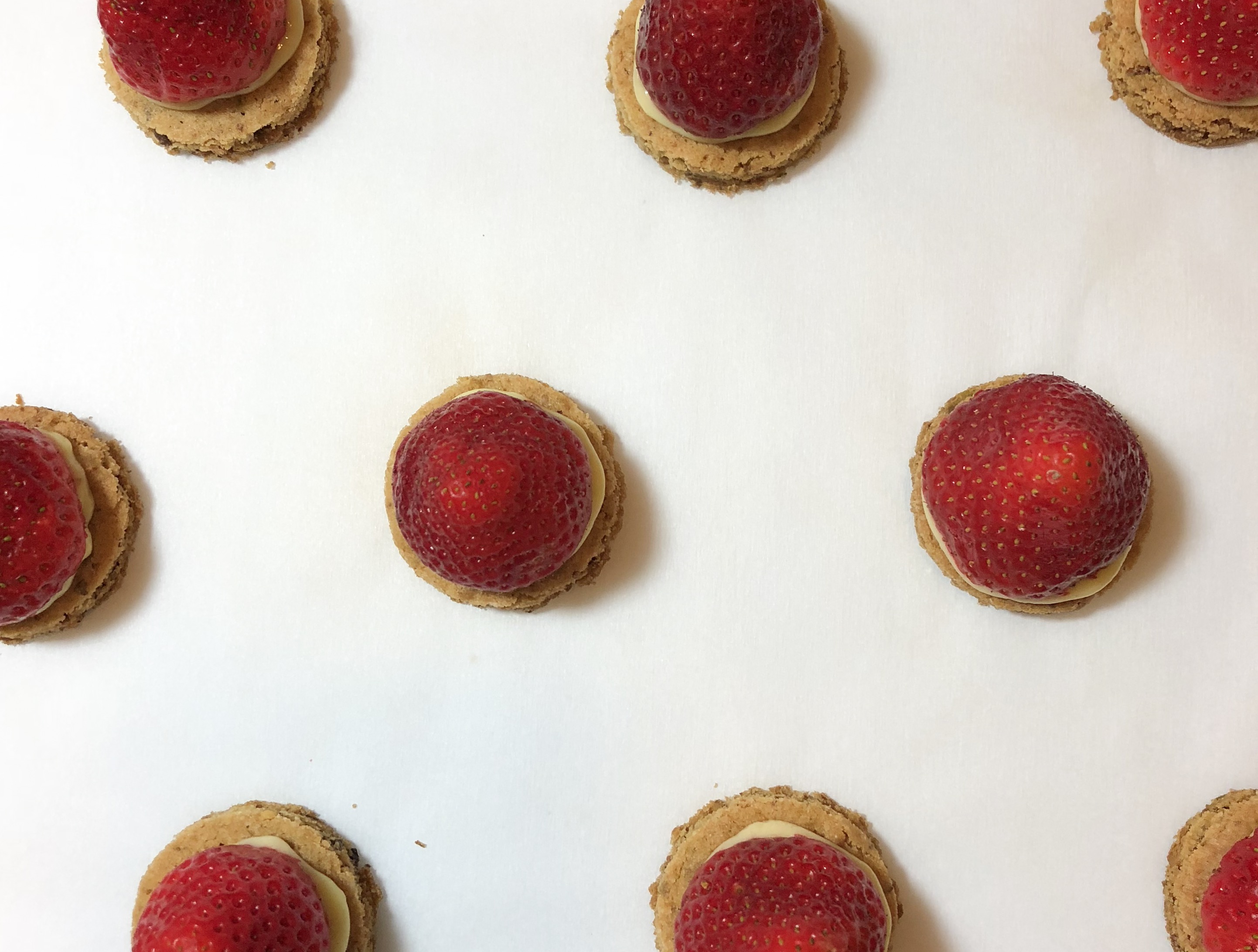 4. Frost with Pistachio Frosting
Make the pistachio frosting. Then, using the open star tip, make small circles all around the strawberry up to the top. Once frosted, top with a star sprinkle (or however you're doing your stars), maybe sprinkle some powdered sugar on top, and voila, all done!
Pistachio Swiss Meringue Buttercream
Ingredients
3-4

egg whites

1

cup

granulated sugar

1.5

tsp

vanilla

3.5

sticks

unsalted butter (softened)

1

cup

shelled pistachios (ground)
Instructions
On a double boiler, whip together egg whites and sugar until they reach 150°F.

Remove from heat and continue whipping until stiff peaks form.

Mix in butter and vanilla, and continue mixing until the texture is right for buttercream.

Mix in the ground pistachios. (Once ground, there will be ~1/3 cup, don't mix in a cup of ground pistachios.)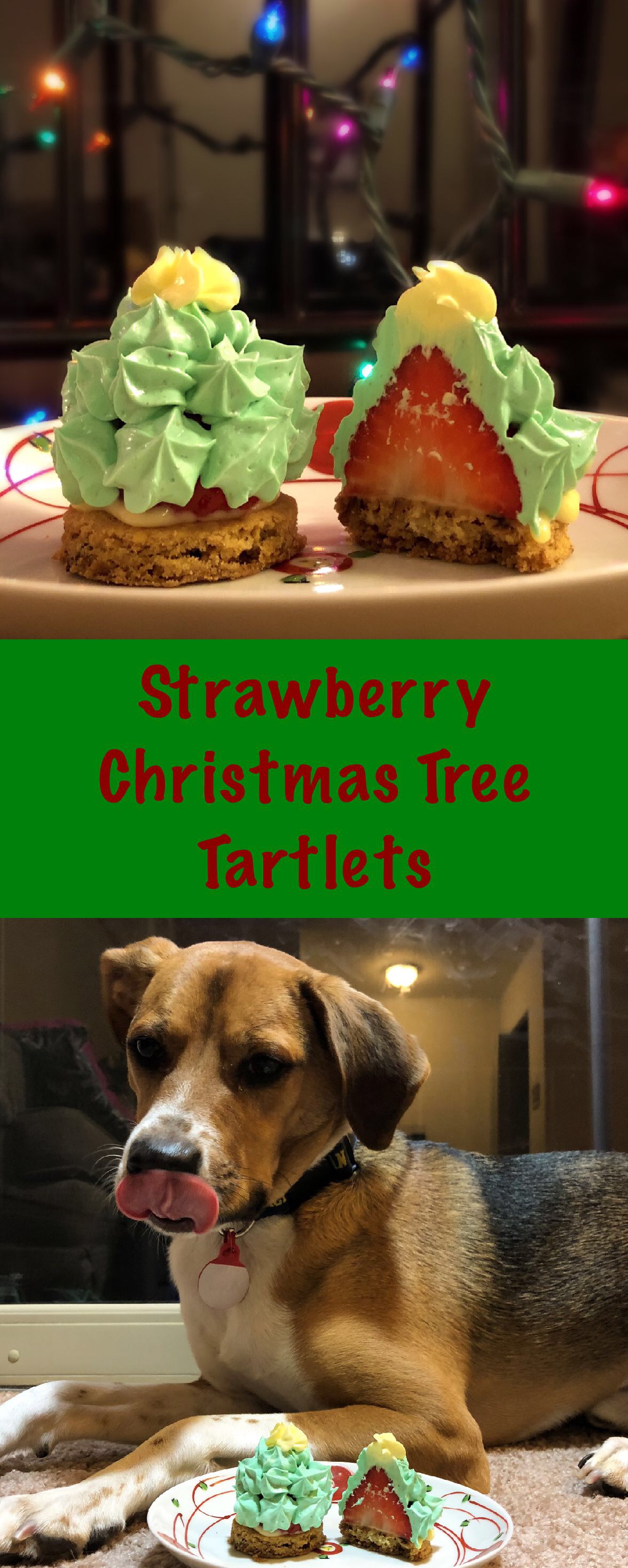 ---
---