Black Forest Cake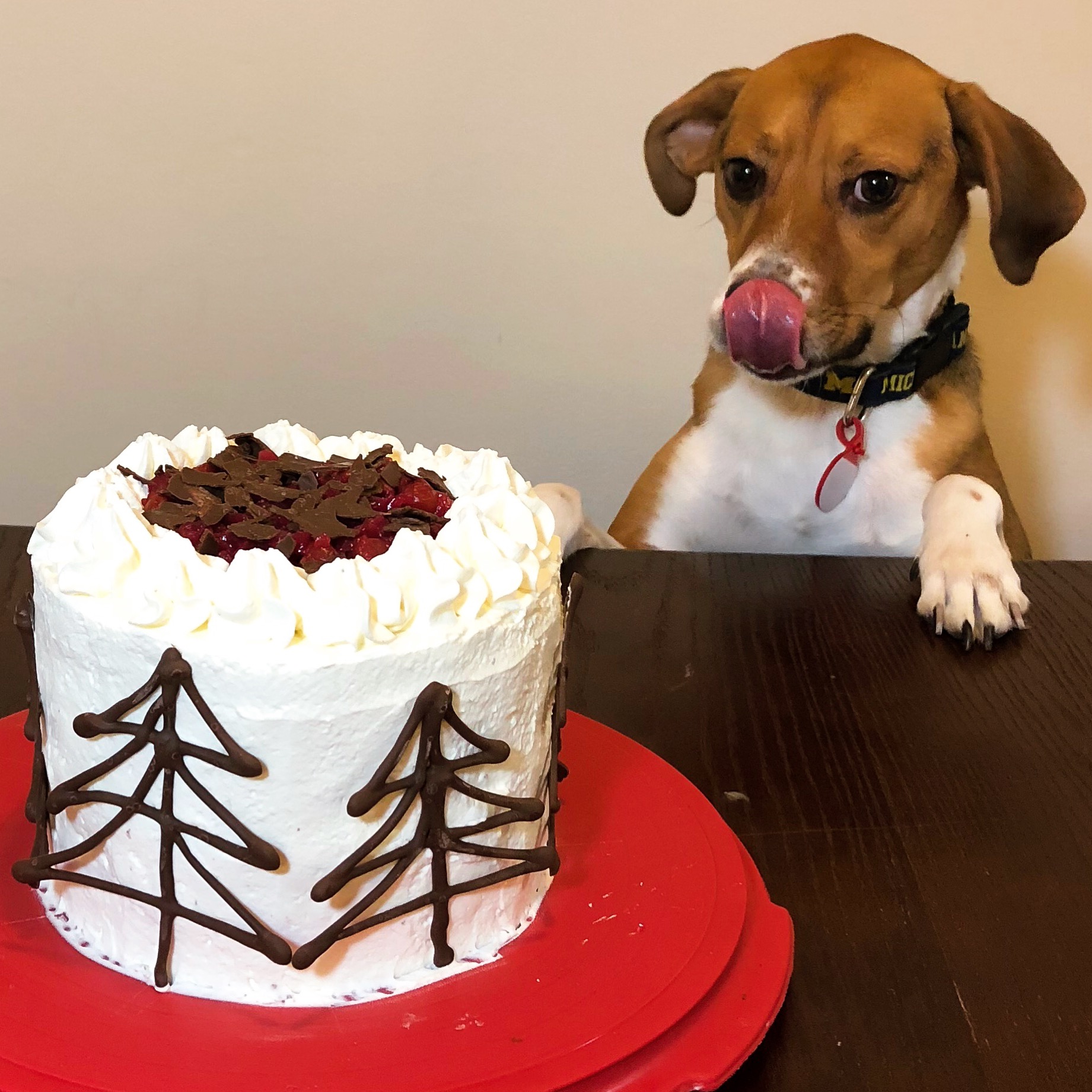 Jump to Recipe
DISCLAIMER: This recipe is for humans not dogs!
It finally snowed a bit last week here, so I used it as justification to make my first holiday cookies and a black forest cake. As a fan of cherries and as a strong anti-fan of buttercream, black forest cake is one of my favorite combos. In other words, lots of cherries, no buttercream. The only downside is that you have to be gentle with the batter or it has a tendency to collapse. But, oh well, high risk-high reward right? Right. It also gave me a chance to try out piping some chocolate decorations. I've tried to do this in the past with, well, let's just say varying degrees of success, but I finally got it right this time. It was mostly thanks to the fact that I learned how to properly melt chocolate instead of desperately trying to get it to melt without chunks.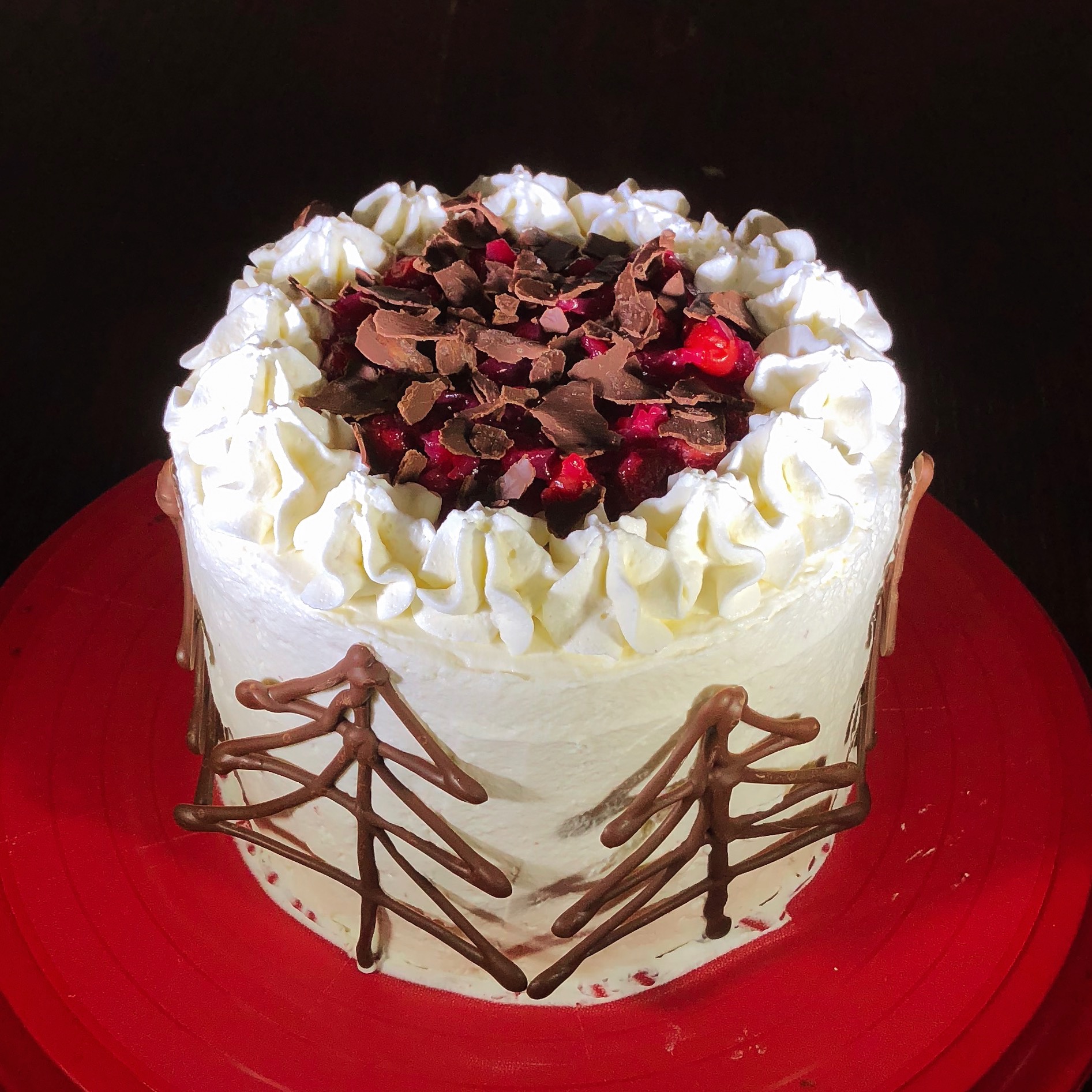 About a year ago, I made a much bigger black forest cake, but I decided to go with a smaller 6″ cake this time. This was mostly because it makes things go faster. Alas, I still managed to mess up big time. I was pretty distracted while making the cake, as I was in the process of introducing my friend to Westworld, and made the mistake of forgetting to turn off the mixer before answering a question while it was whipping up cream. I have no idea what happened, but next thing I know, my friend asked me, very concernedly, what was going on in the kitchen, and I looked over to see a majest arch of heavy whipping cream covering everything in my kitchen in sweet dariy. Pascal could not have imagined a better turn of events. So, note of advice: do not leave your mixer running while full of liquids.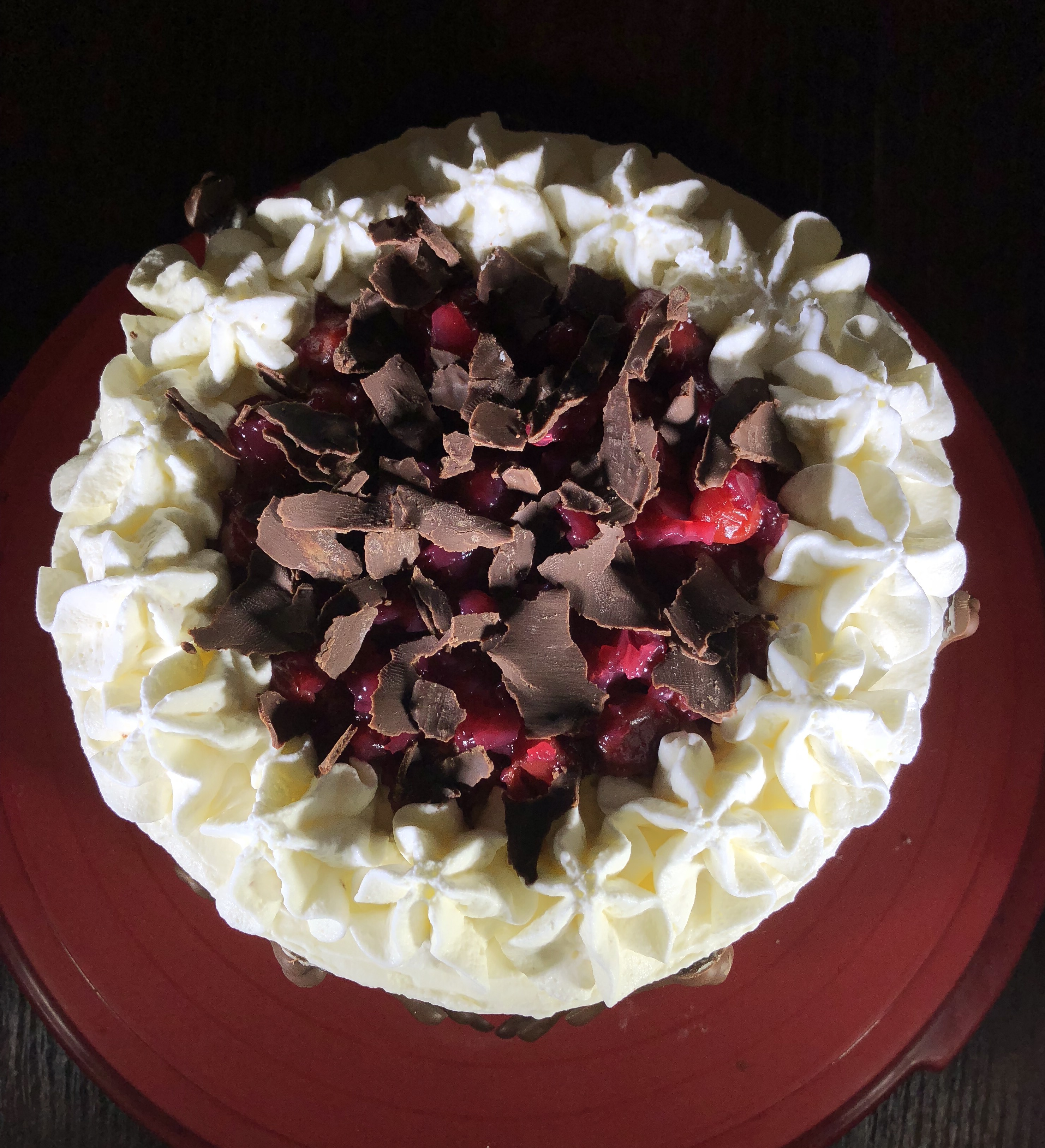 Making chocolate decorations can be a bit tricky. But it basically comes down to being patient. The chocolate should always be melted in a double boiler or in a microwave. This is to prevent any burning of chocolate. I prefer a double boiler, but a microwave goes much faster. Then, and this is the part I didn't know before, you shouldn't stir or touch the chocolate until it's completely melted! Apparently that prevents little chunks of chocolate which kept getting stuck in my piping tips in the past and led to most of my disasters. Anyway, I ended up leaving the chocolate on the double boiler for a good 30 minutes; nothing burned and my chocolate was wonderfully smooth. You can then scoop it into a piping bag, cut a tiny hole at the bottom, and pipe any shape you want on parchment paper. Let it cool & harden, lift it with an offset spatula, and then decorate as you please.
A couple notes:
Make sure the cake layers are completely cooled before applying the whipped cream frosting. Whipped cream is generally pretty unstable and it will melt if the cake layers are still warm.
The cherry filling can be made well in advance and stored in your refrigerator.
If you want a 9″ cake instead of 6″, just multiply the recipe by 2.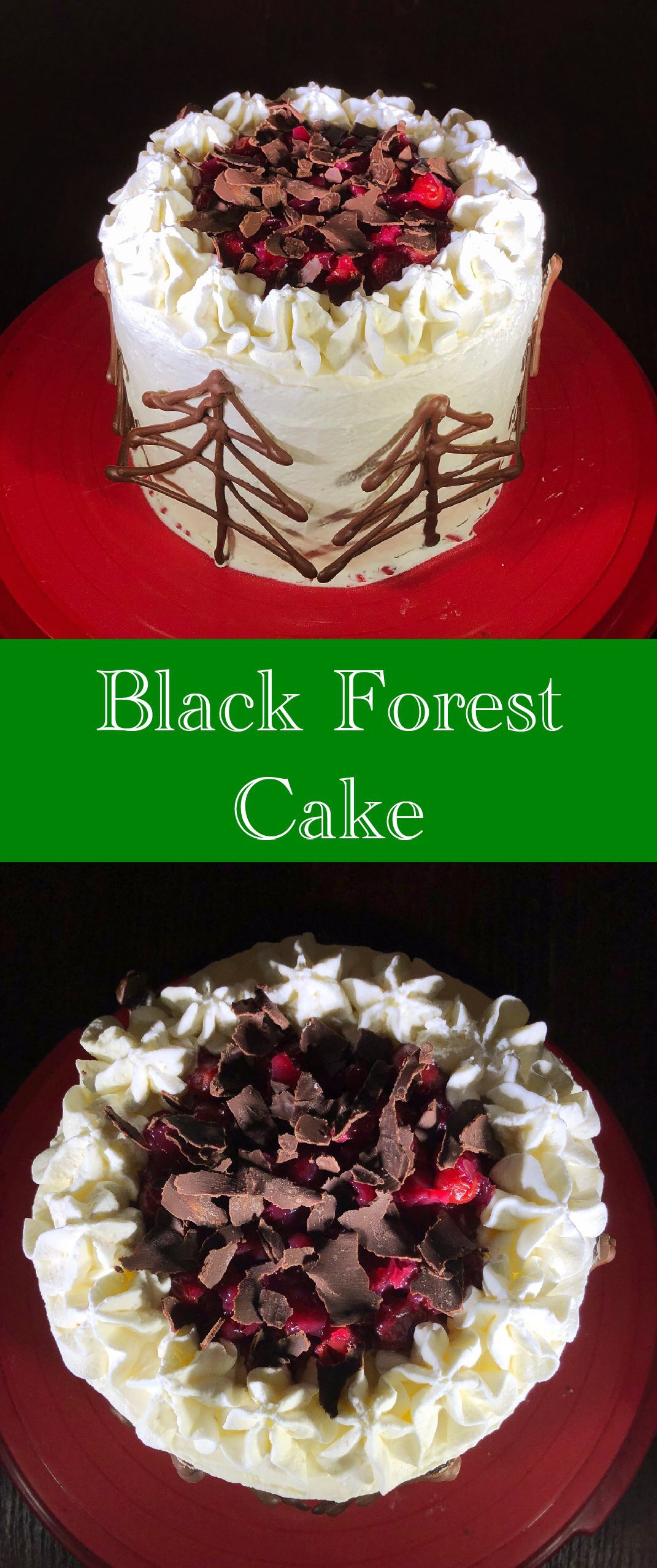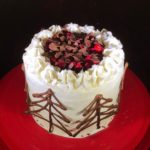 Black Forest Cake
Ingredients
Chocolate Cake Layers
5

eggs

1/2

cup

granulated sugar

1/2

cup

all-purpose flour

1/4

cup

cocoa powder

2

tbsp

unsalted butter (melted)

1/2

tsp

vanilla extract
Cherry Filling
12

oz

frozen cherries

1/4

cup

kirsch

1/4

cup

sugar

2

tbsp

water

2

tbsp

corn starch

2

tbsp

water for corn starch
Kirsch Simple Syrup
1/2

cup

granulated sugar

1/2

cup

water

1/2

cup

kirsch (reserved from making cherry filling)
Stabilized Whipped Cream Frosting
4

cups

heavy whipping cream

1/2

cup

powdered sugar

2

tsp

unflavored gelatin

8

tsp

cold water
Instructions
Bake the Cake
Preheat oven to 350° and grease 2 6" round cake pans.

Whip together eggs and sugar at high speed until very fluffy and medium peaks form (about 8 minutes). Do not use a mixer for the rest of the recipe.

Sift in cocoa powder and fold into the egg mixture gently until fully incorporated.

Sift in the flour and fold into the egg mixture gently until fully incoporated.

Pour the melted butter in in a slow stream while folding into the batter.

Split the batter between the two cake pans and bake immediately for ~25 minutes or until a toothpick comes out clean.
Make the Cherry Filling
Soak the cherries in 1/4 cup of kirsch for at least 30min.

Drain the kirsch and set aside to use for the simple syrup.

In a medium saucepan, combine the cherries, sugar, and 2 tbsp water.

Dissolve the corn starch in the remaining 2 tbsp of water.

Once the cherry mixture is at a boil, stirl in the corn starch, and turn the heat down to medium.

Continue to cook, stirring occasionally, until the filling has thickened. It takes about 12 minutes and remove from heat to cool.
Make the Kirsch Simple Syrup
In a saucepan, bring the water and sugar to a boil.

Allow to boil for 1-2 minutes then remove from heat.

Stir in 1/4 cup of the cherry juice + kirsch mixture you reserved from the first step in making the cherry filling.
Make the Whipped Cream Frosting
Bloom the unflavored gelatin in cold water for 10 minutes, then melt in the microwave. (approx. 10 seconds). Set aside.

In a large mixing bowl, whip together whipped cream and powdered sugar until soft peaks form.

Continue whipping while adding in melted gelatin in in a slow stream.

Continue whipping until stiff peaks form. Keep cool.
Assemble the Cake
Level off each cake layer and torte each in half.

Take the bottom layer, and, using a pastry brush, coat it with the simple syrup.

Add a layer of whipped cream.

Add a layer of cherry filling.

Fill in the gaps with whipped cream.

Repeat for the next 3 layers.

Finish the cake however you like with frosting, leftover filling, cherries, and chocolate.
---
---