Pumpkin Spice Latte Cupcakes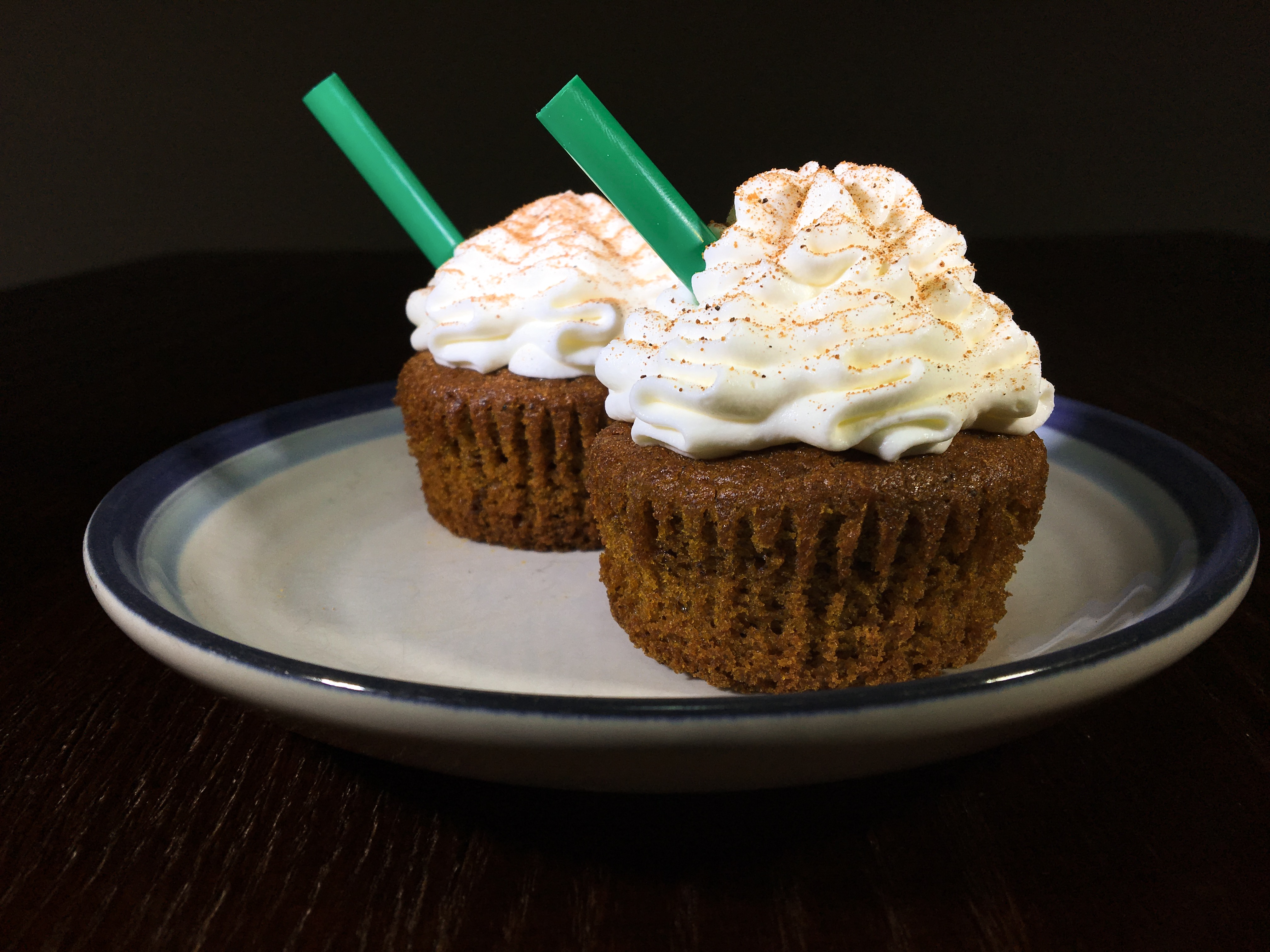 Jump to Recipe
DISCLAIMER: This recipe is for humans not dogs!
It's Fall which means that Starbucks is pushing their pumpkin spice latte (and all the other drinks they started added each year when they realized that girls on instagram was a great advertising opportunity.) Not gonna lie, I enjoy a PSL now and then so I decided to jump on the bandwagon and turn it into a cupcake. After all, pumpkin desserts are generally good, there's gotta be a way to turn a pumpkin spice latte into a cupcake! I spent a much-needed Friday night in happily turning my house into a pumpkin-and-nutmeg scented heaven while watching mindless sit-coms while Pascal occasionally got irritated and shoved a ball into my stomach for not being attentive enough to his cuteness.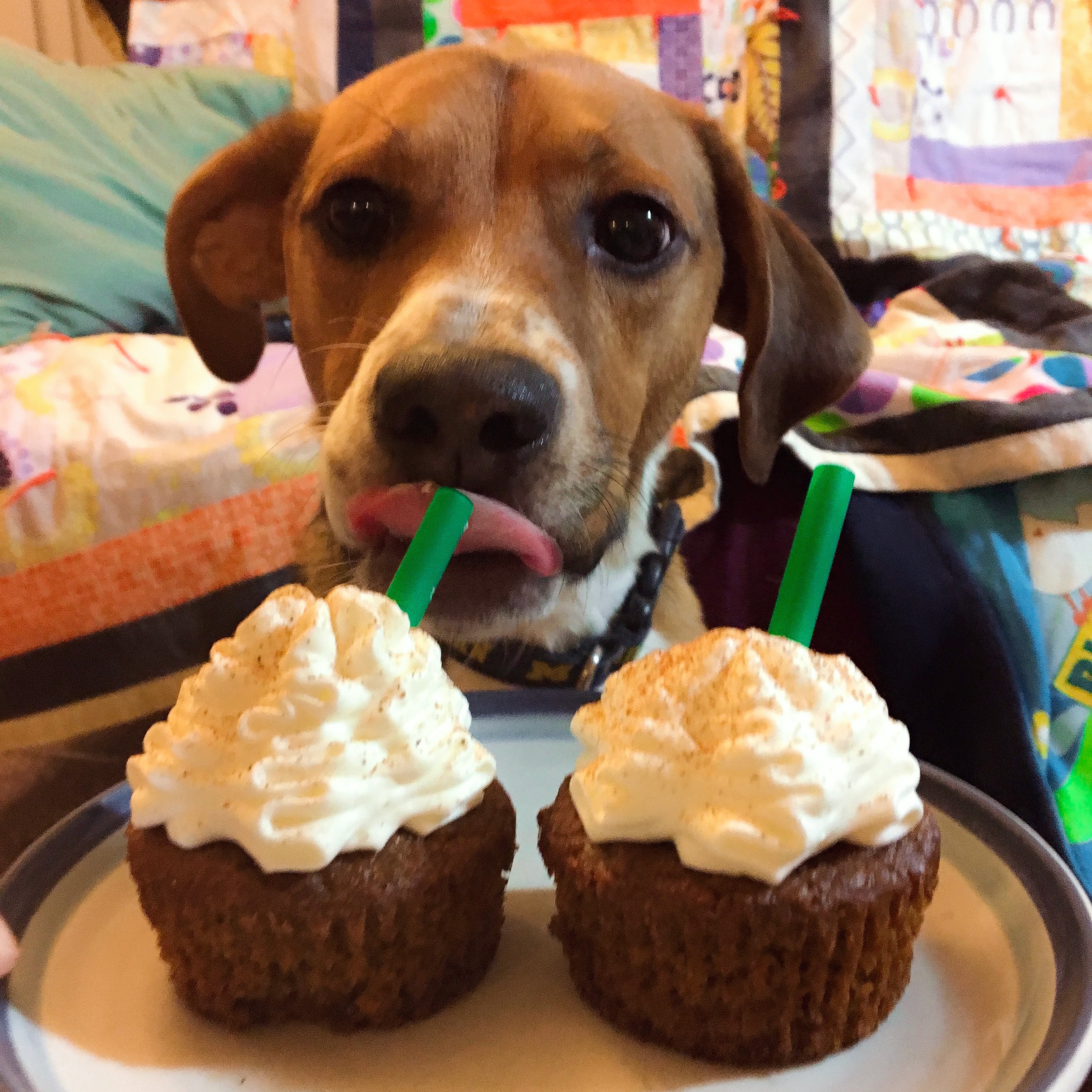 To be completely honest, I don't actually enjoy eating a lot of the things I make; I just like making them. I don't really like chocolate and I really don't like frosting. But the spice in these cupcakes gives a bit of a savory flavor almost, and the whipped cream instead of buttercream makes it a lot lighter. Unfortunately, that means that instead of begrudgingly eating like 3 cupcakes over the week so they don't go to waste, I almost singlehandedly ate a dozen pumpkin spice latte cupcakes by myself in two days. Oh well. November is about eating right? I hear there's something about giving thanks too maybe, but I hear eating is the main part.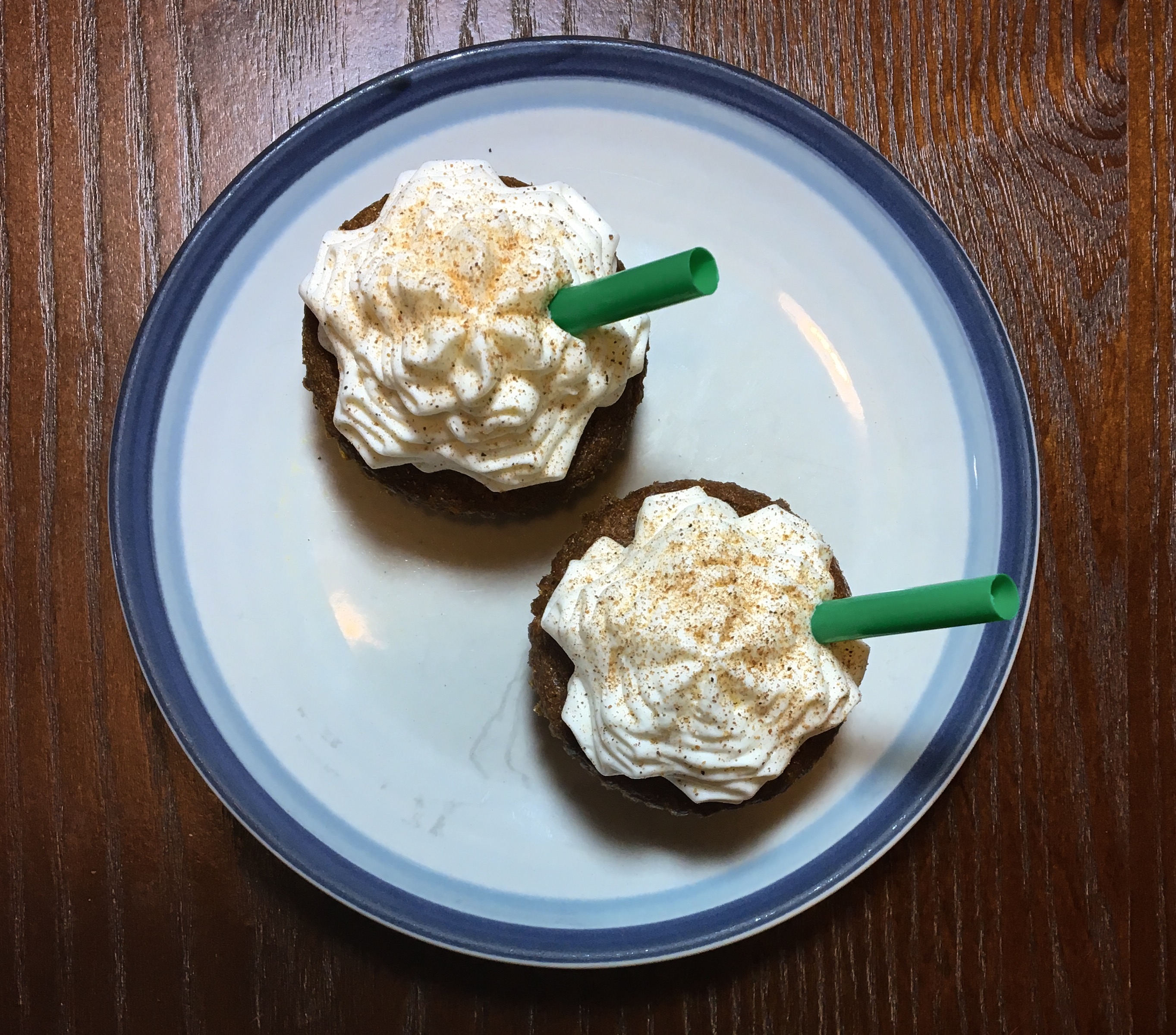 I stabilized the whipped cream just because I knew I wanted to pipe it and it made things easier. You can skip the gelatin if you're feeling lazy and/or don't need the frosting to hold shape that long. I used an open star tip for the frosting, but instead of swirling, just applied constant pressure while slowly moving upwards. To get more folds, make tiny and fast wiggles as you move up. All in all these are a really quick recipe with no real twists and turns.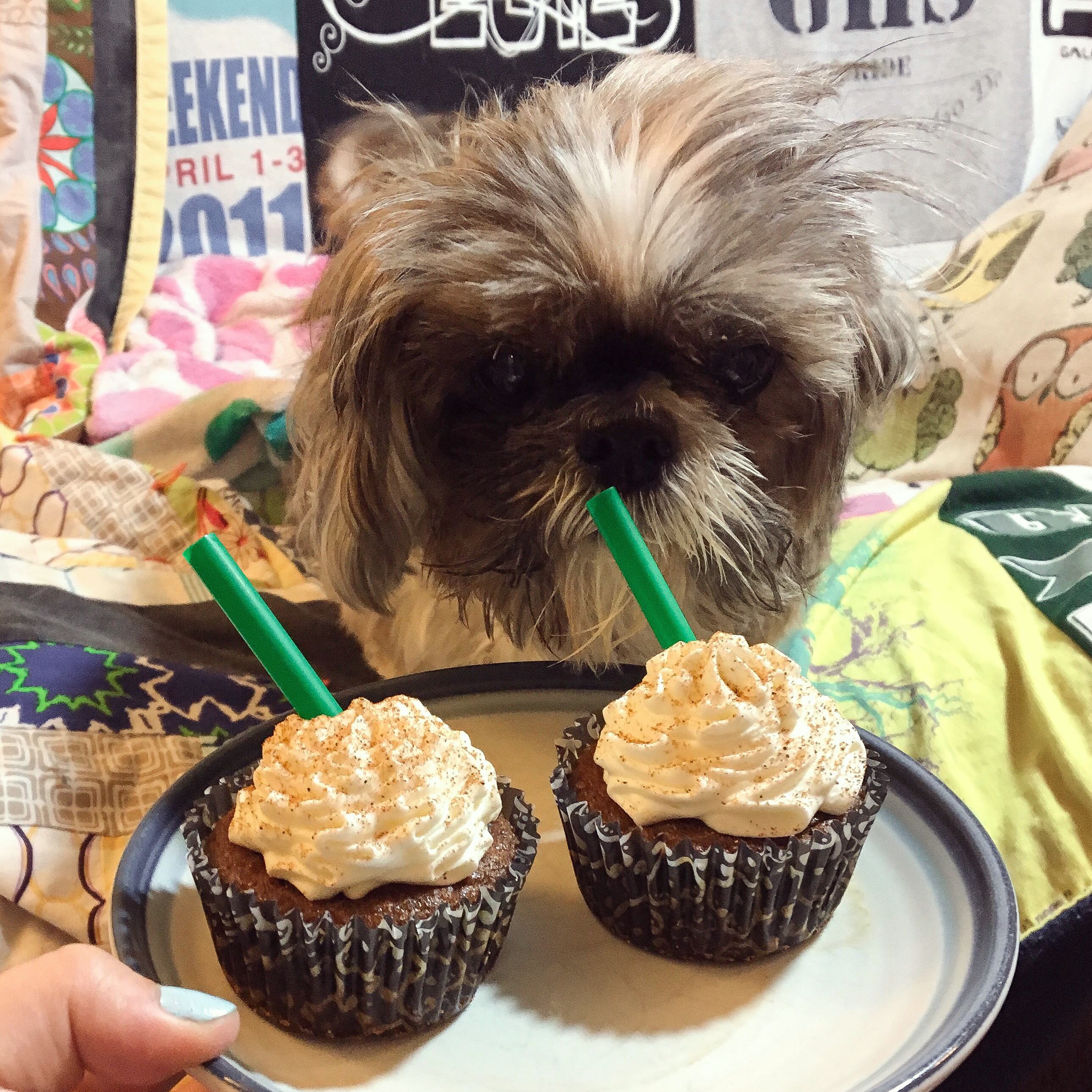 A couple notes:
You don't have to stabilize the whipped cream, I just did out of convenience.
If you overwhip the cream and it curdles, just add a bit more (unwhipped) cream and whip again. It should fix itself. But stop before it curdles the second time.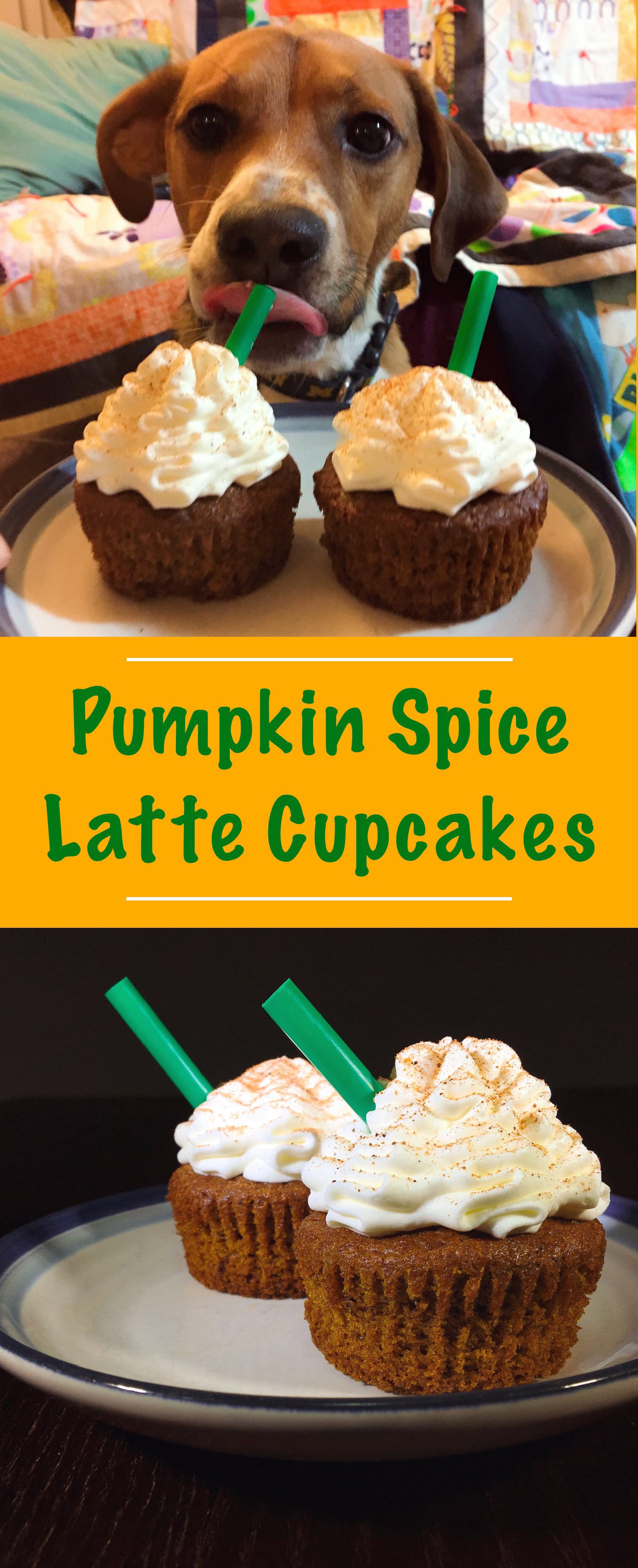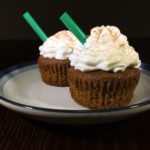 Pumpkin Spice Latte Cupcakes with Whipped Cream Frosting
Pumpkin spice cupcakes with a touch of espresso, topped with whipped cream frosting.
Ingredients
Pumpkin Spice Latte Cupcakes
1

stick

unsalted butter (room temperature)

3/4

cup

brown sugar (packed)

2

eggs

1

cup

pumpkin puree

1

tsp

vanilla extract

1/2

tsp

baking soda

1

tsp

baking powder

1/2

tsp

salt

1

tsp

ground cinnamon

1/2

tsp

ground nutmeg

1/4

tsp

allspice

1/4

tsp

groun cloves

1/2

tsp

ground ginger

1

cup

all-purpose flour

1.5

tsp

instant espresso powder

2

tsp

hot water
Whipped Cream Frosting
2

cups

heavy whipping cream

2/3

cup

powdered sugar

1.5

tsp

unflavored gelatin

6

tsp

cold water
Instructions
Bake the Pumpkin Spice Latte Cupcakes
Preheat the oven to 350°F and line a muffin tin with cupcake liners.

In a large mixing bowl, cream the butter.

Add in pumpkin puree and vanilla and mix until fully incoporated.

Beat in the eggs, one at a time.

Add spices, salt, baking powder, and baking soda.

Fill the cupcake liners (about halfway) and bake for ~35-40min or until a toothpick comes out clean.
Make the Whipped Cream Frosting
Bloom the gelatin in the cold water and let sit for 5 minutes.

Beat the heavy whipping cream and powdered sugar together until soft peaks form.

Heat the gelatin until it melts (approx. 10s in the microwave).

Slowly pour the gelatin into the whipped cream mixture while whipping.

Whip until stiff peaks form.
---
---