Apple Pie Cupcakes with Brown Butter Swiss Meringue Buttercream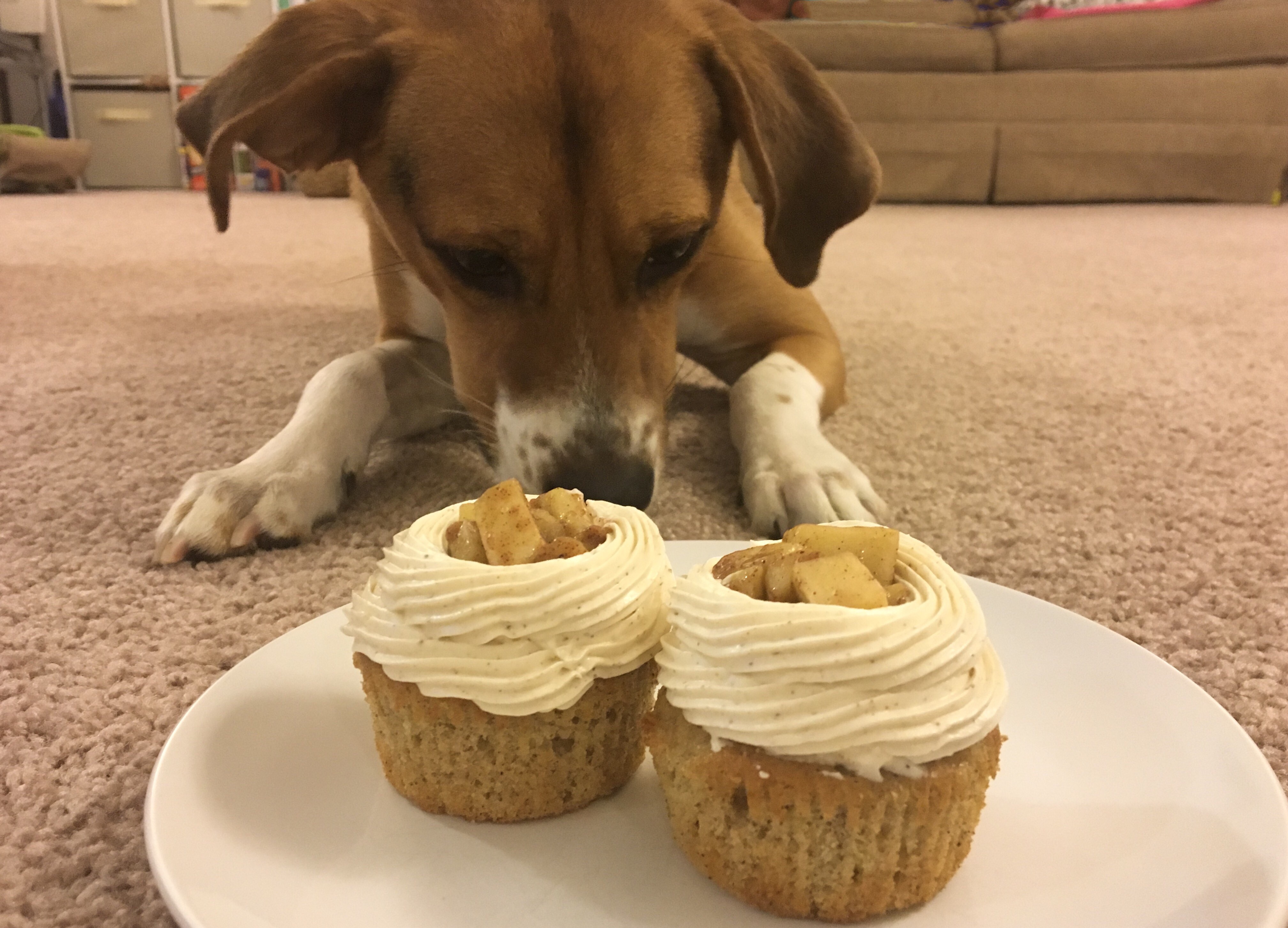 Jump to Recipe
DISCLAIMER: This recipe is for humans not dogs!
It's officially fall which means I can officially crack out my cinnamon, nutmeg, cloves, apples, and pumpkins. Time to start making butternut squash everything until I can't stand it anymore. Anyway, I decided to go with a twist on classic apple pie for my first fall baking undertaking. It's been a while since I've made cupcakes so I decided to make apple pie cupcakes!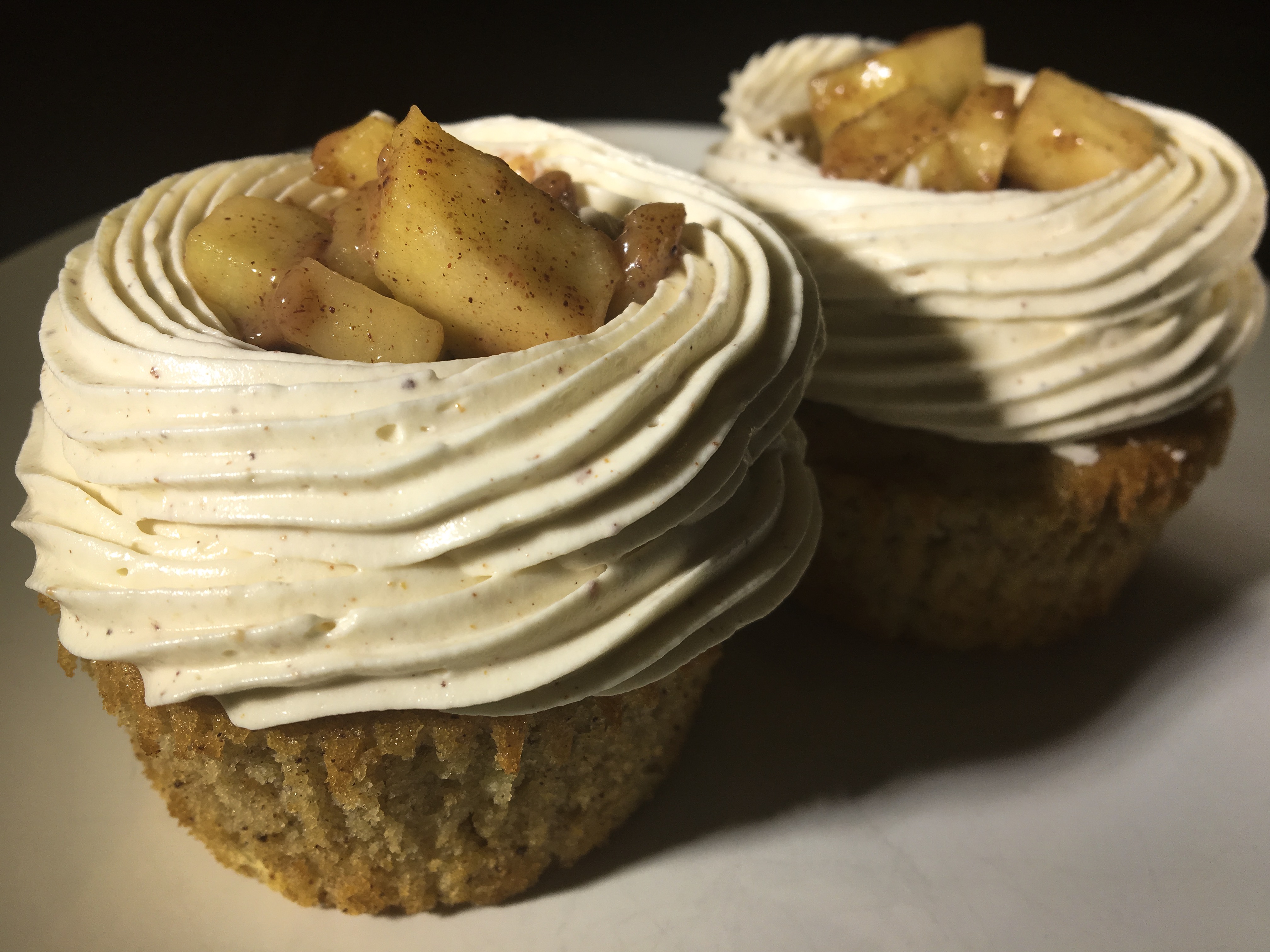 To create apple pie cupcakes combined some cinnamon apple cupcakes, apple pie filling, and brown butter frosting. If you've never heard of "brown butter" before it is the absolute best thing ever! For real. It's what makes pie crust taste like pie crust. When sugar burns it carmelizes and tastes like, well, caramel. When butter burns, it undergoes "browning" and takes on this delicious, nutty flavor. Because pie crust is a lot of butter, some flour, and water, it is the primary flavor. It's also half the flavor of toffee (the other half is caramel and then whatever flavor you add.) I've never made brown butter buttercream before but it's easy enough just to substitute brown butter for regular butter in the recipe! Plus, I couldn't make apple pie cupcakes without including the flavor the best part of the pie!
I was actually pretty proud of how well I was adulting last night, because I managed to make these cupcakes at the same time as lasagna I was meal-prepping for my dinners for the next week. And, I managed not to end up with tomato cupcakes and apple lasagna. Seriously, for someone who can't multitask in the kitchen, it was exciting. The apple pie cupcakes turned out looking great and, as someone who isn't usually a fan of any frosting, I absolutely love the brown butter frosting.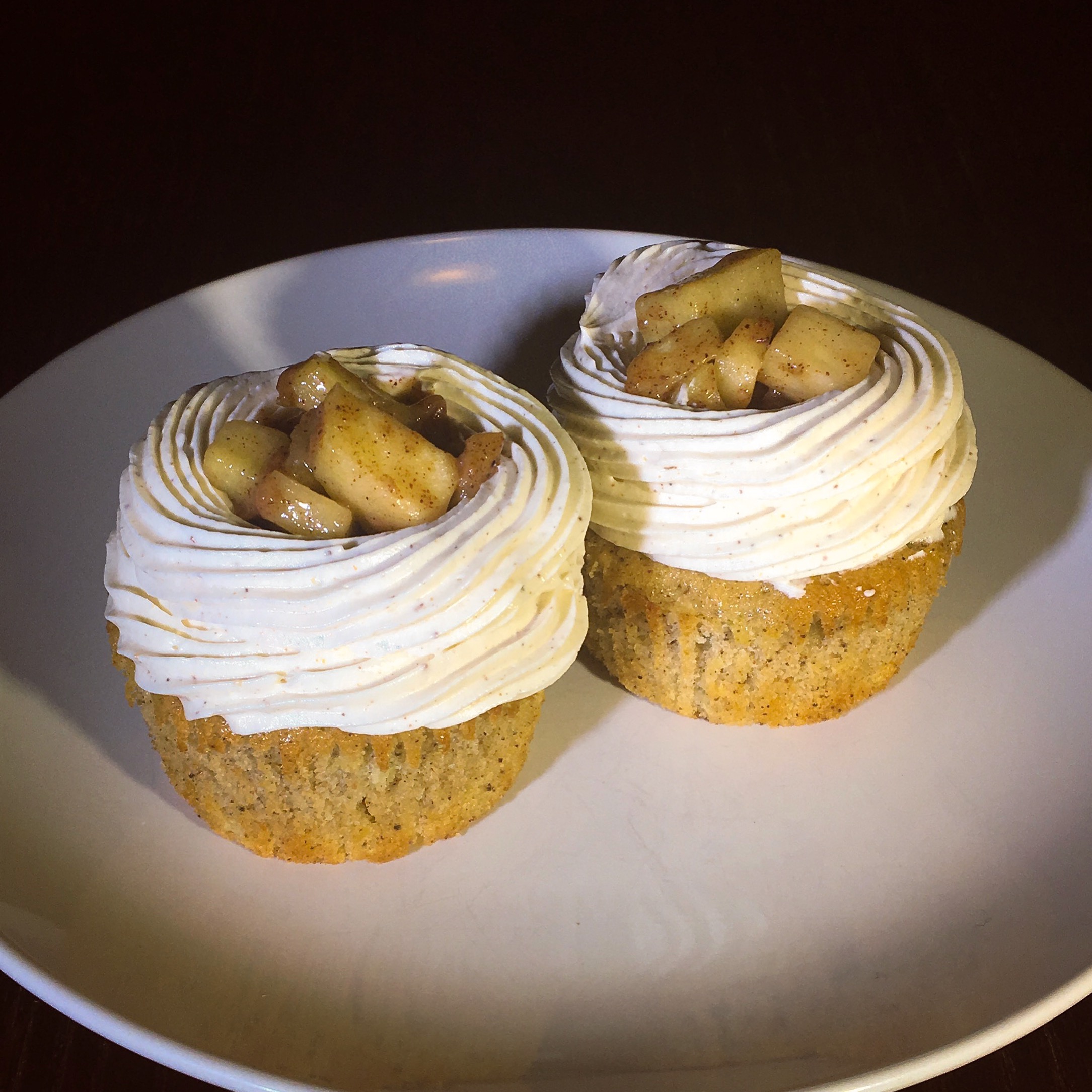 A couple notes:
The best apples for baking are the tart ones. Don't pull out your honeycrisp and pink lady apples for pie-making. I generally use Granny Smith.
If you have one, use a pan with a white bottom when browning your butter. It browns fast and you want brown butter, not black-charcoal-butter.
To pipe the buttercream, I used a star tip, but really anything is fine as long as it's large enough. You could even just cut the bottom of a piping bag.
Make the brown butter well in advance, it can't be liquid when you make the frosting or you'll get something that's not frosting.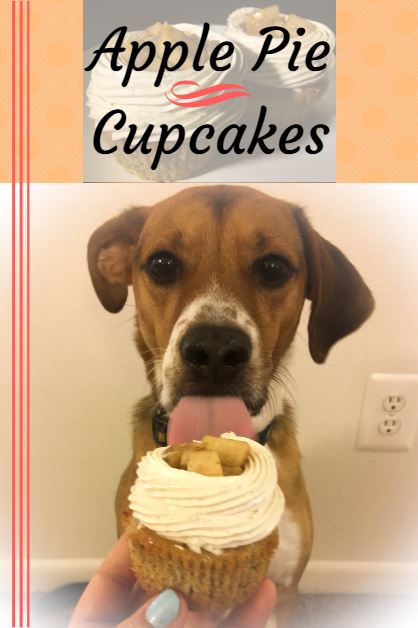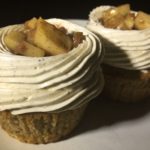 Apple Pie Cupcakes with Brown Butter Frosting
Apple pie cupcakes with baked apples, cinnamon and spice apple cupcakes, and delicious pie-crust flavored browned butter swiss meringue buttercream.
Ingredients
Apple Pie Filling
1.5

apples (chopped)

1.5

tsp

lemon juice

1.5

tsp

maple syrup

1

tbsp

light brown sugar

1.5

tsp

all-purpose flour

1/2

tsp

cinnamon

1

pinch

ground nutmeg

1

pinch

ground cloves

1

pinch

ground ginger
Cinnamon Apple Cupcakes
1.25

cup

all-purpose flour

1.5

tsp

baking powder

1

pinch

salt

1/4

tsp

ground nutmeg

1/4

tsp

ground cloves

1/4

tsp

ground ginger

1

tsp

cinnamon

6

tbsp

unsalted butter (softened)

1/2

cup

granulated sugar

1/4

cup

light brown sugar

2

eggs

1

tsp

vanilla extract

1/2

cup

buttermilk

1

apple (finely chopped or grated)
Brown Butter Swiss Meringue Buttercream
3.5

sticks

unsalted butter

1

cup

granulated sugar

3-4

egg whites
Instructions
Make Brown Butter
Place 3.5 sticks of butter in a saucepan. Preferably one with a light bottom.

Turn heat to medium-high, and let bubble while stirring.

Brown flecks will begin appearing in the butter, leave on heat until you reach your desired level of browning.

Immediately transfer to a bowl to stop the cooking.

Let harden to room temperature.
Make Apple Pie Filling
Chop your apples and place in a large saucepan. I like to use the same one that I used to brown the butter to add a little flavor.

Stir in remaining ingredients.

Stirring occasionally, leaving on medium heat for ~20 minutes until the apples soften.

Remove from heat and let cool to room temperature.
Bake the Cinnamon Apple Cupcakes
Preheat oven to 350°F and line a muffin tin.

In a large mixing bowl, cream the butter.

Beat in eggs, one at a time.

Mix in vanilla, baking powder, salt, spices, and 1/4 cup of flour.

Mix in half of the buttermilk.

Mix in the second half of the buttermilk.

Mix in the remaining 1/2 cup of flour.

Fold in the chopped or grated apple.

Fill cupcake lines most of the way, and bake for ~30min or until a toothpick comes out clean.
Make the Brown Butter Swiss Meringue Buttercream
On a double boiler, whip together egg whites and sugar until the mixture reaches ~140°F.

Remove from heat and continue whipping until the meringue forms stiff peaks.

Mix in butter and continue beating until it looks like frosting. (It may curdle, just mix through it and it will eventually look right.)
Assemble the Apple Pie Cupcakes
Pipe a double layer of frosting around the outer edge of each cupcake.

Fill the centers with the apple pie filling.

Serve at room temperature. (It definitely shouldn't be refrigerated, but if you try to warm them the icing will melt.)
---
---