Chocolate Chiffon Cake with Green Tea Whipped Cream Frosting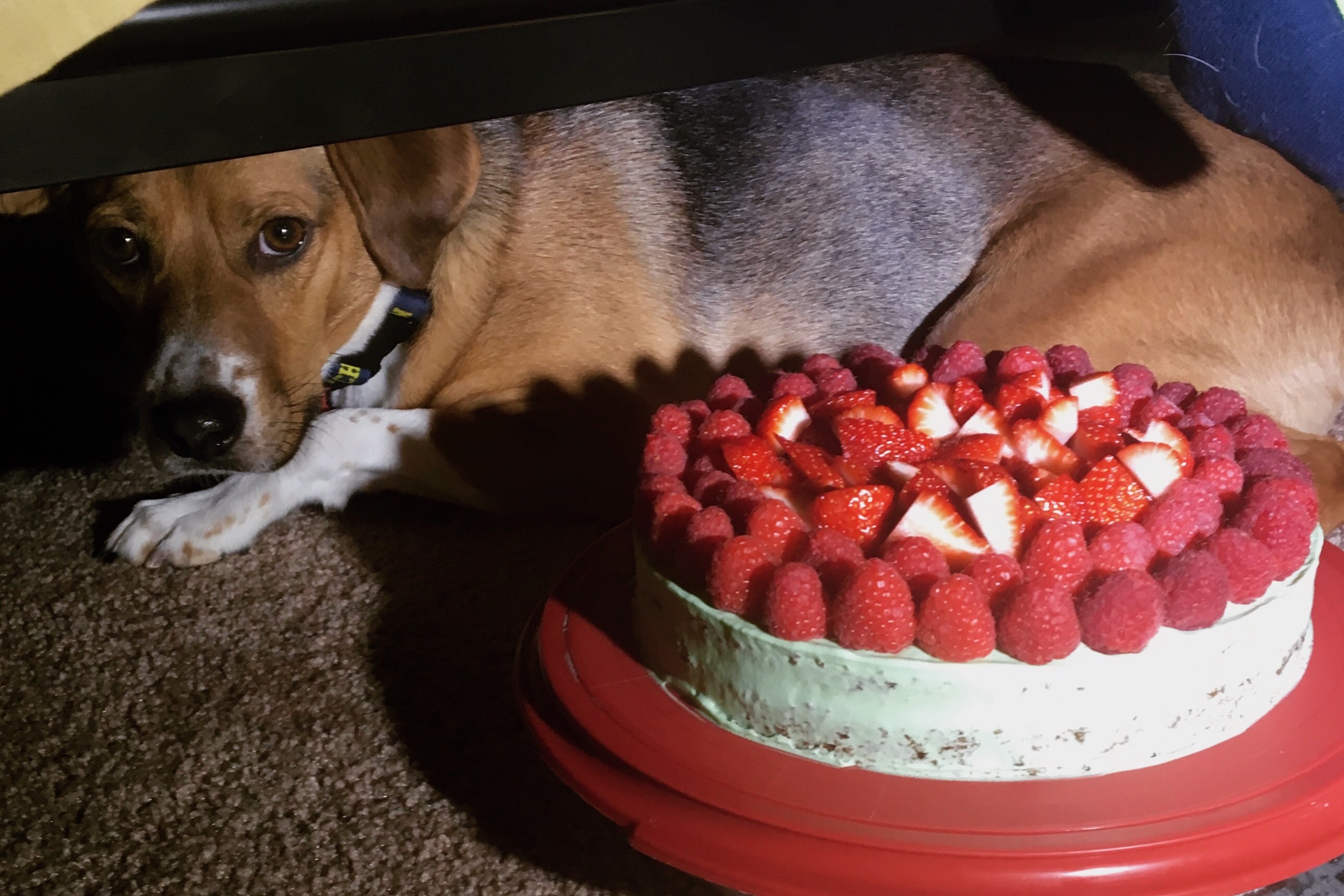 Jump to Recipe
DISCLAIMER: This recipe is for humans not dogs!
It was my mom's birthday yesterday, (Happy Birthday, Mom!) so of course I had to bake her cake. That also means that it's been pretty much exactly one year since I first started my instagram with Pascal with my first post being her cake from last year! Because she has a ton of allergies (beans including vanilla, mold including cheese and yogurt, oranges, and more), I try to keep my cakes for her super simple and light. I also like to include a bit of Japanese inspiration because she's Japanese but it can be hard to find a good Japanese bakery in Michigan. (I will note that Pastry House Hippo in Novi is awesome.)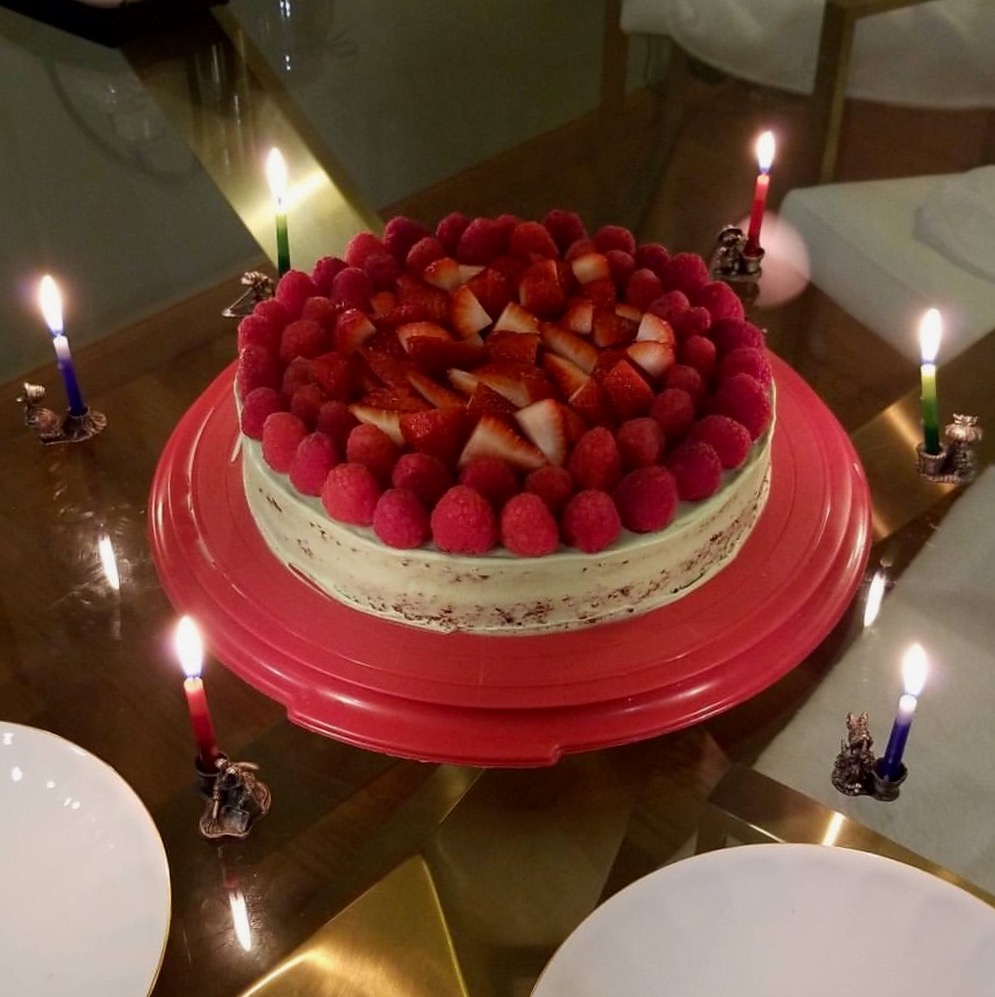 I decided to slightly alter a Japanese strawberry shortcake recipe I've used in the past from Just One Cookbook to turn it into a chocolate cake. A Japanese shortcake is, for all practical purposes, a chiffon cake, so I ended up with a chocolate chiffon cake. Its rise comes entirely from eggs, and you have to be super gentle with the batter. It was also one of the first cakes I attempted to bake and I (sadly) ended up with a pancake. I'm a lot better at it now. The best part is that it only calls for 3tbsp of butter and it's extra light and airy.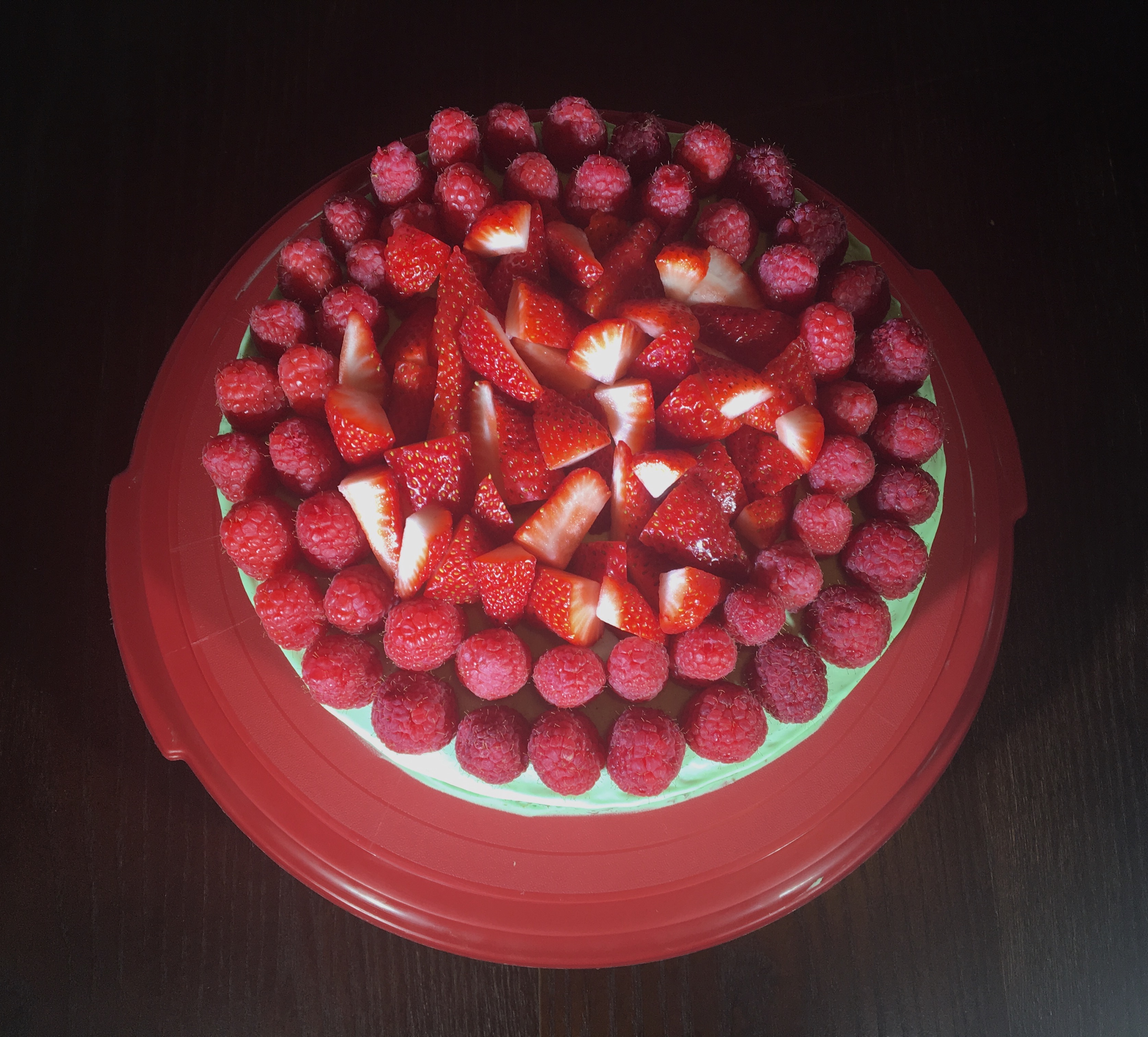 For the frosting, I used stabilized whipped cream. Stabilized just means I added gelatin so it would hold its shape better instead of seeping everywhere. I had originally planned on making chocolate whipped cream, but then I suddenly realized green tea would go pretty well with it. My initial thought was to add matcha, but I didn't have any at home and it was after all the Asian grocery stores had closed. But, I'm a good half-Asian and had lots of green tea lying around. I ended up infusing the cream with the tea. However, because the infusion didn't change the color like matcha powder would, I ended up using a bit of food coloring to add some color. I finished off the cake with a bunch of berries, and overall, a chocolate chiffon cake, frosted with green tea whipped cream, and topped with berries was just the light, simple cake I was going for.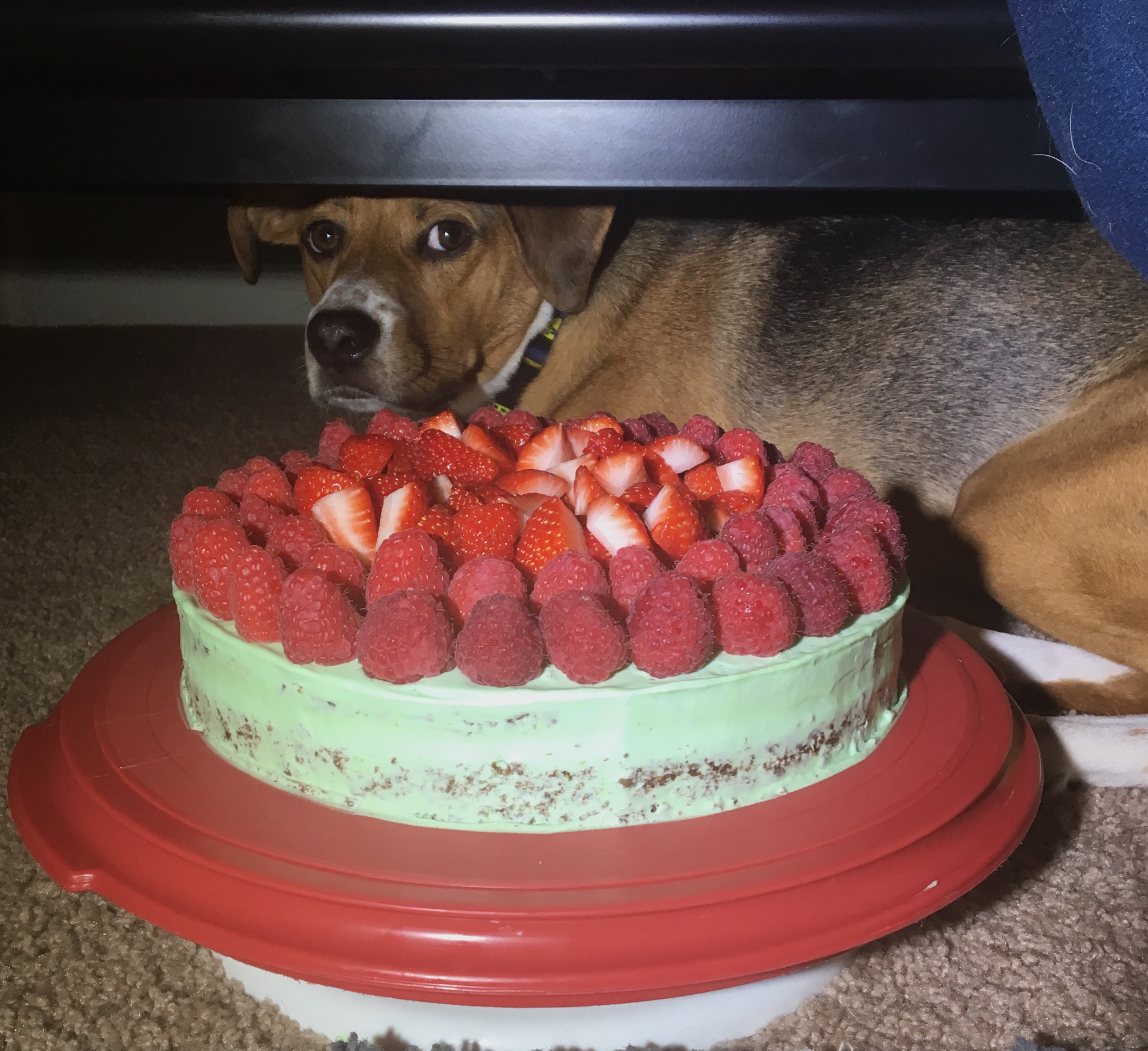 A couple notes:
If you're vegan or don't eat gelatin, you can leave it out of the whipped cream. It won't cause any huge issues, the cream will just be less stable.
When whipped cream gets overwhipped, it turns liquidy again and curdles. This isn't a huge issue, just add a little more cream and rewhip. It should come back together.
When you make the batter, make sure you fold by hand instead of using a mixer. If you deflate the eggs you deflate the cake!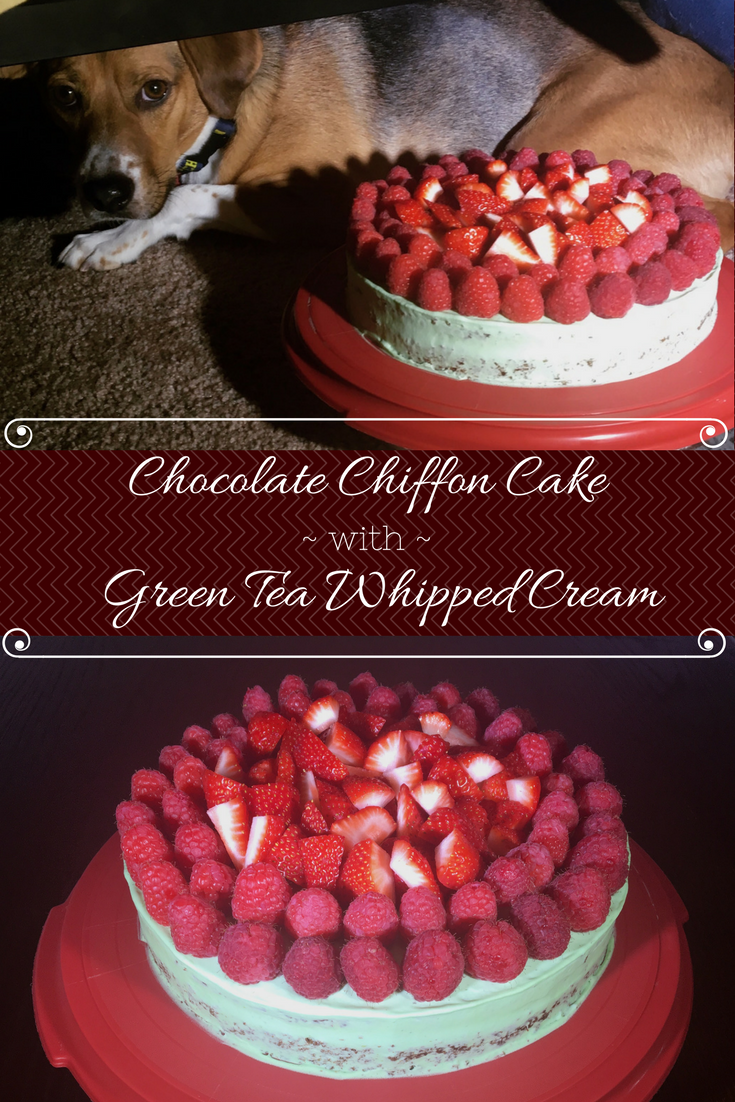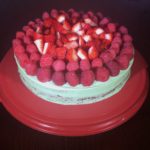 Chocolate Chiffon Cake with Green Tea Whipped Cream
A light, 2-layer chocolate chiffon cake made with only 3 tablespoons of butter. Frosted with green tea-infused stabilized whipped cream.

Ingredients
Chocolate Chiffon Cake
3

tbsp

unsalted butter

2

tbsp

chocolate milk

4

eggs

1/2

cup

granulated sugar

3/4

cup

all-purpose flour

1/4

cup

cocoa powder
Green Tea Whipped Cream
2

tsp

unflavored gelatin

8

tsp

cold water

2

cups

heavy whipping cream

1/2

cup

powdered sugar

2

tsp

green tea
Instructions
Bake the Chocolate Chiffon Cake
Preheat the oven to 350°F and butter a 9" cake pan.

Sift together flour and cocoa powder.

Melt the butter and whisk in chocolate milk. Set aside and keep warm.

In a large mixing bowl, add eggs and sugar. Whip on a double boiler until it reaches ~105°F.

Remove from double boiler and continue whipping until it reaches the ribbon stage. (You can see the batter fold over onto itself before it flattens back out.) It'll have about tripled in volume.

By hand, gently fold in about half the flour and cocoa powder.

Once it's incorporated, fold in the rest of the flour and cocoa powder.

Mix a couple tablespoons of the batter into the butter and milk mixture to temper it.

Gently fold the butter mixture into the batter.

Pour into the prepared cake pan and bake for ~30min or until a toothpick comes out clean.
Make Whipped Cream Frosting
Bloom the gelatin by sprinkling it over the cold water and letting it stand for 5 minutes.

Infuse the cream with green tea by mixing 2tsp of tea into the cream in a saucepan and bringing it to a boil.

As soon as it starts boiling, remove the saucepan from the heat and cover, let stand for ~5min.

Strain out the cream into a large mixing bowl.

Add the sugar and whip until soft peaks form.

Melt the gelatin and then slowly pour it into the cream while continuing to whip.

Continue whipping until stiff peaks form.
---
---