Coffee & Almond Chocolate Cake with Raspberry Buttercream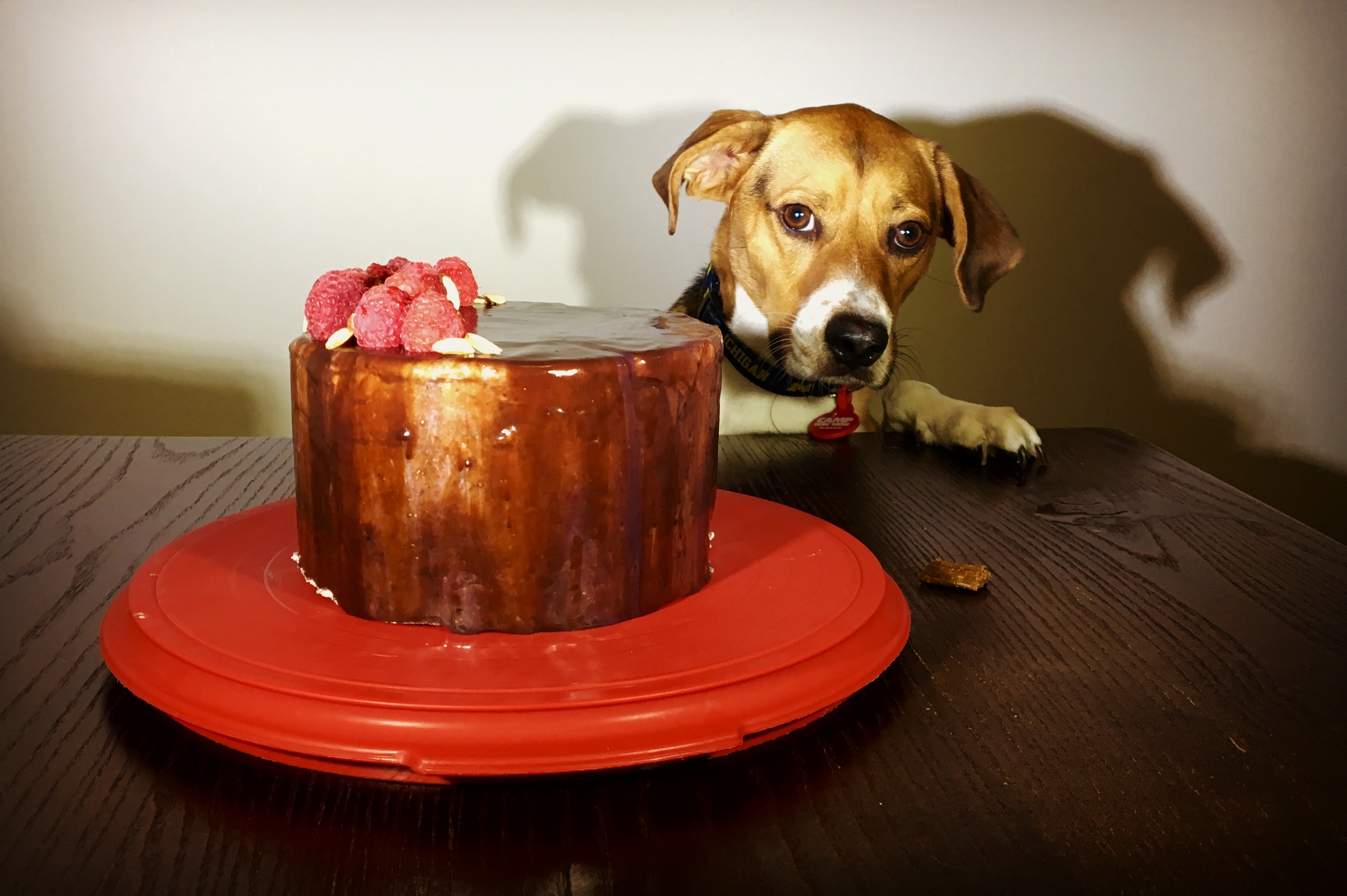 Jump to Recipe
DISCLAIMER: This recipe is for humans not dogs!
It was a coworker's birthday this week, which meant I had an excuse to bake a full cake. I haven't baked a cake in a bit because I no longer live with a ton of roommates, so I was excited to bake one again. I asked my usual slew of somewhat random questions such as "chocolate or vanilla?," "what's your favorite color?," and "is frosting delicious or disgusting?," and got the following response:
"Chelsea is a general surgery resident who likes chocolate, is into nuts, likes blue or purple, and enjoys frosting."
I also happened to know that Chelsea does quite a bit of baking herself so I wanted to go a bit fancy. My original flavor profile I planned on using was chocolate, almond, orange, and raspberry, but one of my other co-worker's declared that oranges were gross so I decided not to go with that idea. (Plus, I had just made these orange mousse bars the other day so I was a bit tired of orange too.) Instead, I decided to go raspberry-heavy, and add in some coffee.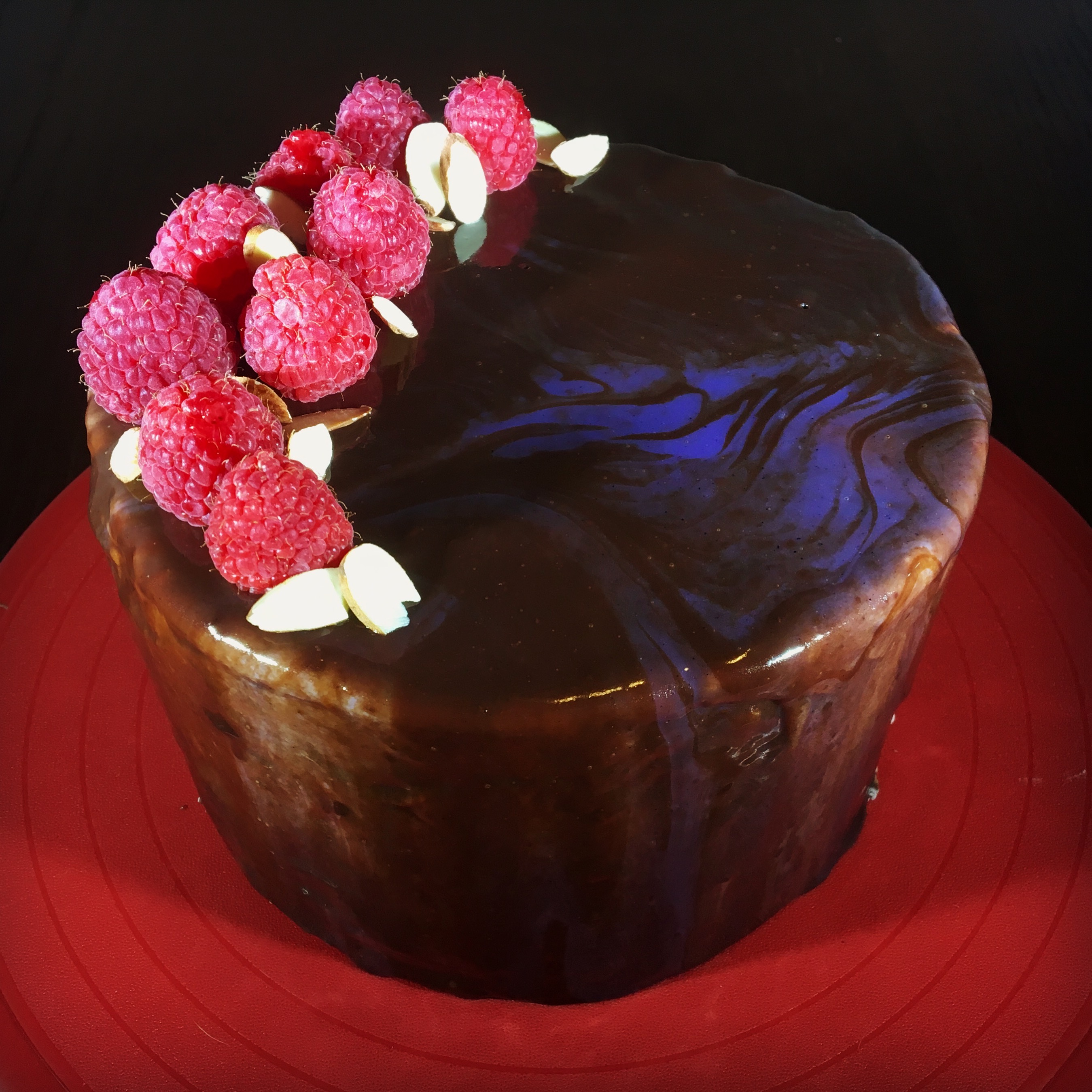 I ended up with a chocolate cake with almond and coffee flavoring. I have to say, I was pretty proud of the result, and spent most of Sunday munching on the leftover cake tops from when I leveled the layers. The cake was frosted with a raspberry Swiss meringue buttercream, and then finished with a purple and brown mirror glaze (because Chelsea "likes purple or blue") and topped with fresh raspberries and sliced almonds.
There was a bit of a speed bump I encountered while making this cake though. Entirely my fault, but I melted off some of the frosting! I was feeling really impatient by the time I got to the mirror glaze, and decided "eh, it'll cool down fast enough." No, no it didn't. I ended up having to scrape off the chocolate, re-side the cake, and then re-make the mirror glaze! So much for my impatience, I ended up costing myself more time than saving any. In the end it was salvaged though, and you wouldn't have guessed I had to avert a disaster.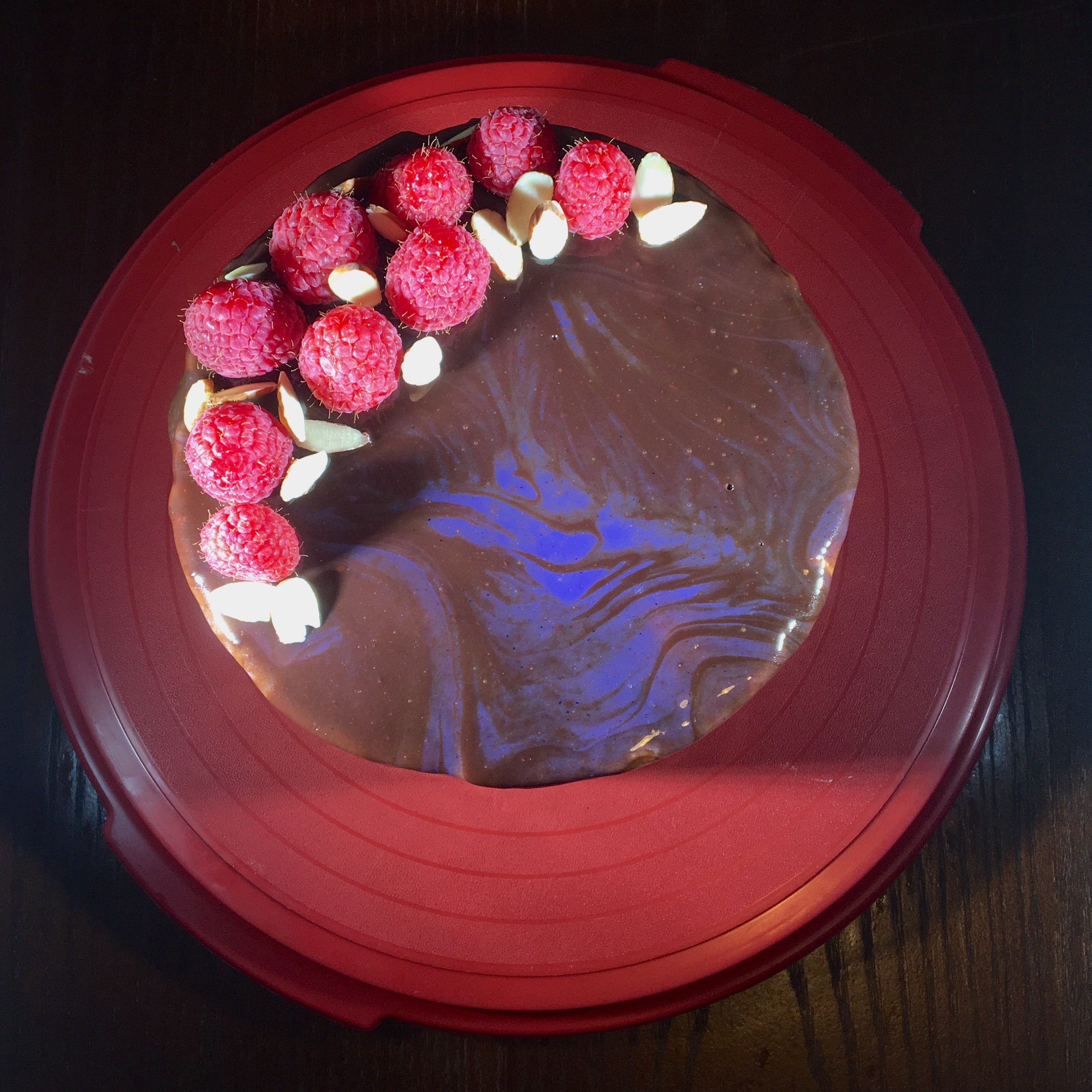 A couple notes:
If you want to finish the cake with a mirror glaze, see this how-to post.
The raspberries can be swapped out for other fruits. The best options are probably orange, cranberry, or cherry.
Make sure the mirror glaze is cooled before applying or you'll melt off the buttercream!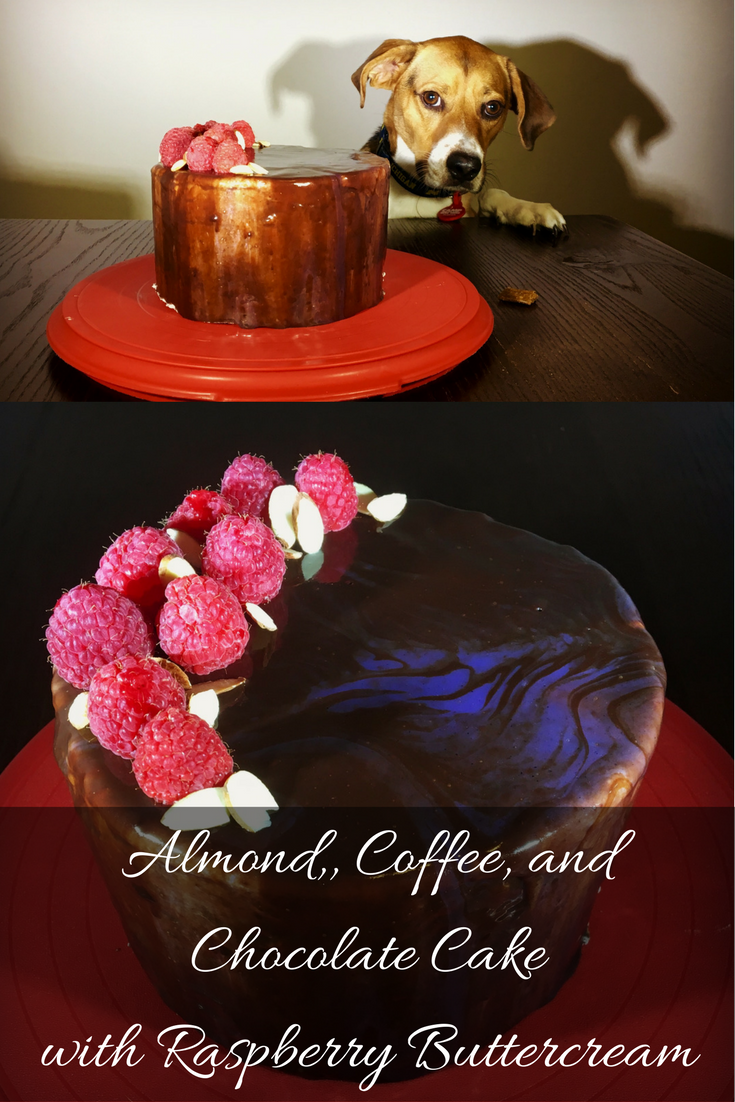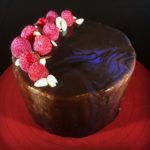 Coffee & Almond Chocolate Cake with Raspberry Buttercream
A 3-layer moist and fluffy chocolate cake with notes of coffee and almond, finished with raspberry Swiss meringue buttercream and a mirror glaze.
Ingredients
Coffee & Almond Chocolate Cake
1.25

cups

all-purpose flour

1.25

cups

granulated sugar

1/4

cup

cocoa powder

1/4

cup

dark cocoa powder

3/4

tsp

baking powder

1.5

tsp

baking soda

3/4

tsp

salt

3/4

cup

buttermilk

5

tbsp

unsalted butter (melted)

1.5

eggs

1

tsp

almond extract

3/4

cup

strong coffee
Raspberry Puree
6

oz

frozen raspberries

2

tbsp

granulated sugar
Raspberry Swiss Meringue Buttercream
3.5

sticks

unsalted butter (softened)

1

cup

granulated sugar

4

egg whites

1

tsp

vanilla extract

1/2

tsp

almond extract

1/2

cup

raspberry puree
Instructions
Bake the Chocolate Cakes
Preheat the oven to 350°F and grease 3 6-inch cake pans.

In a large bowl, sift together flour, cocoa powders, baking powder, baking soda, and salt.

In a second large bowl, mix together melted butter and sugar.

Beat in 1.5 eggs (to get half an egg, beat an egg in a small bowl, and pour approximately half of it into the bowl).

Mix in 1/3 of the sifted dry ingredients.

Mix in another 1/3 of sifted dry ingredients.

Mix in last of the dry ingredients.

Pour evenly into the 3 cake pans.

Bake for ~30min or until a toothpick comes out clean.
Make the Raspberry Puree
Preheat the oven to 250°F.

In an oven safe pan, combine frozen raspberries and sugar.

Bake for ~30min, stirring every 15min.

Blend in a blender to finish making the puree.
Make Raspberry Swiss Meringue Buttercream
In a double-boiler, whipe egg whites and sugar until they reach 140°F.

Remove from heat, and continue whipping until stiff peaks form.

Mix in 3.5 sticks of butter.

Mix in almond and vanilla extracts.

Continue mixing until the mixture comes together to a buttercream.

Add raspberry puree and continue mixing until fully incorporated.
---
---