Double Chocolate Orange Mousse Bars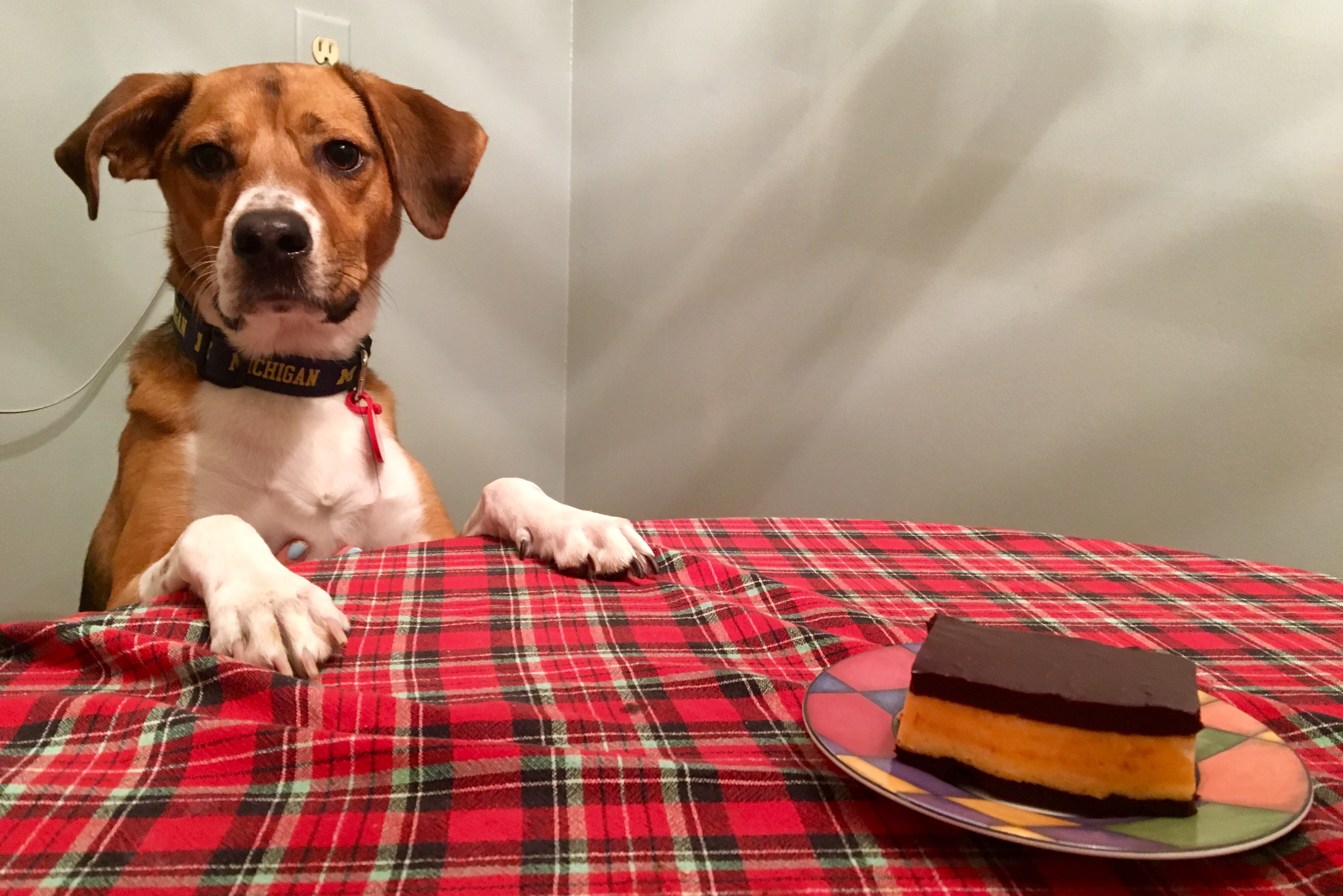 Jump to Recipe
DISCLAIMER: This recipe is for humans not dogs!
My dad's girlfriend's daughter, Qing, was feeling pretty sick this weekend, so I went over on Friday night to hang out and baked something while I was there. She wanted brownies, and I tried to think of a fun twist on them. I really like mousse, and I decided to make an orange mousse and make them a bit Halloween-themed.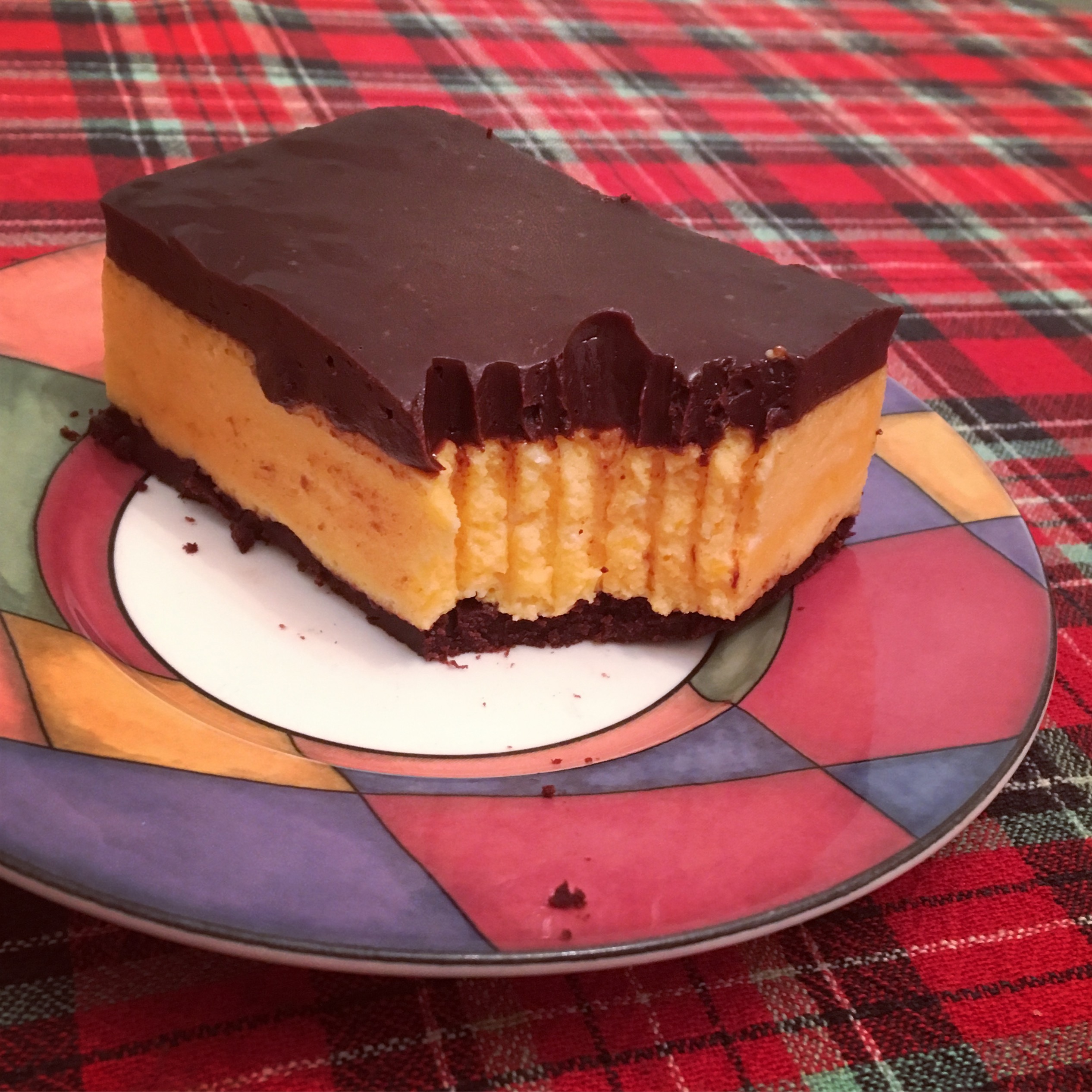 They turned out super chocolate-y with a nice light fruity middle. I made the bottom brownie layer pretty thin because I wanted plenty of room for the mousse. It made a nice, chewy, fudgy base. The top ganache layer added another aspect of chocolate and a nice color contrast with the orange mousse. Overall, it was a pretty simple recipe that led to a good result. Also, credit goes to Qing for the dog photos and helping prepare the ingredients.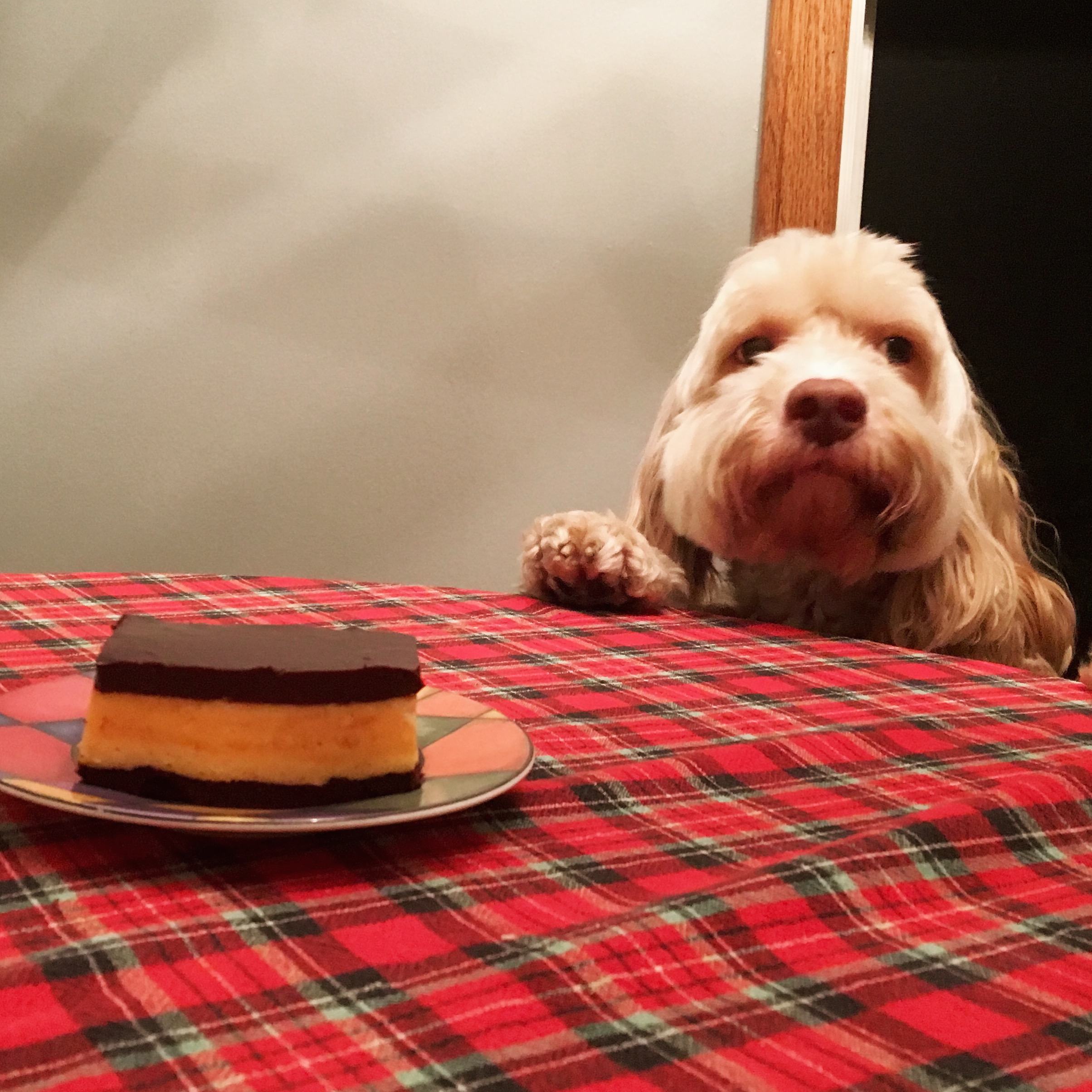 A couple notes:
Be gentle when making the mousse. If you mix too vigorously, you'll deflate it.
Make sure that the brownies and ganache are cold when you're assembling or you'll melt the mousse.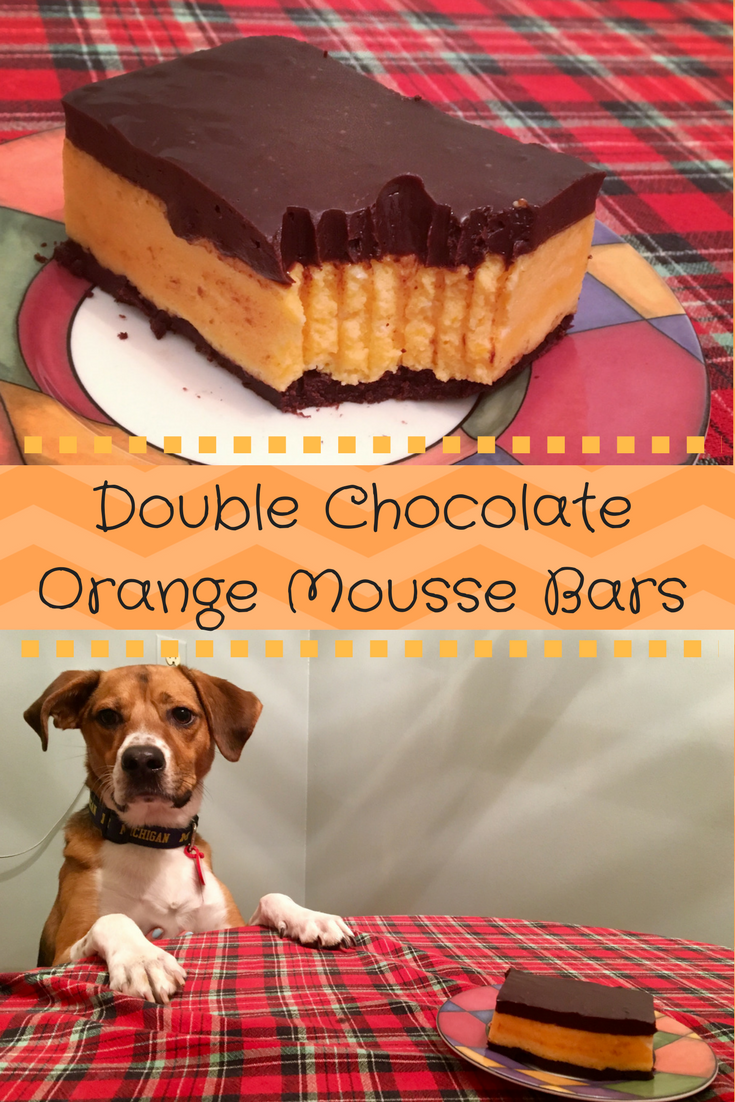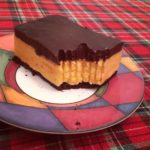 Double Chocolate Orange Mousse Bars
Orange mousse surrounded by a brownie bottom and topped with a chocolate ganache.
Ingredients
Brownies
5

tbsp

unsalted butter (melted)

1/2

cup

granulated sugar

1/2

cup

cocoa powder

1

pinch

salt

1/2

tsp

vanilla extract

1

egg

1/4

cup

all-purpose flour
Orange Mousse
1.25

cup

orange juice (separated)

1.25

cup

granulated sugar (separated)

5

eggs

6

tbsp

unsalted butter

21

g

unflavored gelatin

1

cup

heavy whipping cream

3

egg whites

1/2

tsp

orange extract

orange food coloring (optional)
Chocolate Ganache
12

oz

dark chocolate (chips or chopped)

1

cup

heavy whipping cream
Instructions
Bake Brownie Layer
Preheat oven to 325°F and grease a 8x8 square pan.

Mix ingranulated sugar and cocoa powder.

Beat in egg, vanilla, and salt.

Spread in pan, it'll be just enough to cover the bottom.

Bake for ~10min or until a toothpick comes out clean.
Make the Orange Curd
In a medium saucepan, beat together 3/4 cup orange juice, 5 eggs, and 3/4 cup sugar.

Turn on heat, and whisking continuously, allow butter to melt.

Continue stirring continuously until the mixture begins to simmer and it thickens.

Immediately strain into a new bowl. (If you don't strain it you'll have chunks or orange-flavored scrambled eggs.)

Immediately cover with plastic wrap and cool in refrigerator. Do not mix the curd into the mousse until it has cooled completely.
Make the Orange Mousse
Sprinkle gelatin on top of remaining 1/2 cup of orange juice. Let bloom for 5min.

Whip the cream with half the sugar until it forms soft peaks.

On a double boiler, whip the egg whites with the second half of the sugar.

Continue whipping until peaks form and it reaches 140°F.

Measure out 1.5 cups of the curd into a large bowl.

Melt the gelatin and mix it into the curd along with the orange extract.

Add orange food coloring until it reaches the desired color.

Fold in the whipped cream.

Fold egg whites into the whipped cream and orange curd mixture.

Pour the mousse into the pan on top of the brownies.

Refrigerate until the mousse hardens.
Make the Chocolate Ganache
On a double boiler, melt the chocolate.

Allow to cool to room temperature.

Pour over the hardened mousse.

Refrigerate until the chocolate hardens before serving.
---
---