Mini Oreo and Peanut Butter Cheesecake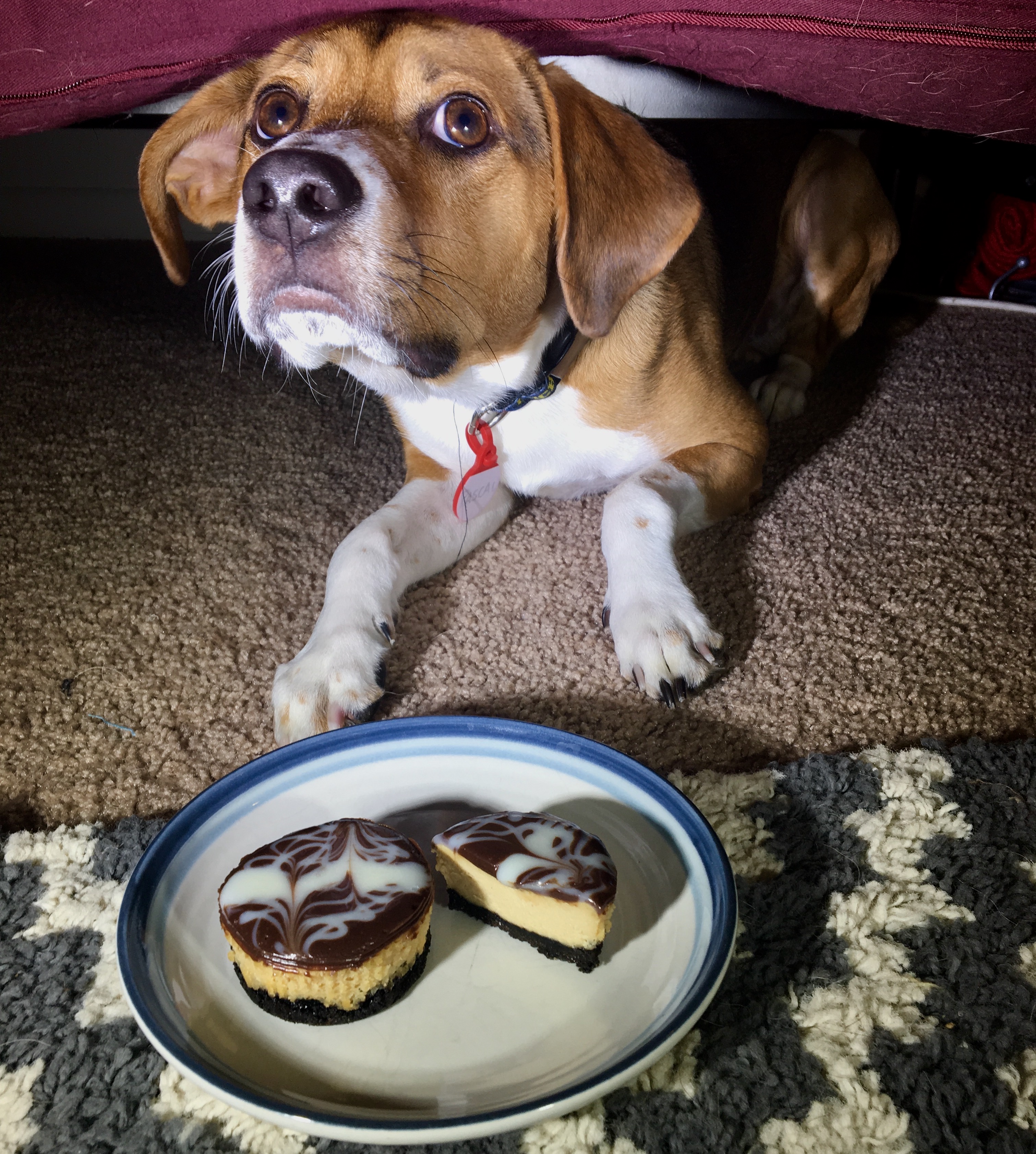 Jump to Recipe
DISCLAIMER: This recipe is for humans not dogs!
One of my coworkers, Helen, is super awesome and went to a conference in California last week to present her research. I'd originally promised to bring in something that would combine peanut butter and chocolate for good luck before she left, but then I spontaneously decided to go to Nashville and ended up baking a baklava cheesecake last week instead. To make up for it, I brought these (hopefully) delicious mini treats made up of peanut butter cheesecake, Oreo cookie crumbs, and chocolate ganache. I wanted to play around with some chocolate decorating, so I made some swirly patterns in the ganache.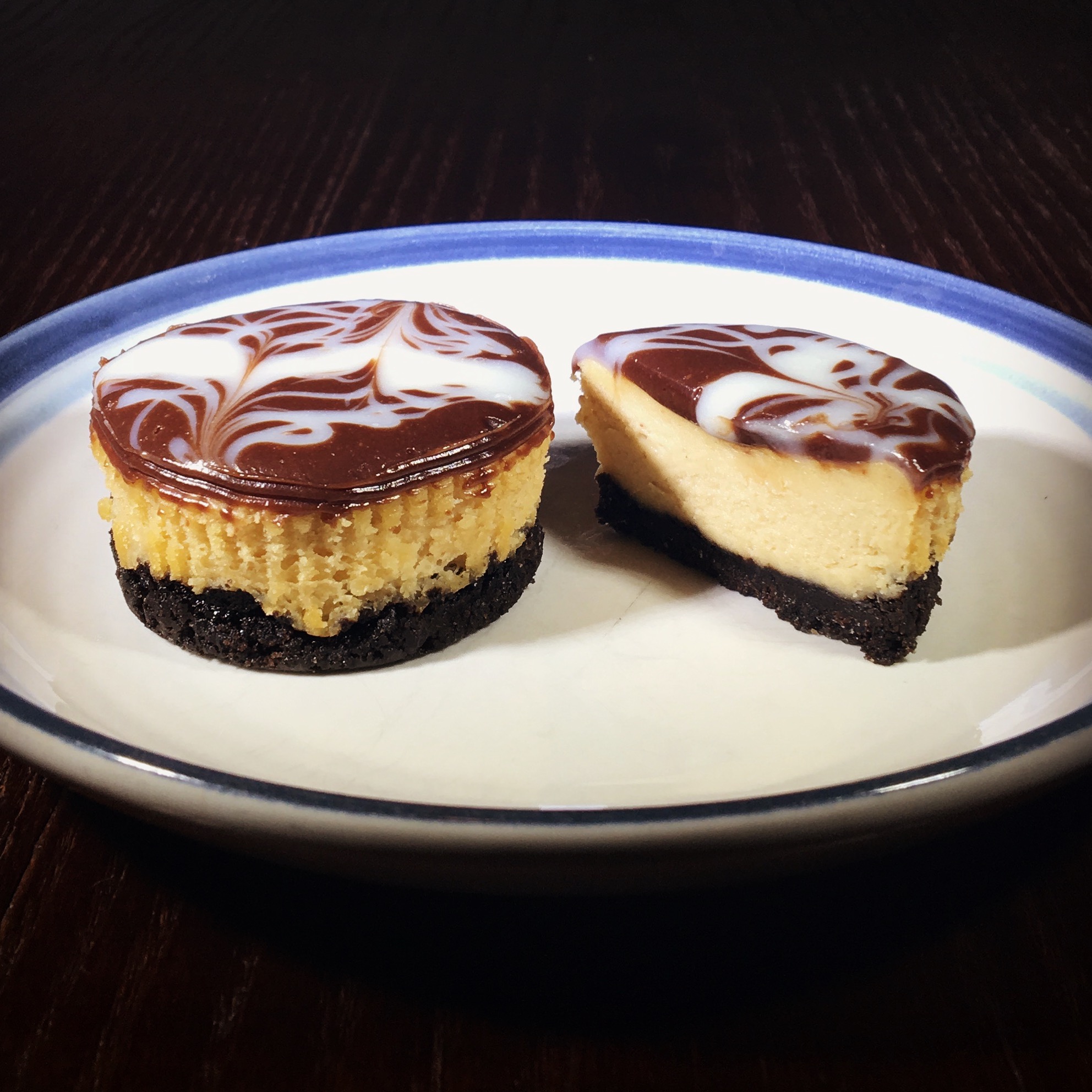 In general, cheesecake crust is 1.5 cups crumbs, 6tbsp melted butter, and 1/3 cup sugar. This makes it really easy to alter the recipe to fit whatever kind of crust you want; in this case, I wanted Oreo cookie crumbs. Chocolate ganache, too, is a pretty standard recipe. You can change the ratio a bit to get more liquid-y or more solid but the only two ingredients are chocolate and cream.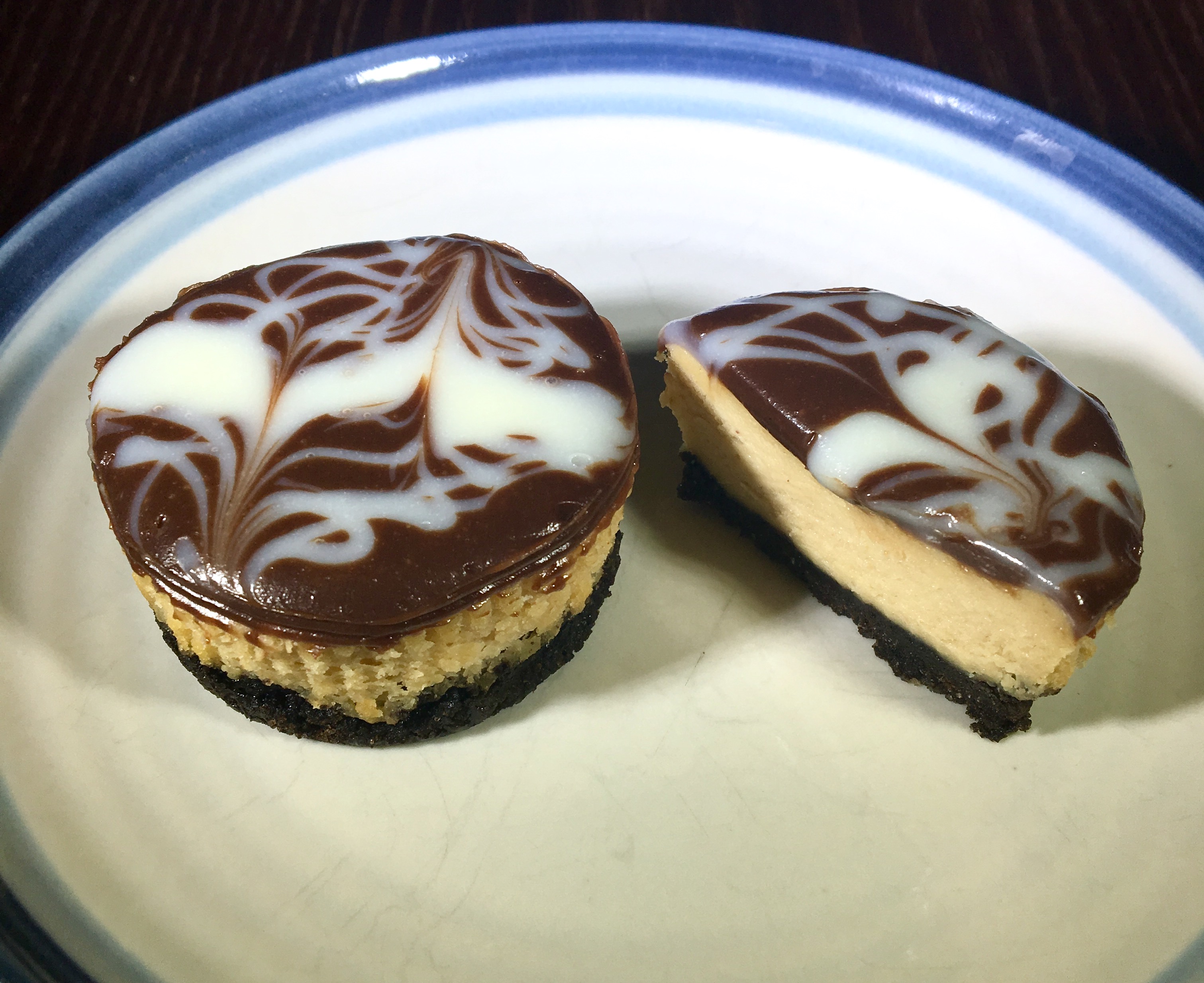 I was a little nervous when I was making this because I generally worry about the logistics of baking cheesecakes. One up-side was that I was covering them with ganache so I didn't really have to worry about cracks. But I also wasn't sure how much they would rise. Making peanut butter cheesecake was actually really fun, because the additional peanut butter made the batter silkier. In the end, I didn't have to worry and they came out beautifully.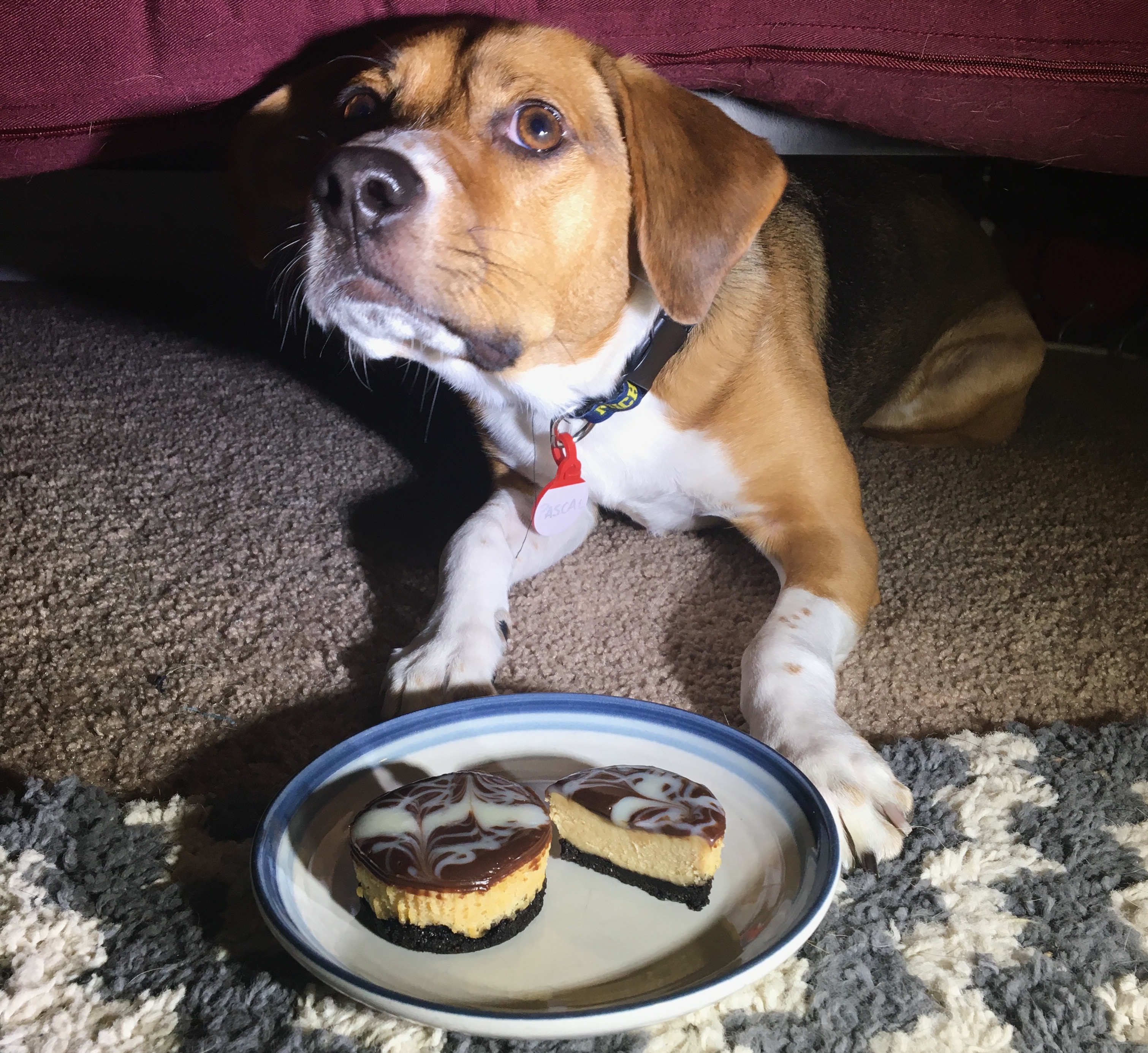 A couple notes:
I opted not to use a water bath because I'm lazy, but you could definitely put the muffin tin in a jelly roll pan filled with water.
Make sure the cheesecakes are cooled completely before adding the ganache. This will ensure that the cheesecakes aren't going to flatten any more, and the ganache won't break the skin and fall through or anything.
Use a knife to make the swirls more dramatic, and drizzle the white ganache from higher up to create squiggly swirls.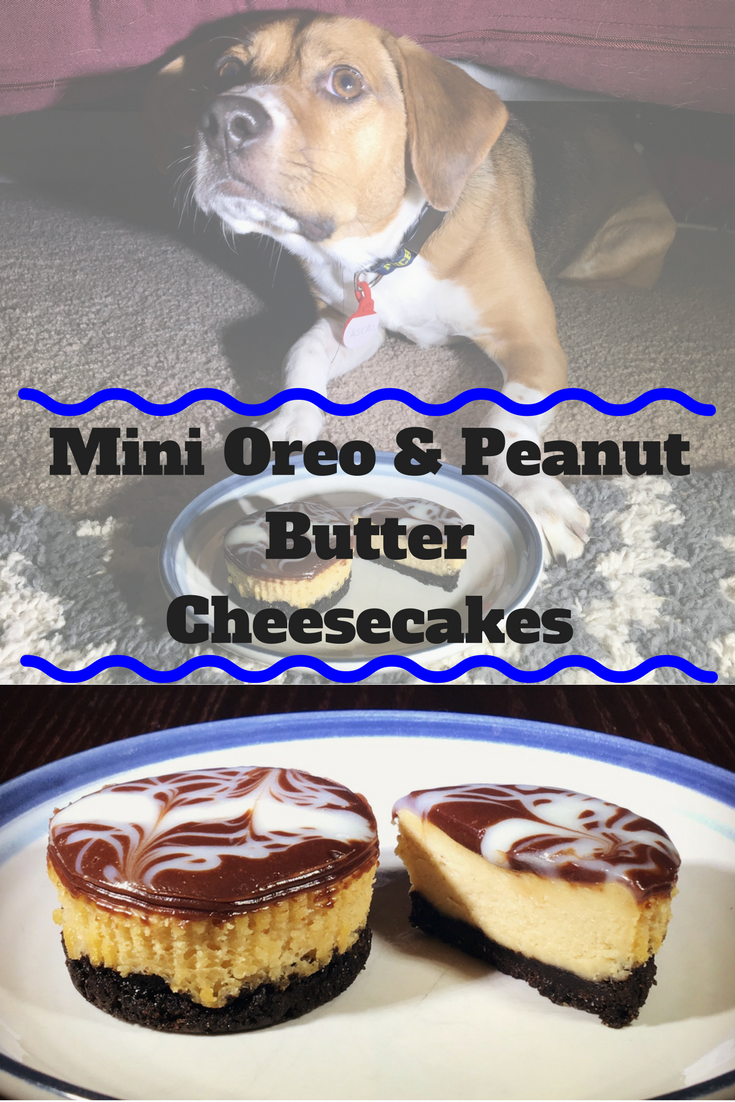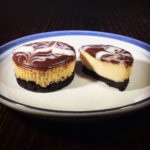 Mini Oreo and Peanut Butter Cheesecake
Mini peanut butter cheesecake with Oreo cookie crumb crust topped with brown and white chocolate ganache swirls.

Ingredients
Oreo Cookie Crust
1

cup

crushed Oreo cookies

4

tbsp

unsalted butter (melted)

1/4

cup

granulated sugar
Peanut Butter Cheesecake
11

oz

cream cheese

2/3

cup

granulated sugar

2/3

cup

sour cream

1/2

cup

peanut butter

2

eggs

1/2

tsp

vanilla extract
Milk Chocolate Ganache
12

oz

milk chocolate (chopped or chips)

1

cup

heavy whipping cream
White Chocolate Ganache
6

oz

white chocolate (chopped or chips)

1/4

cup

heavy whipping cream
Instructions
Make the Crust
Line a muffin tin with cupcake liners.

Combine crushed Oreos (cookies only, no cream), sugar, and melted butter.

Press into the bottoms of the cupcake liners.
Make the Peanut Butter Cheesecake
Mix together cream cheese and sugar until light and fluffy.

Add in sour cream and peanut butter.

Beat in eggs, one at a time.

Spoon into cupcake liners, pretty much filling them. Leave space for the ganache, but the cheesecakes won't rise much higher than the point at which they've been filled to.

Bake for ~30min. The cheesecakes should be firm. Usually you want a jiggle in the middle but these are too small for that.
Make Chocolate Ganache and Finish
To make both kinds of ganache, melt the chcoolate in a double boiler.

Remove from heat and mix in cream, combining thoroughly.

Pass through a strainer to remove lumps.

Pour the milk chocolate ganache, filling the rest of the space in the cupcake liner.

Drizzle white chocolate ganache in a swirl pattern on top.

To make larger spikes/swirls, drizzle a wider band, and then use a knife tip or toothpick to drag the band out to the sides.

Refrigerate until the ganache hardens, and keep refrigerated until serving.
---
---