Baklava Cheesecake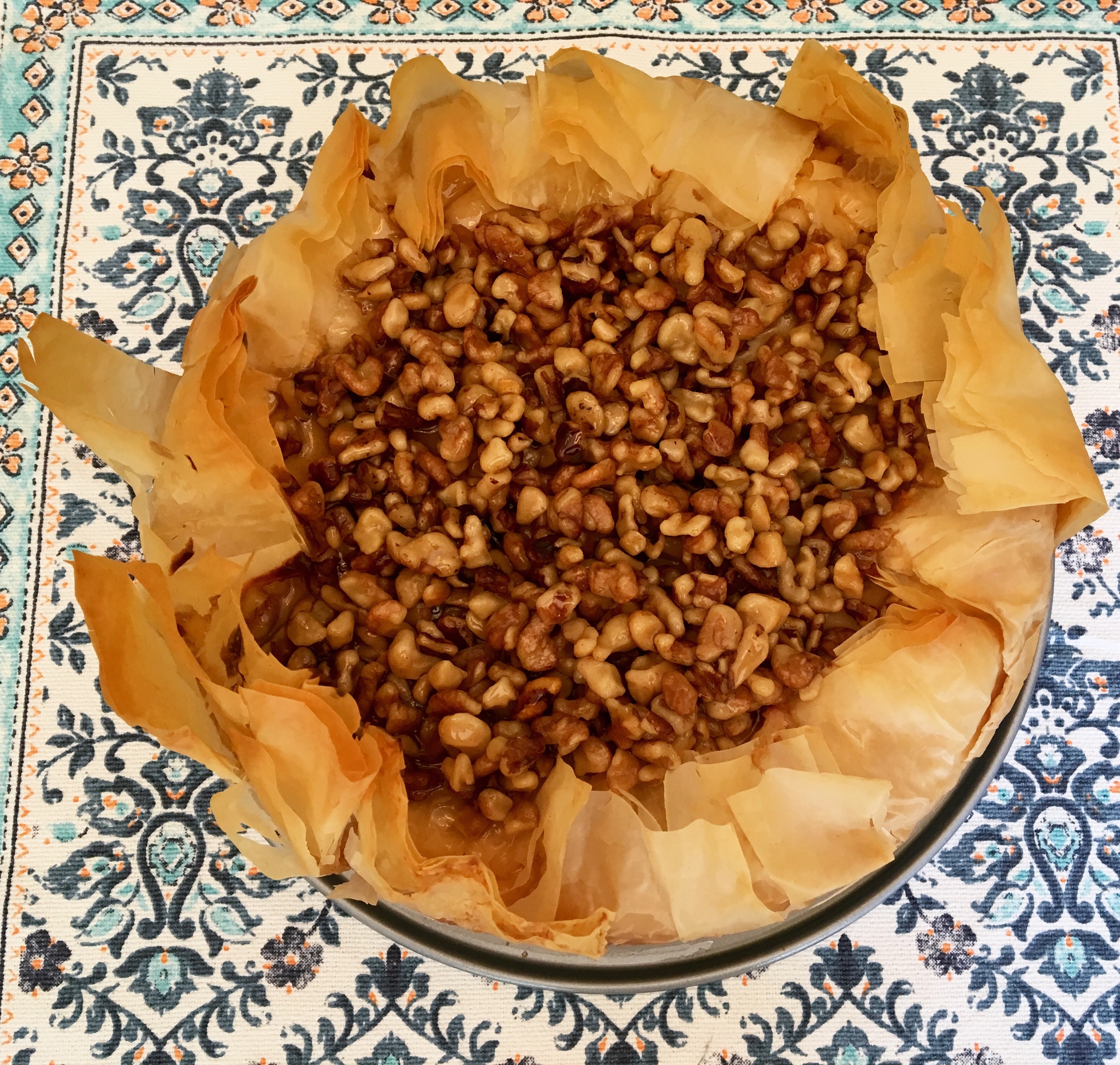 Jump to Recipe
DISCLAIMER: This recipe is for humans not dogs!
I love baklava. No, seriously, it's basically my favorite dessert. I have very clear memories of a drunken night a few months ago when my housemate offered me some leftover baklava and my friend and I ate the entire box. We're not talking a small box either, it was a huge box of the stuff. Luckily, I grew up in southeast Michigan which means that there was always plenty of quality Middle Eastern food to be found, and the best (Michigan) baklava, in my very reliable opinion, is from Shatila in Dearborn. I also happened to be visiting my friend in Nashville, Luísa, for Labor Day weekend, and last time I was there, I baked her house a doce de leite cheesecake. Apparently, her landlord has requested that I make a cheesecake every time I visit. So, of course, I decided to make a baklava cheesecake this time.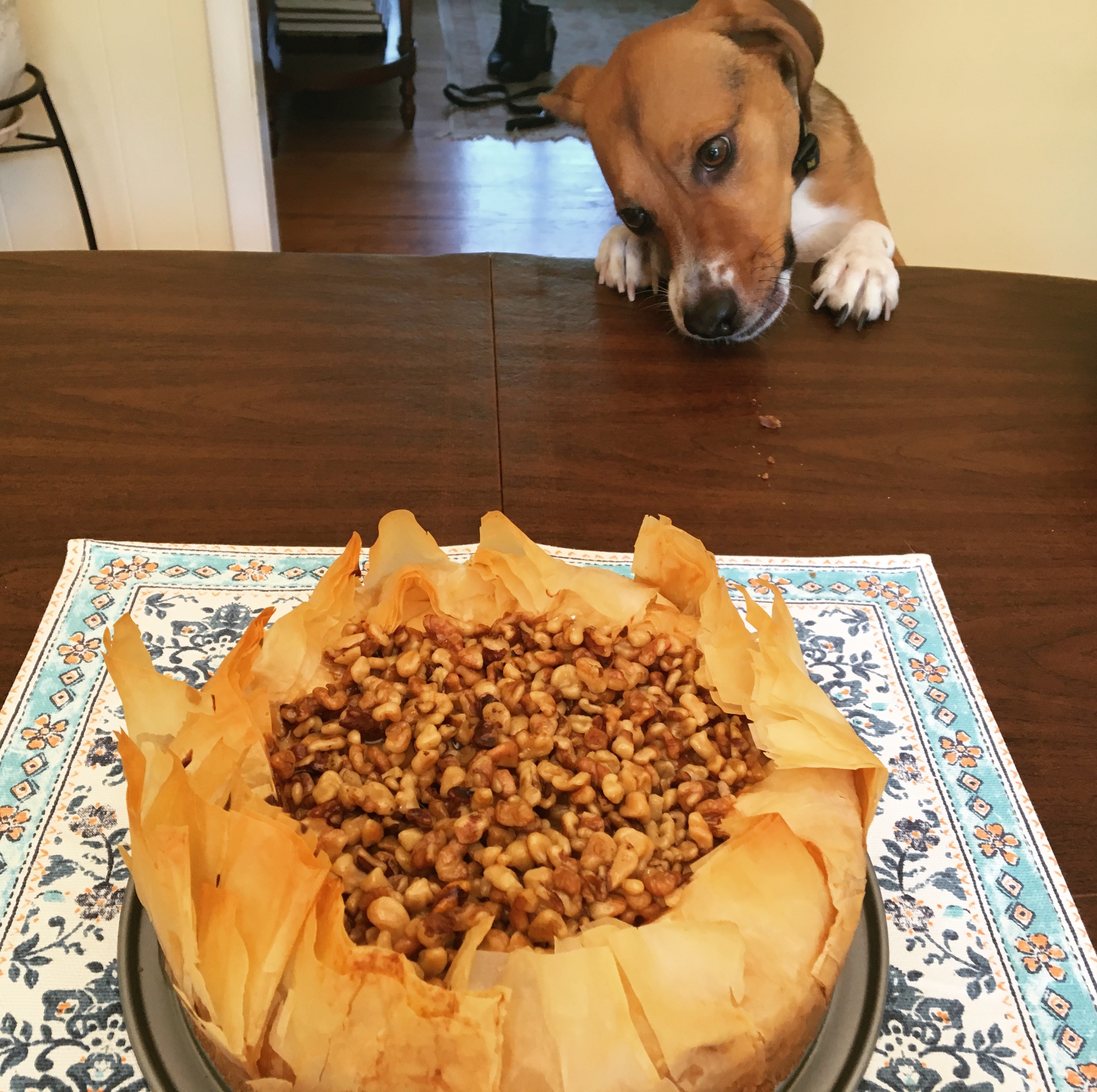 One of the reasons why I decided to make baklava cheesecake in Nashville, is because baklava requires phyllo (or filo) dough. For whatever reason, I haven't been able to find it anywhere in Ann Arbor, but I knew my friend had found some in Nashville before. (If you're wondering why I didn't even consider making it myself, it has to be so thin that it'd be really tricky, and I'd need a huge worksurface.) Other important flavor factors in baklava are honey, walnuts, cinnamon, rose water, and orange blossom water. Most recipes for baklava don't call for rose or orange blossom water, but Luísa claims they are critical flavors. I love the flavor of rose water so I wasn't going to argue with her. Of course, to make a baklava cheesecake, the final critical component was (cream) cheese.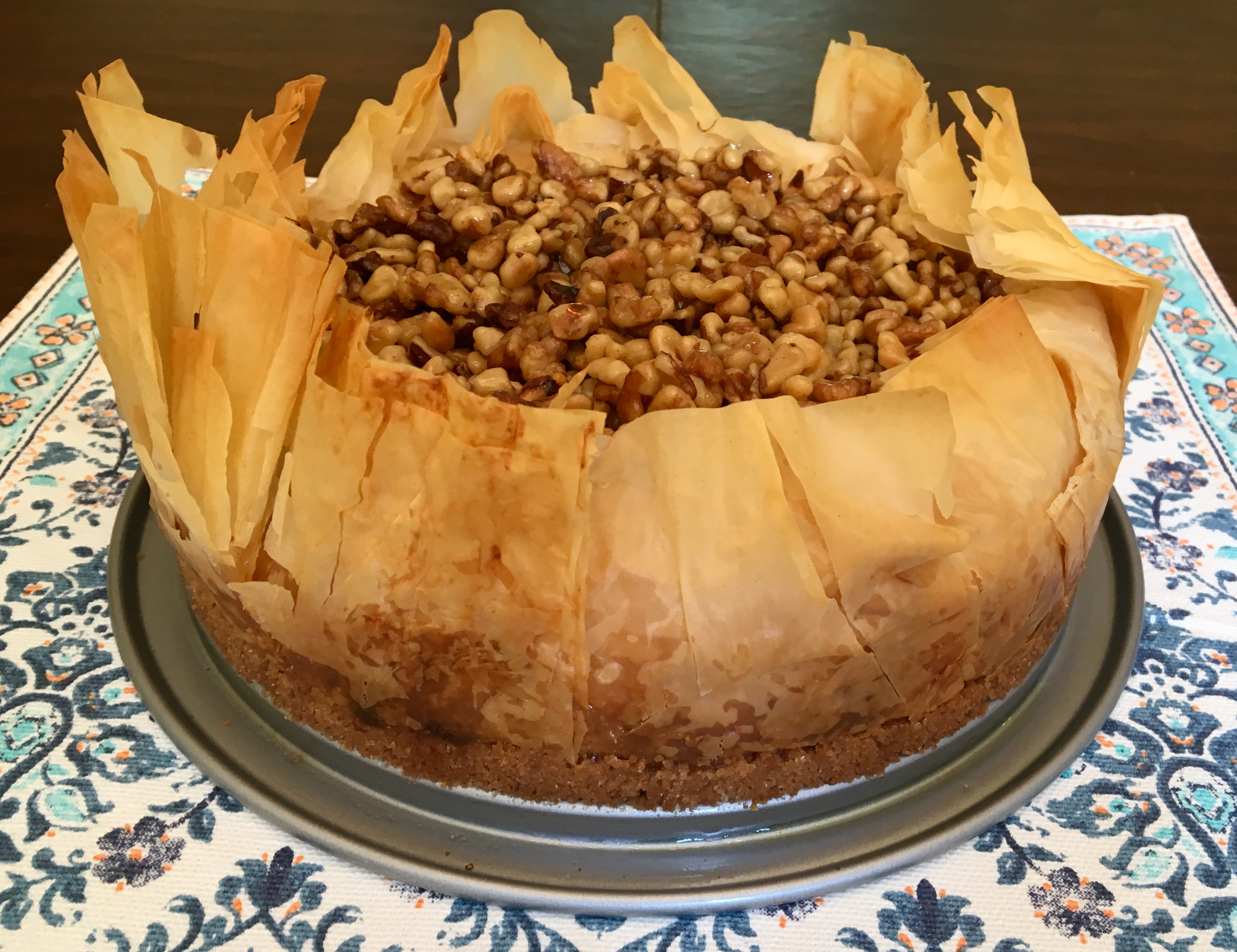 A couple notes:
When you bake the cheesecake, put it on top of a baking sheet or bake it in a water bath. The butter leaked out of the pan from between the sheets of phyllo dough. I chose not to use a water bath because I'm guessing that the phyllo wouldn't be as crispy. If I find phyllo in Ann Arbor, I'll make another baklava cheesecake and experiment.
It takes forever to bake. I gave myself an hour. I needed 2 hours. I didn't get to eat any because I had to rush out to get back to Michigan in time.
To make the crust: butter half a sheet of phyllo, fold in half, butter half again, and then fold in half a second time. Then arrange the sheets around the perimeter of the pan.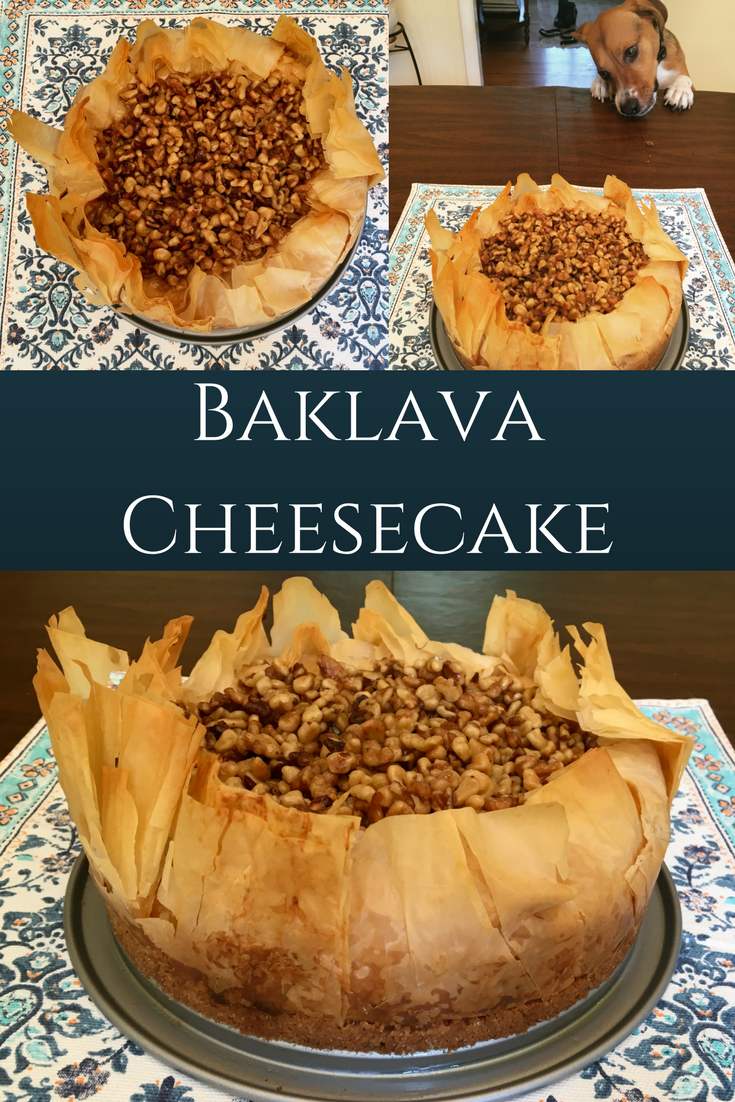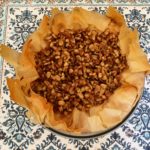 Baklava Cheesecake
Honey cheesecake topped with baklava filling and surrounded by flaking phyllo dough.
Ingredients
Crust
1

cup

crushed shortbread cookies

12

tbsp

unsalted butter, melted (separated)

12-20

sheets

phyllo dough
Cheesecake
16

oz

cream cheese

1/2

cup

granulated sugar

3

large eggs

2

cups

Greek yogurt (full fat, plain)

5

tbsp

honey

2

tsp

ground cinnamon

1/2

tsp

rose water

1/2

tsp

orange blossom water
Topping
5

oz

walnuts (roasted)

3/4

cup

water

1/2

cup

honey

1/2

cup

granulated sugar
Instructions
Topping
In a large saucepan, combine all the ingredients except the roasted walnuts

Bring to a boil, and let cook for ~20 minutes until it thickens

Let cool completely to room temperature
Cheesecake Crust
In a bowl, combine crushed cookies and 4tbsp of melted butter

Press into the bottom of a 9" springform pan

One sheet at a time, butter and fold a sheet of phyllo dough in half twice. (Butter, fold, butter, fold)

Place phyllo in a circular pattern around the sprinform pan so that a small amount sticks up over the top
Baklava Cheesecake
Mix together cream cheese and sugar until fully combined

Beat in eggs, one at a time

Mix in honey, cinnamon, rose water, and orange blossom water

Pour into the prepared crust

Bake (placing the springform on top of a baking sheet to catch runaway butter) for ~2hrs or until firm with a slight jiggle at the center

Let the cheesecake cool to room temperature

Cover top with the prepared topping

Chill for 3hrs before serving
---
---