Ube and Flan Cupcakes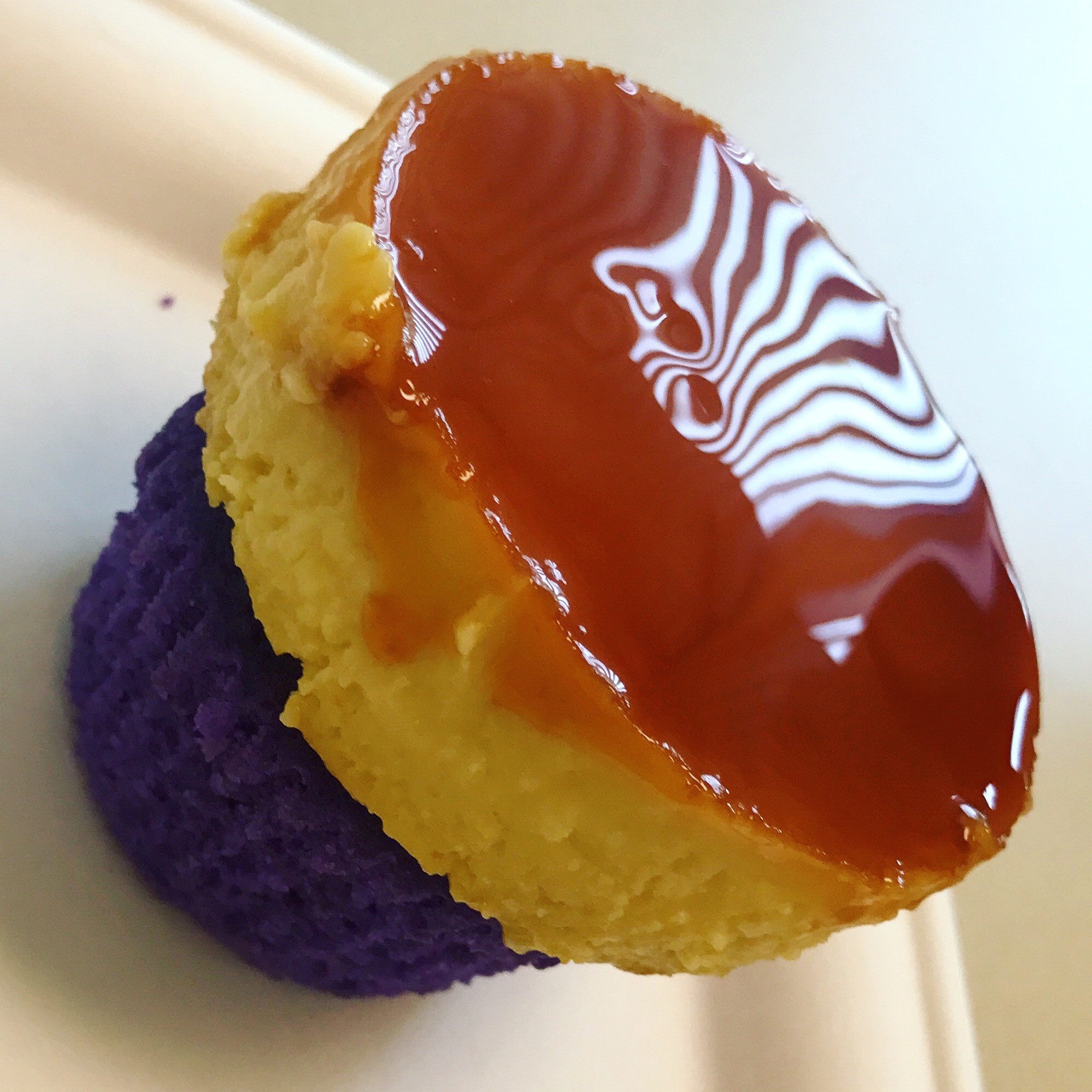 Jump to Recipe
DISCLAIMER: This recipe is for humans not dogs!
The other day, my coworker, Jacob, sent me this Instagram post and asked me to replicate it. After some quick digging, I found out that they were "ube flan cupcakes." Basically, ube cupcakes topped with a leche flan. Admittedly, I was pretty curious about what this mysterious "ube" was. Turns out I need to diversify my Asianness because it's a really popular flavor in Filippino foods. It's a purple yam, but apparently it's slightly different from a purple sweet potato. I spent some time over the weekend hopping from Asian market to Asian market, looking for this stuff, until I found one that is my new favorite Asian market in my town since it has everything. Usually Asian grocery stores stick mostly to one ethnicity, but this one had quality products of all Asian ethnicities. Anyway, they carried 1lb bags of frozen ground ube and now I'll need to find other recipes to use it in since I only used a tiny fraction of the bag.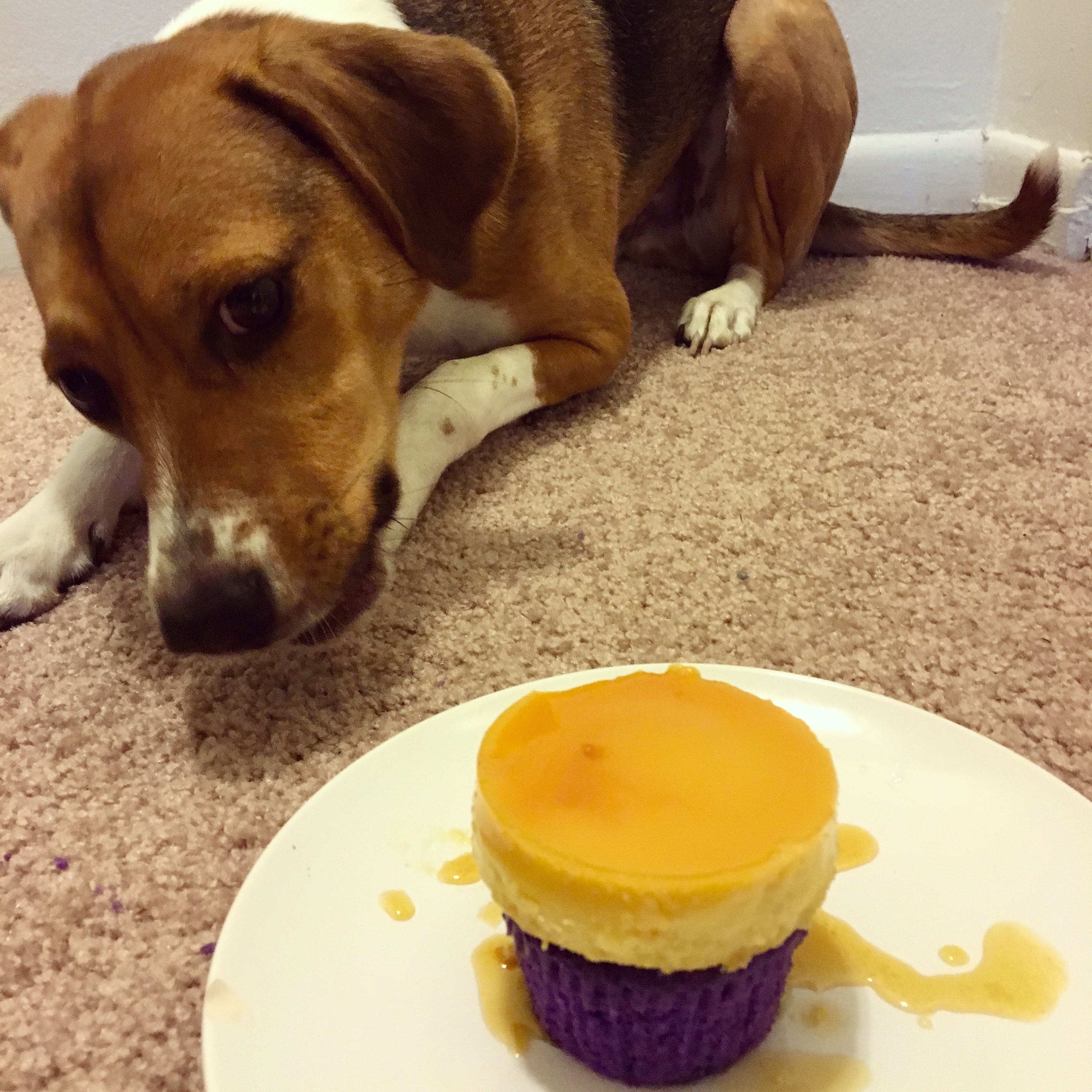 I was much more familiar with the leche flan. I'm not sure if I've had that specific type of flan before, but it tasted very similar to Japanese puddings I grew up eating. Apparently the leche flan is also a popular Filippino dessert. (I learned all kinds of things about Filippino cuisine while trying to put together a recipe for this.) Usually it's steamed, but since I wanted to make them in small ramekins, I baked them in a water bath. Ramekins, if you're unfamiliar like I originally was, about what they are, are those white porcelain bowls with straight sides.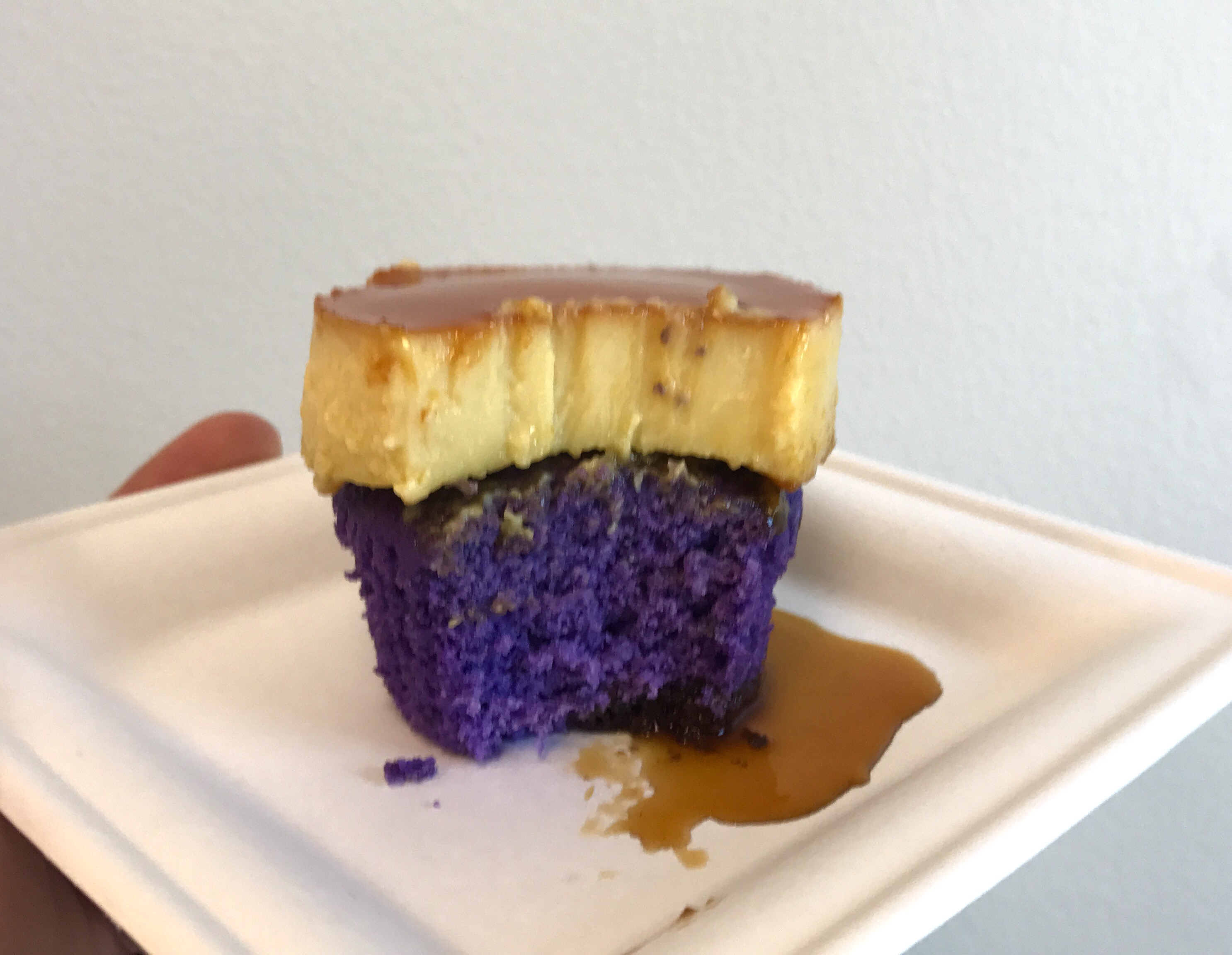 Apart from struggling a bit trying to figure out how to get the flan onto the cupcake, they turned out great! The ube cupcakes themselves were a brilliant purple color. Usually to get flan out of a container, there's a lot of shaking and strong tapping involved, but since I couldn't squish the cupcakes, that was out of the question. I also didn't want to flip it out onto a plate first and then transfer it since I figured there'd be some damage. In the end, I ran a small knife around the edge and accepted that there'd be some damage to the sides of the flan. I think it still looked ok though, and the caramel sauce adds a great effect! This was one of the more tedious recipes I've put together, but it definitely wasn't as difficult as I was expecting.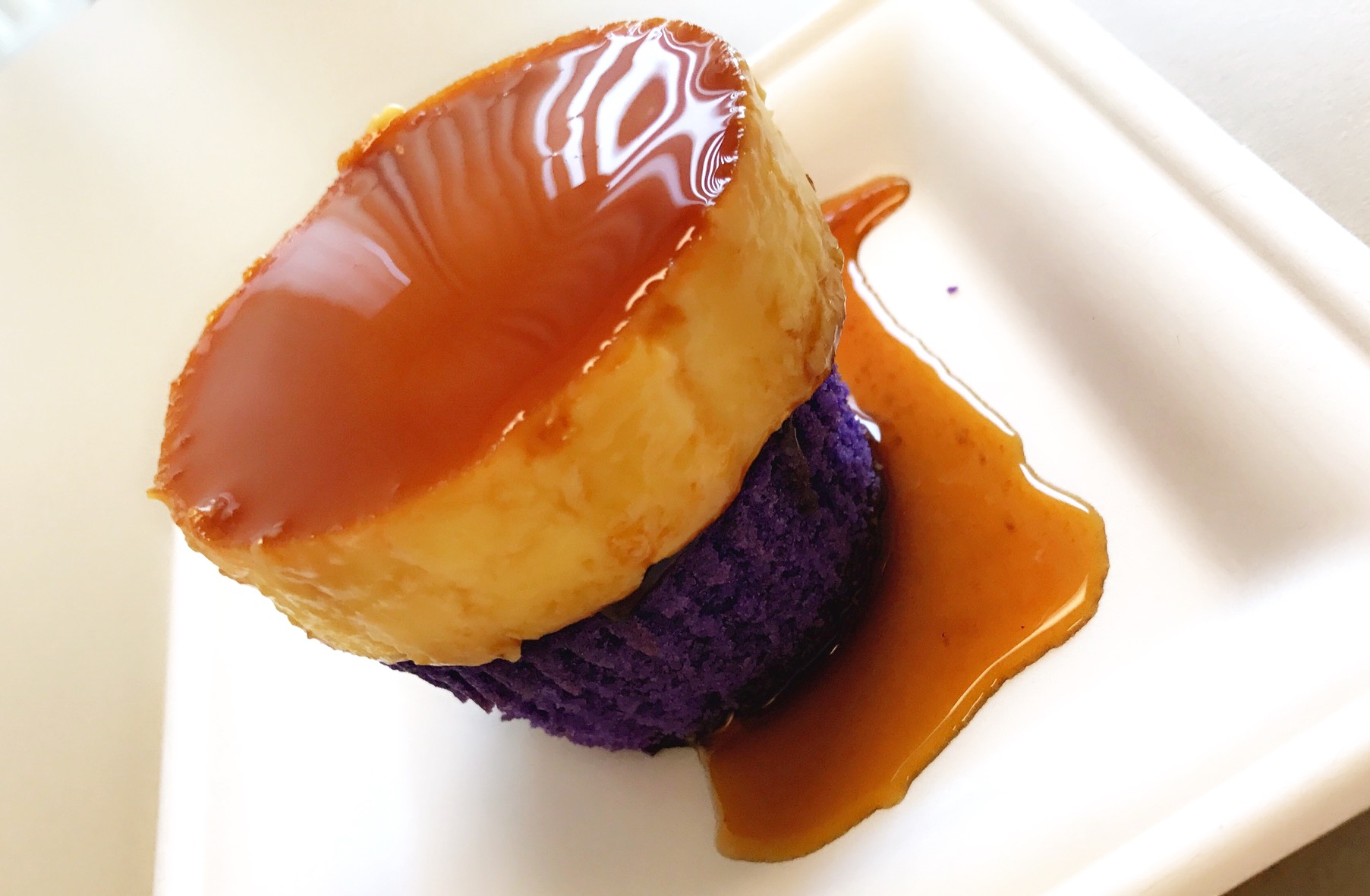 A couple notes:
A water bath is essential when baking the flan. I'm not actually sure what would happen if you don't use one since I've never tried, but I assume the edges would burn and the center wouldn't cook.
The ube cupcakes don't actually taste that much like ube, so if you don't want to search up and down town for some, you can skip it and just use extra purple coloring.
To get the flan out of the ramekin onto the cupcake, I ran a small knife around the edge until it loosened, and then gently flipped it over the center of the top of the ube cupcake.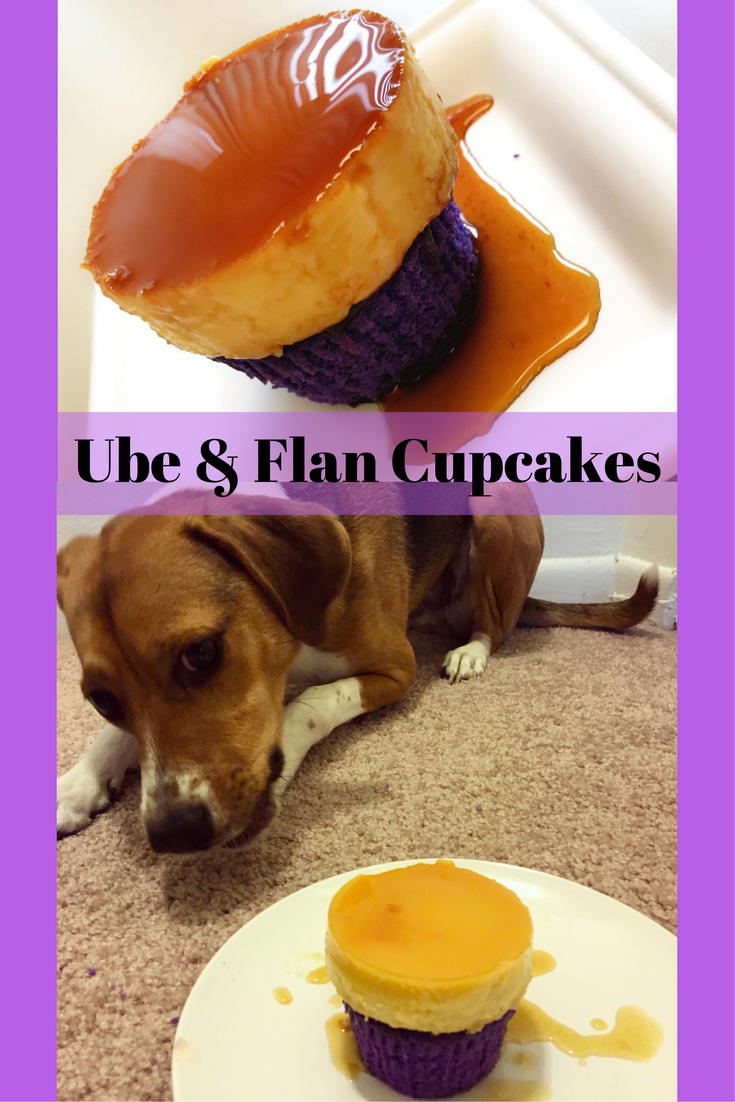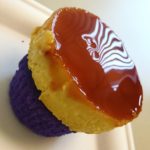 Ube Flan Cupcakes
Vibrant purple ube cupcakes topped with a leche flan.
Ingredients
Leche Flan
1.5

cups

granulated sugar

2

tbsp

water

24

egg yolks

28

oz

sweetened condensed milk

2

cups

milk (whole or reduced fat)

2

tsp

vanilla extract
Ube Cupcakes
75

g

grated ube

4

tbsp

unsalted butter (softened)

3/4

cup

granulated sugar

1

egg

1/4

tsp

vanilla extract

1/4

tsp

salt

1.5

tsp

baking powder

1.25

cups

all-purpose flour

1/2

cup

buttermilk

violet gel food coloring
Instructions
Line the Ramekins with Caramel
Start by making the caramel. Only make enough caramel for however many ramekins you have. (ex: I only own 6 ramekins so I only made 3/4 cup of sugar's worth of caramel for my first batch of flans).

Prepare a water bath to stop the cooking of the caramel. You'll dip the bottom of your saucepan in this.

In a saucepan, add sugar and water.

Turn heat on high, and stir constantly.

The mixture will begin to boil. Watch the color carefully and remove from heat as soon as it reaches the color of caramel you want.

Immediately place the bottom of the saucepan in the water bath so that the caramel stops cooking and you don't get really burnt caramel.

Turn the heat to low, and stir again if the caramel began to harden when the saucepan was cooled.

Pour caramel in the ramekins enough to line the bottom. Set aside.
Make the Flans
In a large mixing bowl, beat 24 egg yolks

Slowly add sweetened condensed milk while continuing to beat

Slowly add milk while continuing to beat

Pour evenly into 12 ramekins

Fill a large baking pan with 1-1.5" of water. Place ramekins in the pan

Bake for ~50min or until the top has browned and a knife inserted about halfway down the center comes out clean

Allow to cool to room temperature and then refrigerate for 3hrs or overnight
Bake the Cupcakes
Preheat the oven to 350°F

In a large mixing bowl, cream the butter

Add sugar and mix until light and fluffy

Add in salt and vanilla extract

In 3 alternating parts, beginning and ending with flour, mix in flour and buttermilk

Color with food coloring until you reach your desired color

Bake for ~30min or until a toothpick inserted in the center comes out clean
Assemble the Cupcakes
Remove the flan from the refrigerator, and let sit for ~15min at room temperature

Run a knife carefully around the edge until the flan is loosened

Flip over the top of the cupcake, and tap lightly on the bottom of the ramekin until the flan comes out

NOTE: caramel sauce will drip out with the flan as you flip it out so make sure you do this on a surface that is easy to clean.
Recipe Notes
This recipe makes 10 cupcakes and 12 flans.
---
---