Cannoli Cake with Dulce de Leche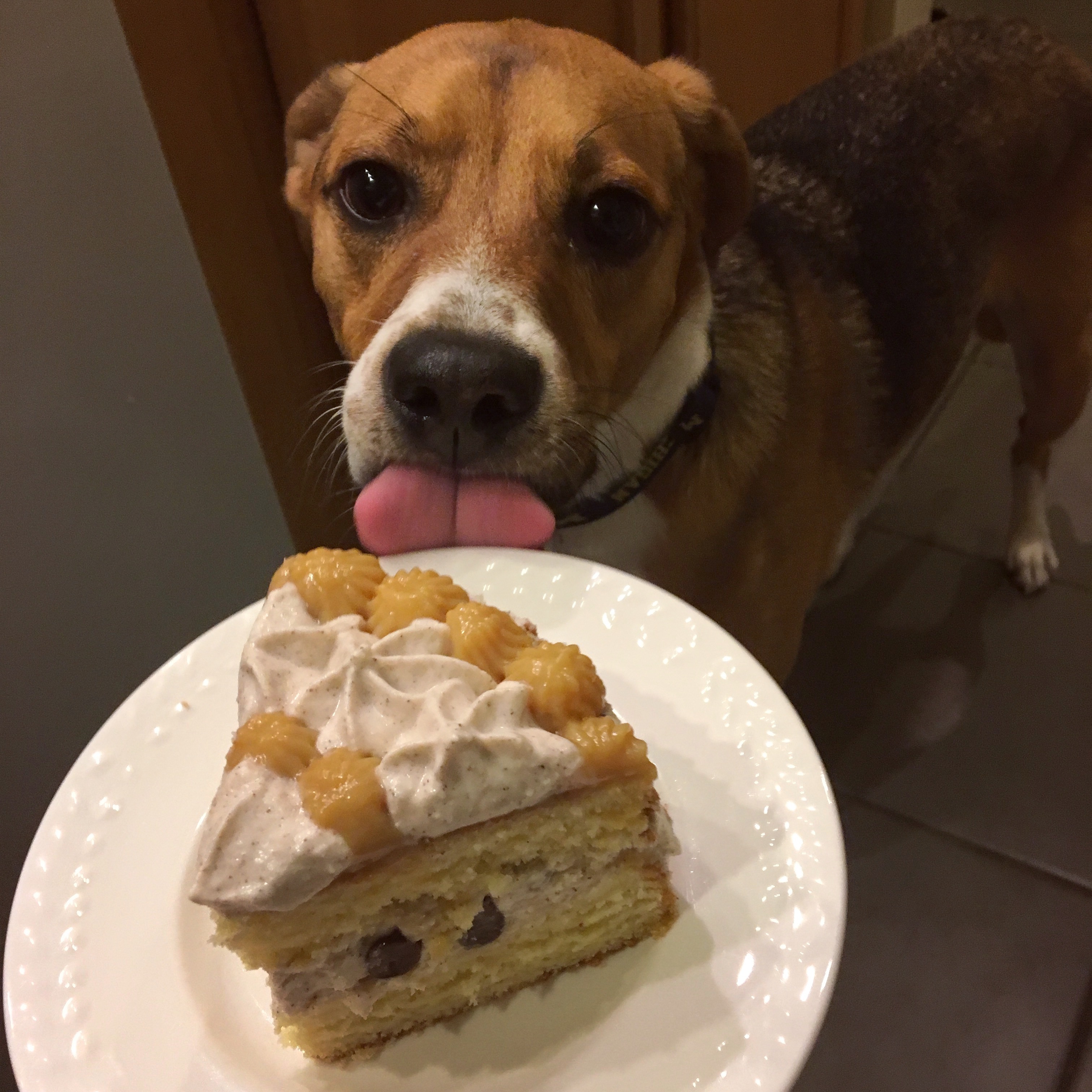 Jump to Recipe
DISCLAIMER: This recipe is for humans not dogs!
In a college town, once August hits, there's a flurry of lease turnovers with pretty much the entire population moving out of their houses and apartments, and moving into new places. I haven't had to move in a couple years, but since I have a car and am just working instead of going to classes, I decided to move farther out where rent is cheaper to a new apartment. That means that for the last week my thought process has been along the lines of "Do I really need a bed? Or can I just sleep on the floor and not carry this mattress across town?" and "Why do I even have this?!?" I have to say, it's going better than past years though. At least I have a week overlap between leases. A few years ago I had one day to move everything into a friend's living room where I crashed for 2 weeks until my new lease started, when I again had one day to move everything over. Anyway, ranting about moving aside, I really wanted to bake one more cake before I moved my baking supplies over and I was really craving some cannoli and dulce de leche for some reason. (I say "for some reason" because I think I've only had cannoli once in my life.) The logical overlap was to combine the elements of cannoli in a cannoli cake.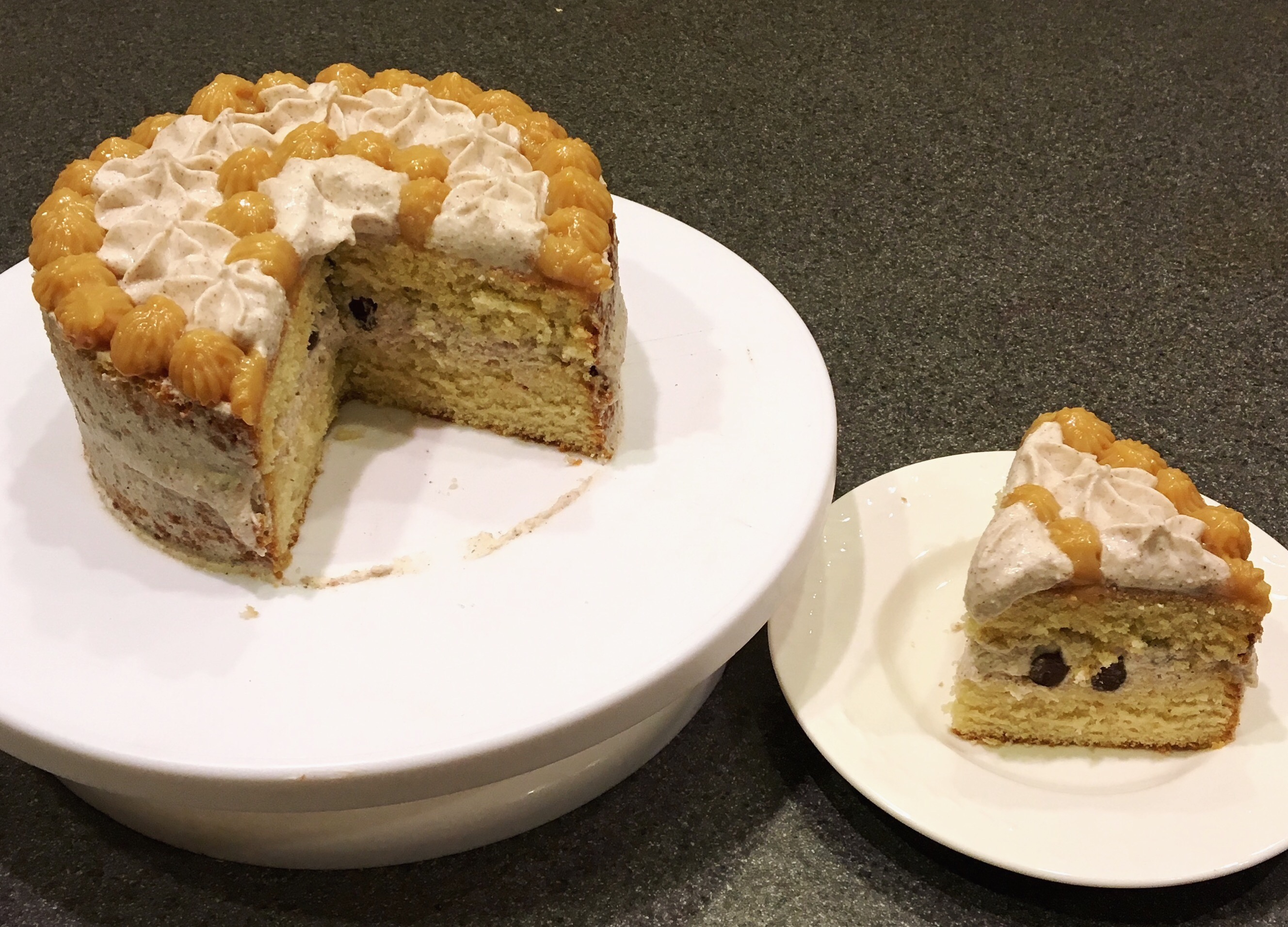 I decided that, while not traditional, there isn't any reason for dulce de leche to clash with cannoli, and decided to decorate my cannoli cake with some. I started by making the dulce de leche since it takes forever. Seriously, just buy it if someone near you sells it. And I don't even make it the proper way, I use the cheat that a Brazilian friend's mom told me about since dulce de leche (or doce de leite as they call it) is much more of a staple in Brazil than it is here. Basically, you just boil a can of condensed milk for 3hrs and turn it into a pressure cooker. However, when I went to go boil my can, I realized that one of my housemates had already moved out our giant pot. I ended up making a double boiler and sticking my cans in it for 4.5hrs. The only thing about this method is that you have to make sure that the water always always always covers the whole can or it could explode.
Doce de Leite (the easy way)
A "recipe" for doce de leite (dulce de leche) that doesn't require standing over a pan for hours on end.
Ingredients
1 or more

cans of condensed milk
Instructions
Fill a large pot with water and submerge your can(s) of condensed milk. There should be ~1" of water on top of the can.

Seriously, submerge the can. It will explode otherwise.

Bring the water to a boil and then turn the heat down a bit so it still simmers but doesn't boil over.

Let simmer for ~3hrs (more or less time depending on how much carmelization you want). Check back periodically to make sure the can is fully submerged.
The cannoli cake itself was a 6″ cake — mostly because I won't have a roommate for a couple of weeks after the move so the smaller the cake the more likely it'll be that I actually finish it. I added a bit of white wine to the batter to try to get the taste a tiny bit closer to a cannoli shell. I frosted it very lightly, just with a crumb coat, because I thought frosting completely with cannoli filling would be a bit much, but I thought it would be really weird to add buttercream. Finally, I used a drop flower (cannoli filling) and open star tip (dulce de leche) for the piping on top. Overall, this cake was pretty straightforward and simple.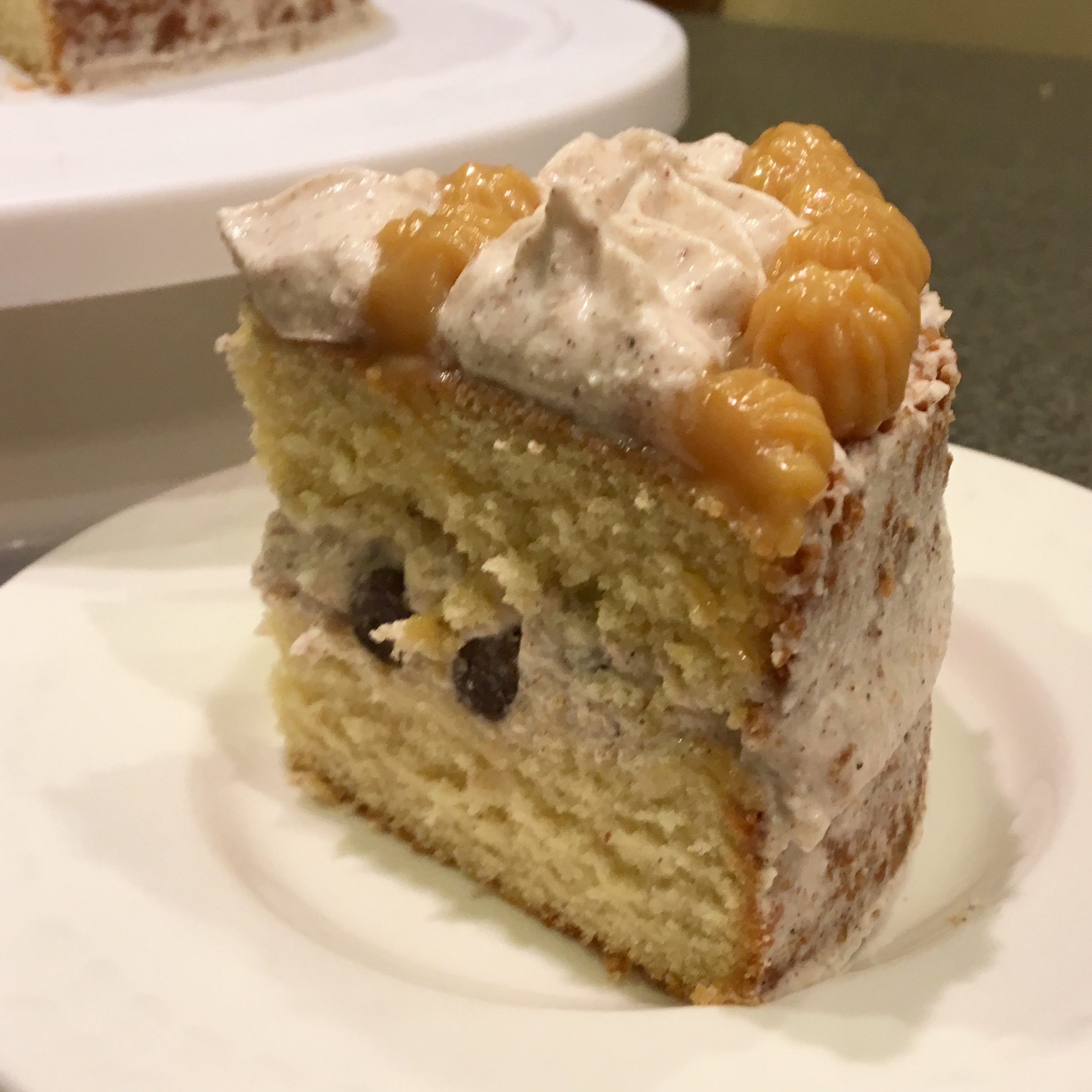 A couple notes:
I frosted the cannoli cake with a crumb coat. Basically, that means that I barely covered it in frosting, then went around it quickly with a smoother without putting enough on for a fully frosted cake.
For an 8-9″ cake pan, multiply the recipe by 1.5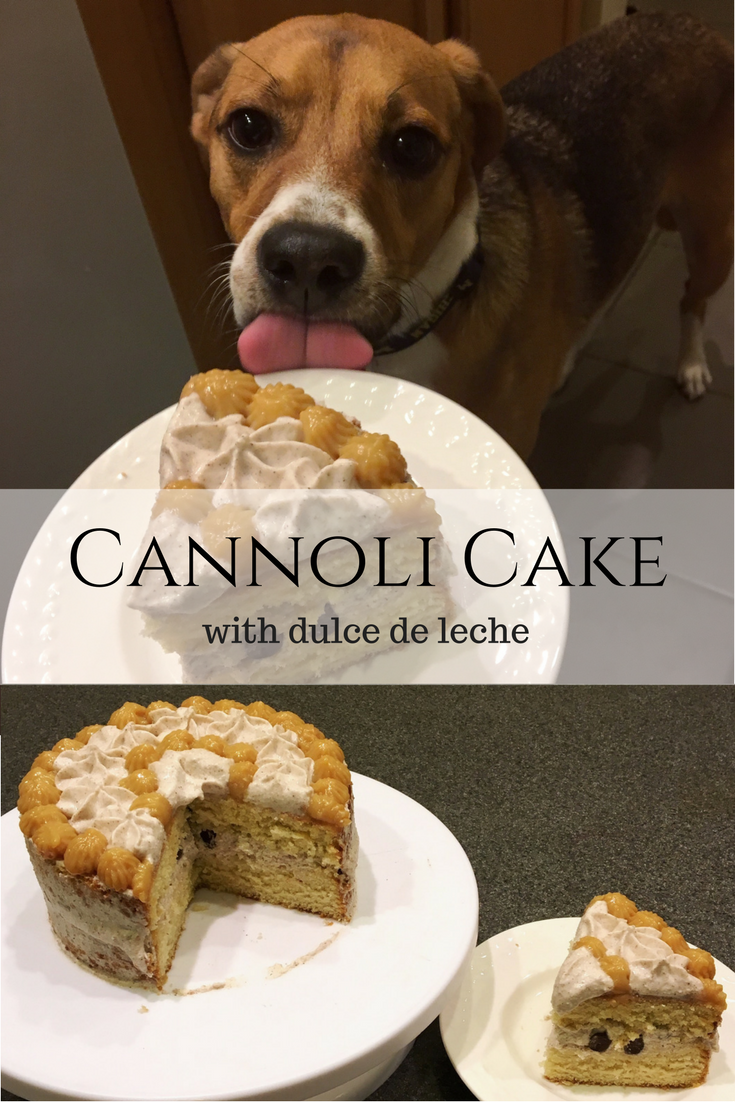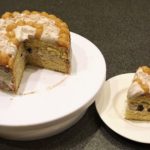 Cannoli Cake
A cannoli cake topped with dulce de leche
Ingredients
Cake
1

stick

unsalted butter (softened)

1

cup

granulated sugar

1/2

tsp

vanilla extract

4

tbsp

white wine

2

eggs

1.25

cups

all-purpose flour

1

pinch

salt

1/4

tsp

baking soda

1

tsp

baking powder

1/2

cup

buttermilk
Cannoli Filling
1

cup

ricotta cheese

1/3

cup

powdered sugar

1

pinch

allspice

1/2

tsp

cinnamon

1/8

cup

heavy cream

chocolate chips (for sprinkling)
Instructions
Bake the Cake
Preheat the oven to 350°F and grease 2 6" cake pans

Mix in sugar and beat until light and fluffy (a bit like mashed potatoes)

Beat in eggs, one at a time

Mix in salt, baking powder, and baking soda

Mix in flour and buttermilk, alternating so that you start and end with the flour

Bake for ~35min or until a toothpick comes out clean. Let cool.
Make cannoli filling
Beat together ricotta cheese and powdered sugar until mixed completely

In a separate bowl, whip the heavy cream to stiff peaks

Carefully fold the whipped cream into the cheese mixture

Refrigerate for ~30min before using.
Assemble the cake
Level both cake layers and cover the top of one with the cannoli filling

Sprinkle generously with chocolate chips

Add second cake layer and cover the cake with a crumb coat

Decorate the top with dulce de leche, filling, and chocolate chips.
---
---