How To Make a Unicorn Cake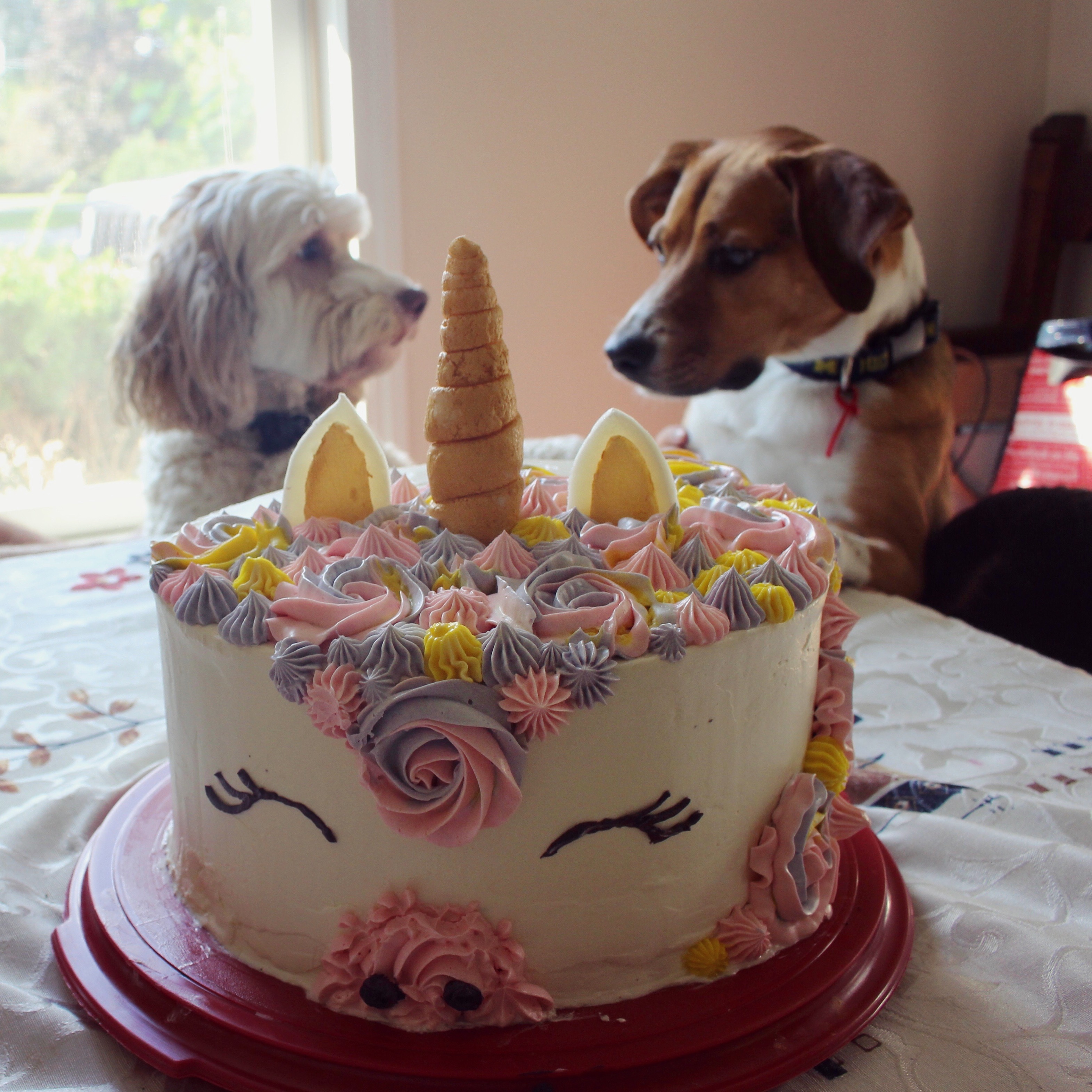 DISCLAIMER: This is for humans not dogs!
I recently made a unicorn cake for my dad's girlfriend's daughter, Phoebe's, 14th birthday. (There really needs to be a word for that because "dad's girlfriend's daughter" is just a mouthful). Anyway, it resulted in the picture above that is my absolute favorite picture I think I have ever taken. I have seen pictures of these cakes floating around Instagram for a while but I kept thinking they were a little too cheesy for me, but Phoebe's favorite animal is a unicorn so I decided it would be fun. I did the decorating by looking at pictures on the internet and deciding what I wanted, but some quick Google-fu seems to show that the original unicorn cake tutorial was done by Rosanna Pansino whose YouTube channel is Nerdy Nummies.
Because Phoebe likes chocolate and strawberry, I did 4 layers of 9″ chocolate cake filled with strawberry buttercream, but you can really do whatever you want under the frosting. I also used Swiss Meringue Buttercream for everything, but any kind of (pipe-able) frosting should work. Any color combination for the swirls should work as well. I went with yellow, purple, and pink. I meant to do yellow, blue, and pink, but my blue coloring ran out and I ended up with a weird grey-ish color I had to fix somehow. At first, I considered frosting the cake pink, but then decided that I should stick with a traditional white unicorn. (read: I didn't have enough pink food coloring).
Making the Cake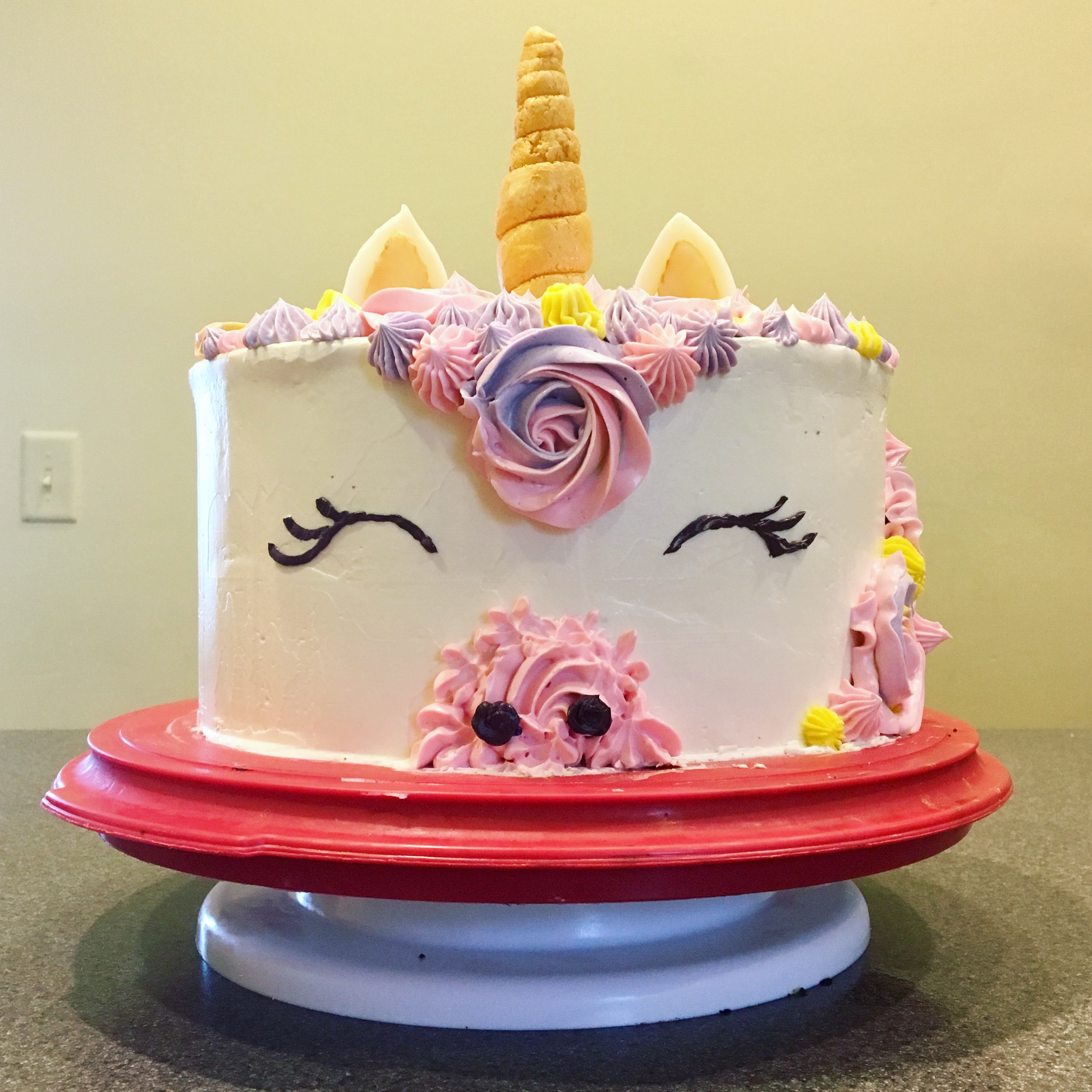 1. The Horn
The first thing I did was make the horn. It could be made days in advance and I wanted to be sure I got one that looked ok. I opted for white modeling chocolate because I was hoping it would taste better than fondant. It was a small step up but definitely not something I'd want to eat. My dad said I should've just spray painted an upside-down ice cream cone. In hindsight, that would've tasted way better. Other people suggested tuile or a rice crispy base covered in chocolate. If I ever make this cake a gain I'll probably try each and pick whichever looks best.
The process for making the horn out of modeling chocolate or fondant is the same. You want to roll out a long rope that gradually goes from very skinny to not-so-skinny (basically how fat you want the base to be). Then, take a dowel, lollipop stick, or another long, straight thing, and starting with the skinny end at the top, gradually roll down. I say start at the skinny end because I started with the fat end the first couple of times, and then realized it's impossible to roll a tight spiral when you have to do it midair since the base is thicker. Make sure you have some extra stick on the bottom, that's what you'll use to stick the horn into the cake.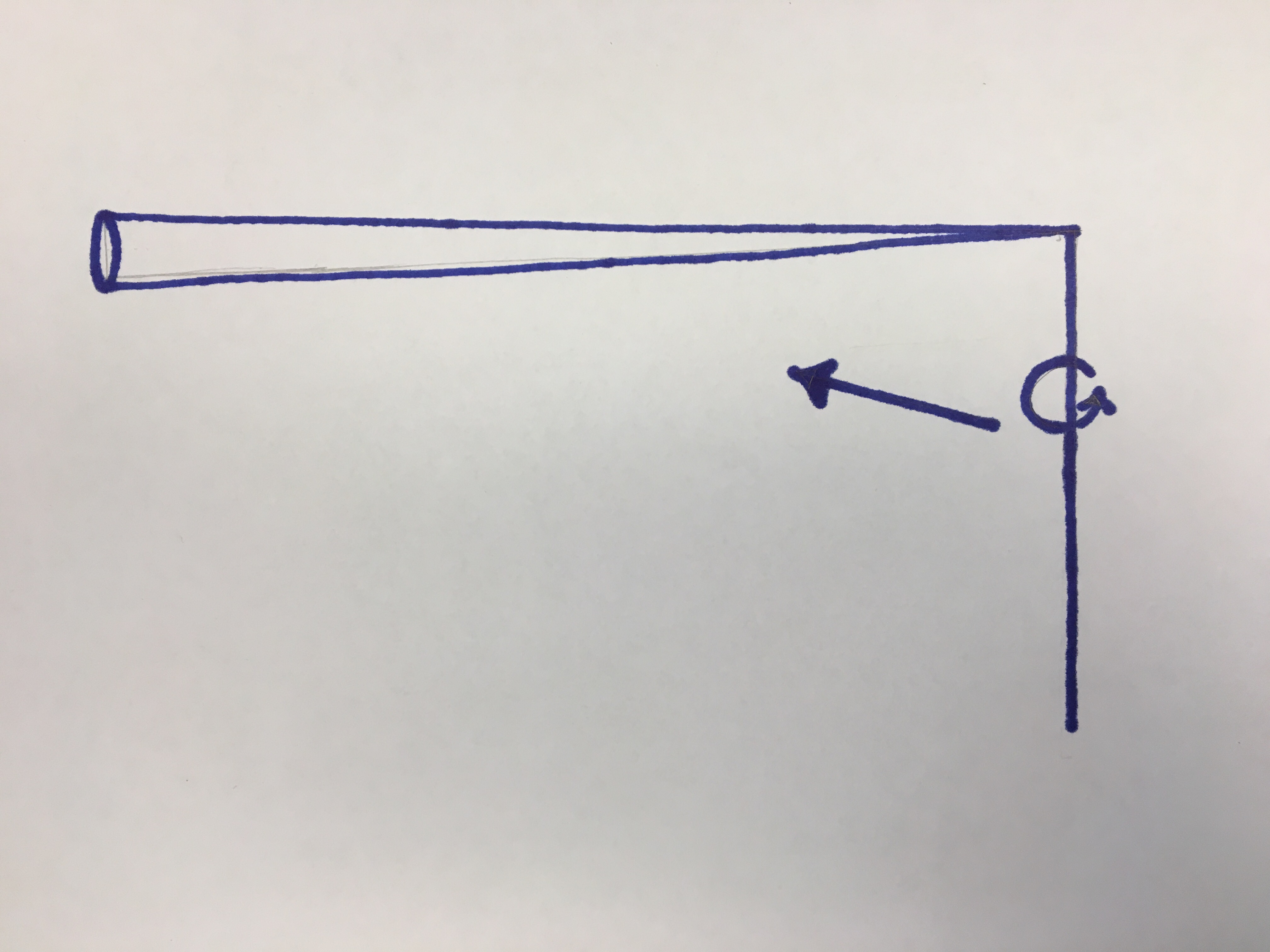 I immediately put the rolled horn into the freezer, stuck into some styrofoam. Once the chocolate had hardened, I spray-painted it gold with some edible gold color mist. (Upon finding this link, I've discovered that the reviews are, er, very interesting. I'm not sure what happened at the end of May 2015, but they all reference Valhalla for some reason). Once done, I stored the horn in the freezer until I was ready to use it.
2. The Ears
Since the ears were also modeling chocolate (or fondant), I made those next. Next time, I might try iced sugar cookies for these for tastier ears. I cut out a triangle with curved sides, and then used it as a stencil for making a second ear. Then I cut a third one, and trimmed the edges so it would be a bit smaller. I used the trimmed triangle as a stencil to make a second smaller one. The smaller ones are for the inside of the ears, so I sprayed these with the same gold color mist I used for the horn. To stick the inner ears to the outer ears, just use your finger to spread a tiny bit of water on the backs of the inner ears, and it'll work as glue when you stick them on the outer ears. I also stored these in my freezer.
Bonus pic of us trying to position the dogs for the awesome featured image since a picture of a horn and ears in a freezer would be super boring.

3. Stack and Frost the Cake
This is pretty straightforward. Stack and frost the cake how you normally would. If you've never frosted a cake before, I suggest these tutorials by Life, Love, and Sugar, or Style Sweet CA. I plan on making my own sometime in the future, but for now I haven't gotten around to it. I decided to do 4 layers of cake instead of the usual 2 or 3 because I didn't want my unicorn's head to look smushed. If you do a smaller cake (6″ rather than 8-9″) 3 layers is probably plenty.
4. Make Your Unicorn's Mane!
This is the fun part! The part where you make your regular cake a unicorn cake! First things first, we need to put the horn and ears on. First things first, pick which part of your cake is the "front." Line the horn up with the vertical center, and then stick it in the top, a little forward of dead center. I had my horn lean forward a bit since I thought that looked more unicorn-y. Then, put the ears on either side, angled a little bit towards each other. Now you're ready to start putting buttercream around these main body parts.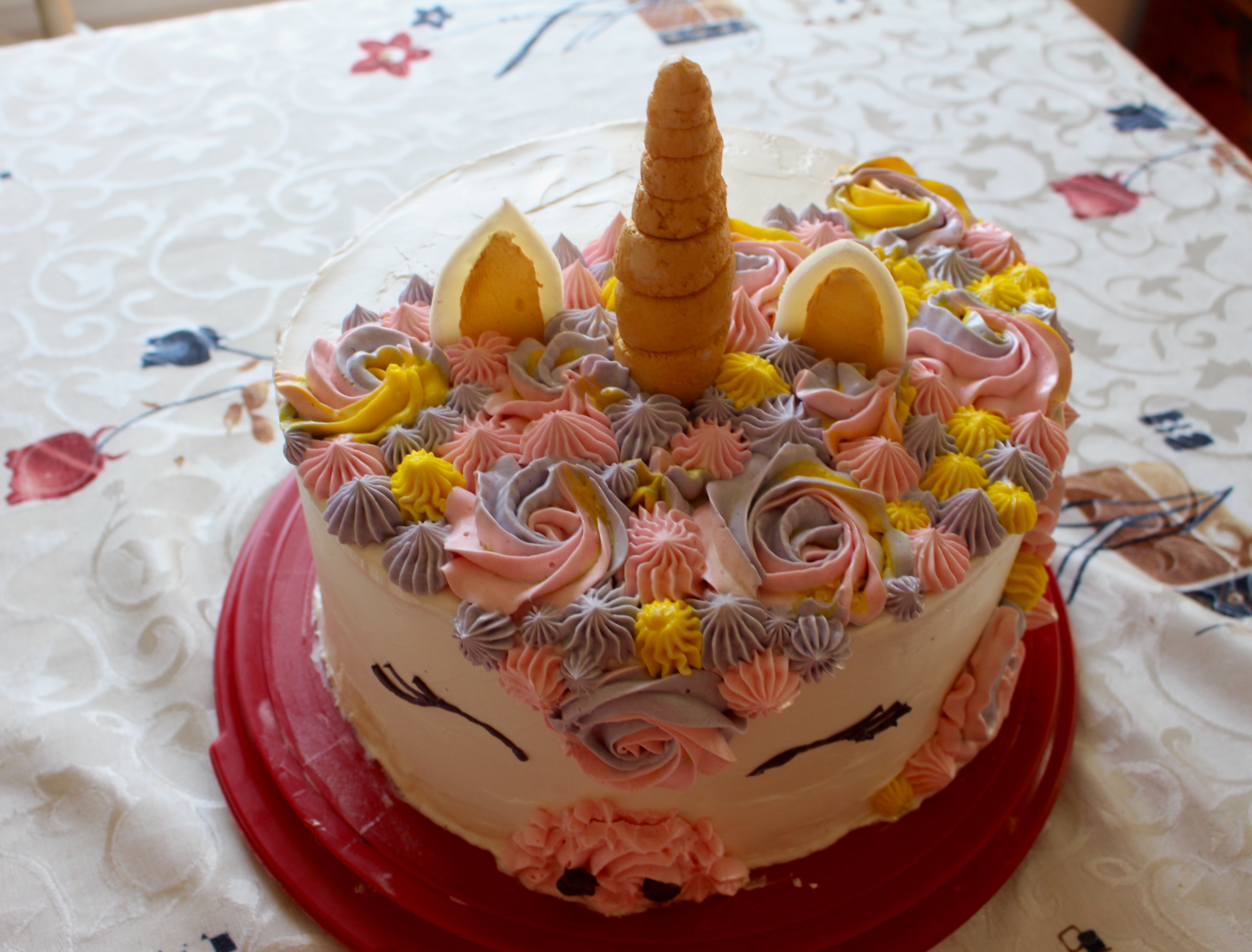 I used 2 different tips for the mane. For the smaller dots of color, I used the Wilton open star tip 4B, and for the large rosettes, I used the Wilton drop flower tip 2D. To make multi-colored rosettes, fill one-third of your piping bag with each color. The easiest way to do this is to fill the bag from the outside in. Using a spoon or an offset spatula, paint each colored frosting onto the outside of the bag, and then slowly continue adding the colors inward. Be careful not to mix the colors up in the bag or you'll just get grey frosting.
To start, I made the first, central rosette on the forehead. (If you've never made a rosette before, you start in the center, and while squeezing evently, make one spiral outwards). Then, I put a few more rosettes on the top, not too close together, and fairly evenly distributed. Then I switched tips, and switching up frosting colors I filled in the gaps.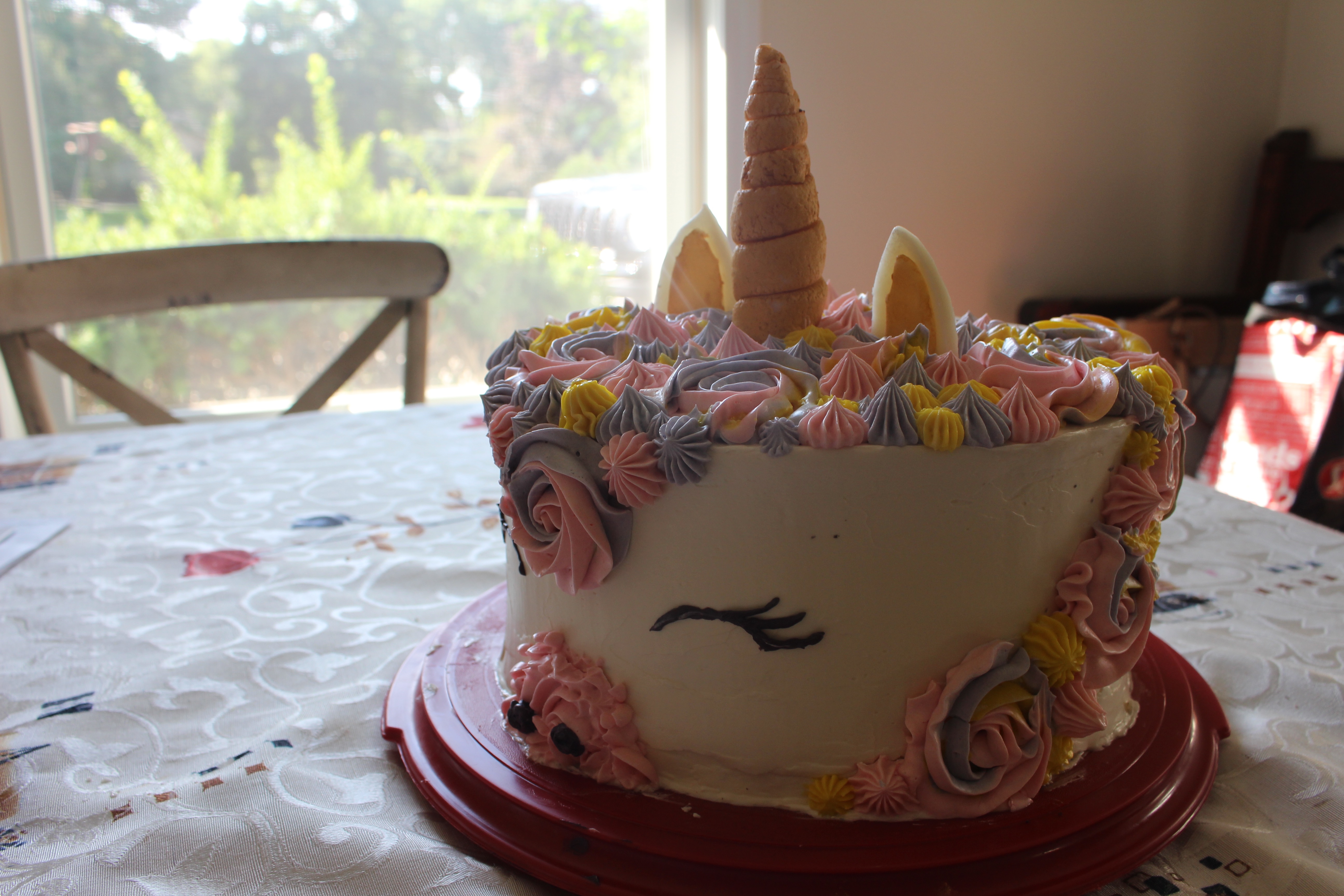 Make sure that you also have some frosting coming down the side of the cake since unicorn manes go down their necks. I used rosettes to outline my path first again, then, like on top, I filled in with the other colors.
5. Draw the Face
I didn't use a tip for the black frosting. Instead, I put a very small amount of black frosting in a piping bag, and cut just the very tip off to make myself a small, writing tip. The last step is to draw on the eyes and nose. I started with the nose, and centered it below the central rosette. I started with a small pink rosette, then added small drop flowers all around to make it a half-circle shape. Then, using black frosting, I made a couple of nostrils. Using the black frosting again, I drew on some eyes with long eyelashes since everybody knows that unicorns have long eyelashes.
Ta-Da! All Done! Good luck 🙂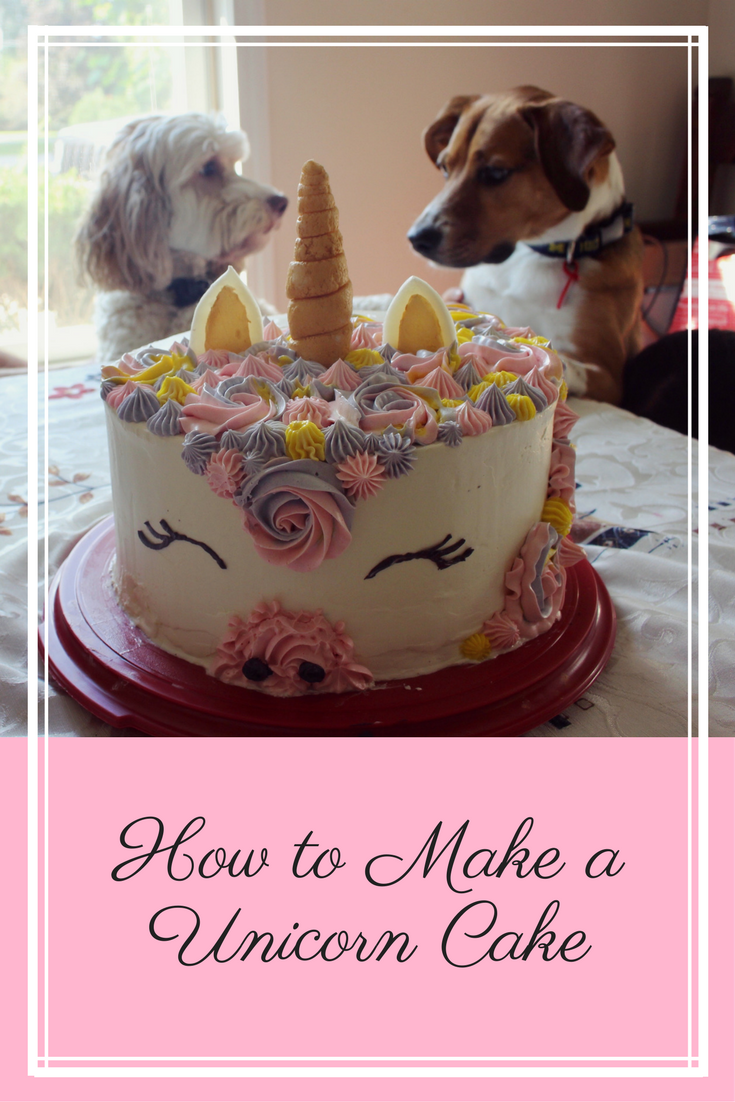 ---
---