Cherry Panna Cotta Tart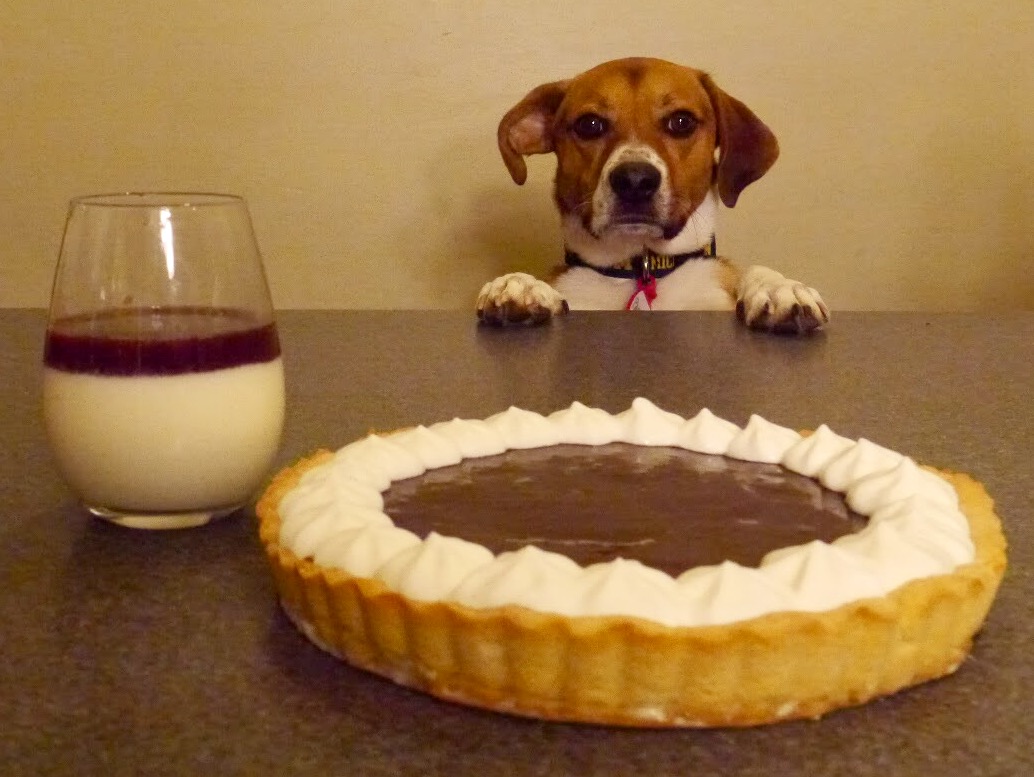 DISCLAIMER: This recipe is for humans not dogs!
On Friday, one of my housemates said he wanted me to try making something with panna cotta. I wanted to include a baking aspect, and I thought it would be great in a summery tart. Panna cotta is an Italian dessert that literally means "cooked cream." Since it's cherry season in Michigan right now, I wanted to add a cherry component in as well.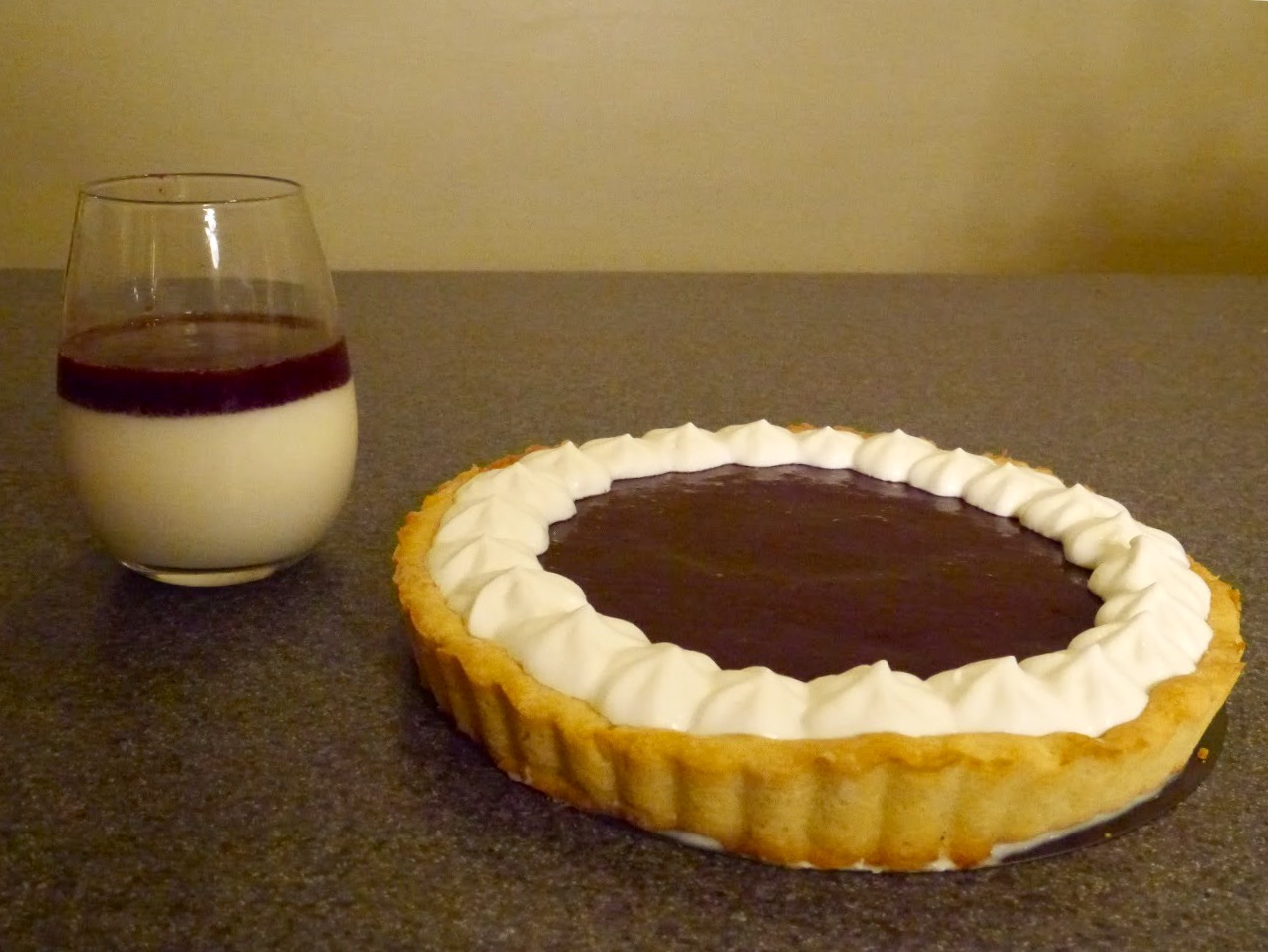 I am always pretty reluctant to make pies and tarts, because the crust is so difficult to do well. Pie crust definitely is not my forte. True to my concerns, I managed to end up with a crack in my tart crust and some of the panna cotta leaked out while it was hardening. Also because pie crust isn't my thing, I didn't use my own recipe, and I used the recipe for "the great unshrinkable sweet tart shell" on smittenkitchen. I've recreated the recipe below in full for convenience, but you can grab it from the link for sure as well.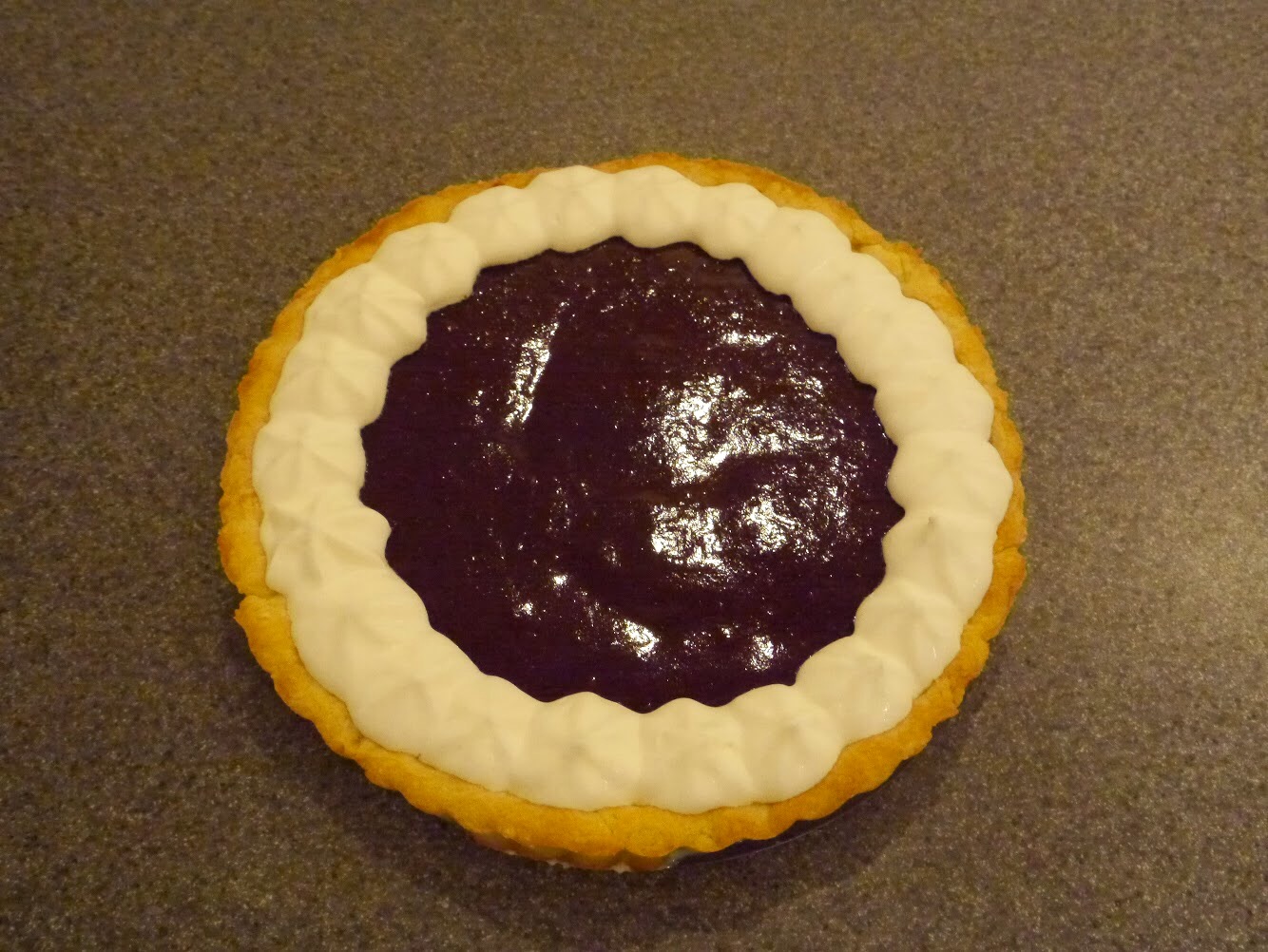 The panna cotta itself was really pretty quick and simple. I made two batches and put half in wine glasses so I could try some on my own. (Also so that if the tart was inedible, my housemate would still have some to eat). I decided it was really pretty tasty, and it reminded me a bit of Japanese pudding desserts I liked when I was a kid.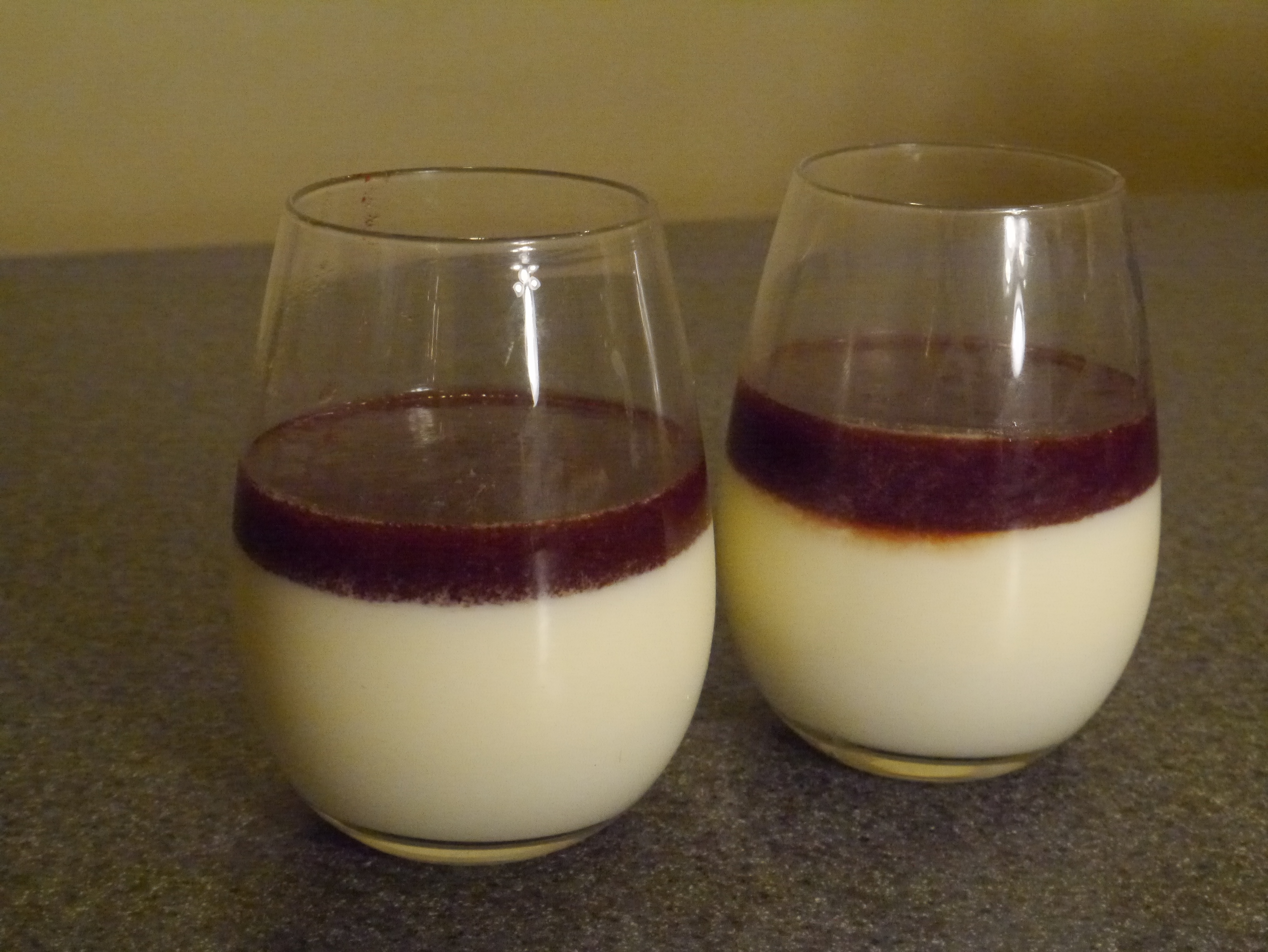 I'll definitely be making more tarts soon so I can figure out how to perfect the crust. The bottom of this tart wasn't at all soggy and was still nice and crispy, so I know that the leak came from a crack. Overall, the tart came out wonderfully.
A couple notes:
The pie crust requires a lot of resting time. Make it well in advance.
Make extra sure there's no cracks in the crust or you'll have leaks.
Eat the tart within 24hrs of making it or it'll start to get a bit soggy and stale.
Keep in mind that there's a total of 6.5hrs of resting time throughout the recipe.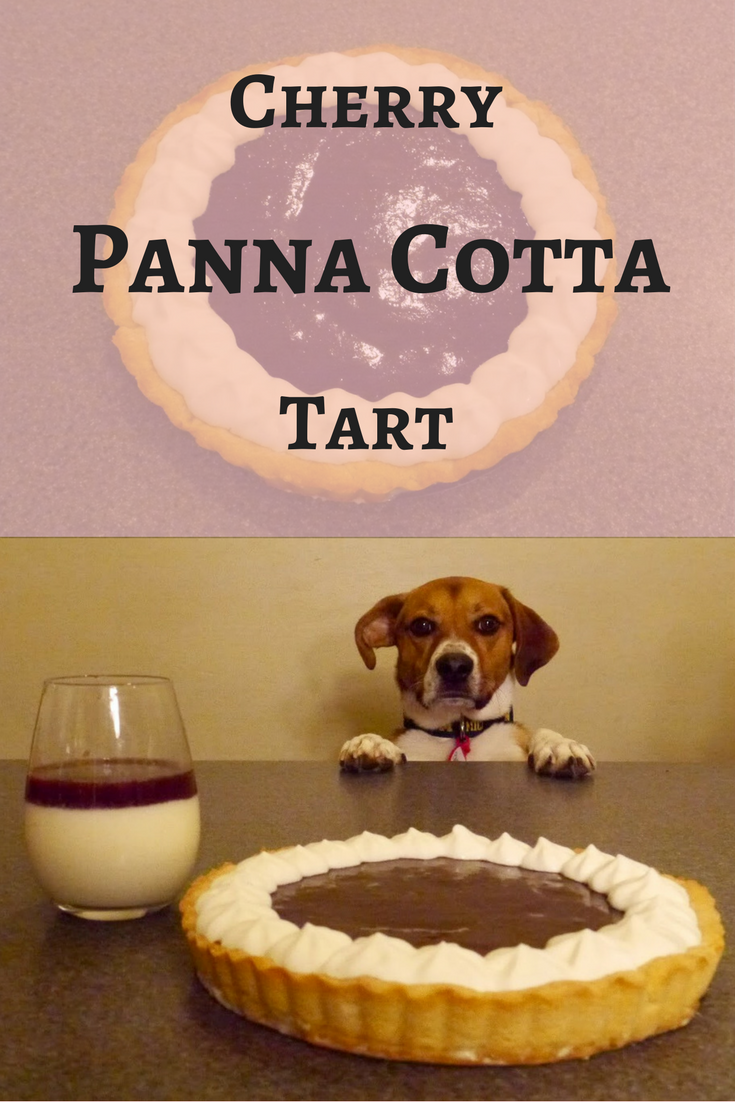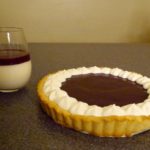 Cherry Panna Cotta Tart
A 2-layered tart filled with panna cotta and cherry puree.
Ingredients
The Great Unshrinkable Sweet Tart Shell from Smitten Kitchen
1.5

cups

all-purpose flour

1/2

cup

powdered sugar

1/4

tsp

salt

9

tbsp

unsalted butter (cold or frozen)

1

egg
Panna Cotta Filling
3/4

cup

whole milk

1

tsp

unflavored gelatin

1/4

cup

granulated sugar

3/4

cup

heavy whipping cream

1/4

tsp

salt

2

drops

vanilla extract
Cherry Puree
6

oz

pitted cherries

1

tbsp

lemon juice

1/4

cup

granulated sugar

1

tsp

unflavored gelatin
Instructions
Make and Bake Crust
Mix together dry ingredients

Cut butter into small pieces, and cut into dry ingredients

Using a food processor, pulse until the butter is incorporated. You should have chunks the size of oatmeal flakes and no larger than peas

Put egg on top and break up egg yolk

Pulse until dough starts to come together

Turn dough out and knead lightly until it comes together

Wrap dough in plastic wrap and refrigerate for at least 2 hours

Roll out dough into a 12" diameter circle

Fold over extra to make sides double the thickness

Pierce all over with a fork

Put the crust in the freezer for 30min

Butter the shiny side of a piece of foil

Put foil in the pan, and press it tightly against the crust

Remove foil and bake for another 10min until it begins to brown

Let cool to room temperature
Make Panna Cotta
In a large saucepan, sprinkle gelatin over milk and let sit for 10min

Place on medium heat and add in sugar. Stir until gelatin and sugar have dissolved.

Remove from heat and stir in cream, salt, and vanilla

Once it reaches room temperature, pour the panna cotta into the tart crust

Put tart in fridge or freezer, let sit for 2hrs until it hardens
Make Cherry Puree
Puree cherries in blender

Press puree through a sieve

Sprinkle gelatin over lemon juice and let sit for 10min

Stir lemon juice/gelatin into cherry puree

Pour cherry puree over panna cotta and fill the tart

Refrigerate for another 2hrs before serving
---
---