4th of July Honey Naked Cake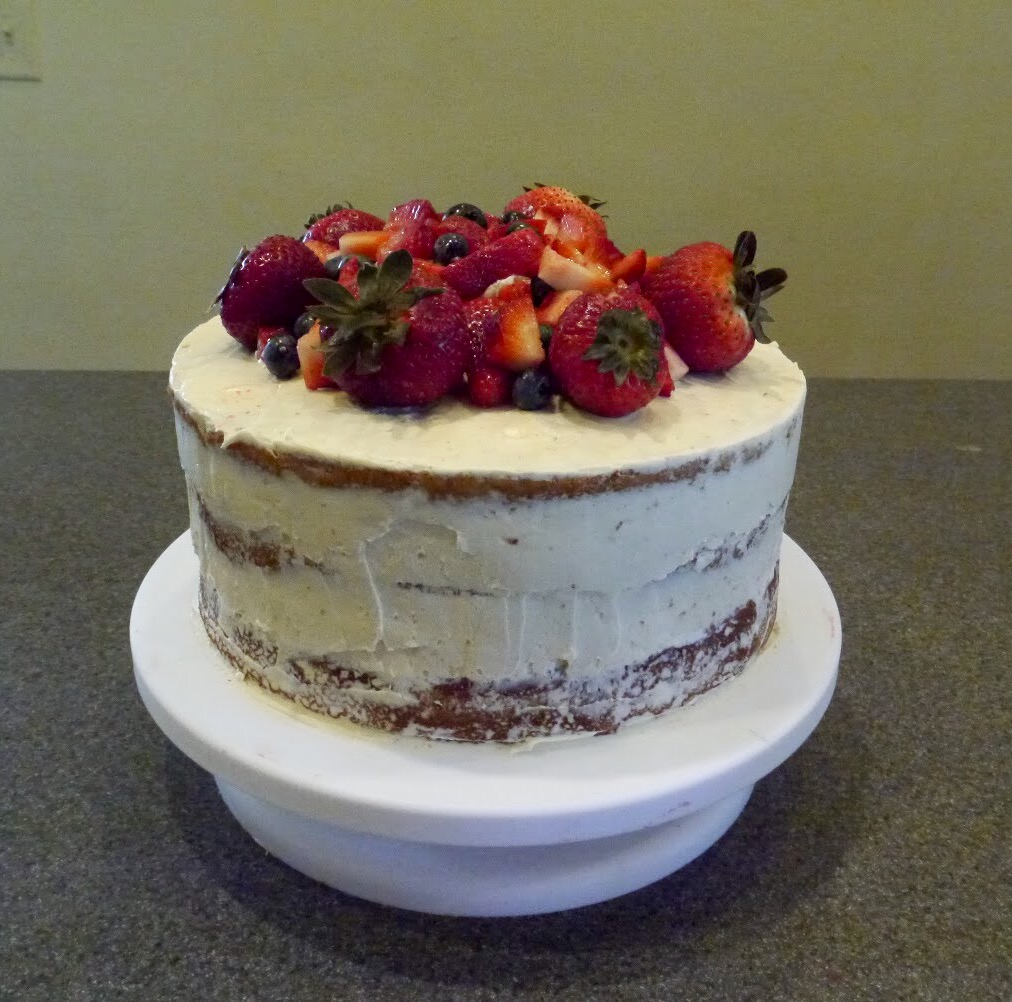 DISCLAIMER: This recipe is for humans not dogs!
After feeling really guilty about unknowingly serving a sugar-loaded 'Muricake to a family friend who's diabetic for Memorial Day, as a (hopefully) future health professional, I felt compelled to come up with a (slightly) less sugar-y dessert for the Fourth of July. My first thought was that I should go with a naked cake. They've become popular in the last few years, and the significantly smaller volume of frosting would help reduce the sugar. Fresh fruit would also reduce the sugar since I wouldn't need to make any sugary reductions or use any jam. Finally, I decided that as long as I was going through all this trouble, I might as well find a more natural solution to sweeten the cake itself. I decided to try substituting honey for the sugar in both the frosting and the cake. Personally, I'm not a huge fan of honey, but most of the other people who were going to eat the cake were.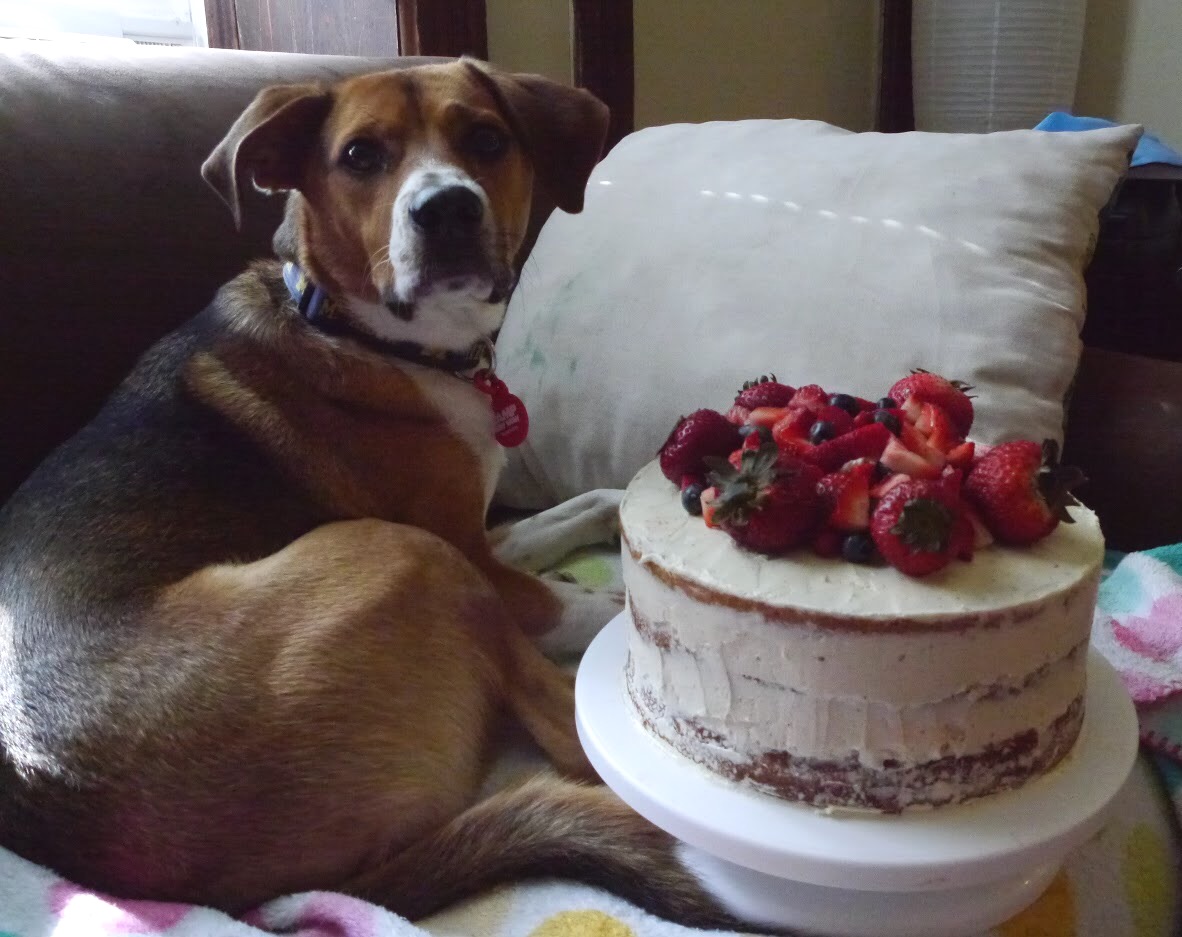 I assumed that I couldn't substitute honey for sugar 1:1 for a number of reasons. (1) Honey is way wetter than regular sugar, and (2) I figure it must sweeten food less or more than sugar. Luckily, a quick google search brough me to this wonderful article giving me pointers for how to go about substituting honey.
The cake was easy enough to alter, but the frosting was a bit more of a challenge. I would have just gone with unsweetened whipped cream but a different family friend is lactose intolerant. The basic Swiss meringue buttercream recipe I've used for the past few years is one I got off of Style Sweet CA, one of my favorite baking blogs, years ago. For 3 cups of frosting, the general ratio of ingredients is:
3-4 egg whites
1 cup sugar
3 sticks butter
2 tsp vanilla extract
Looking at the ingredients, my first thoughts were that I would need to reduce the egg whites slightly and I definitely shouldn't use a full cup of honey. I had expected to have to mess around with the frosting a bit, but by some stroke of luck it actually worked on the first try! The baking gods were on my side today.
The end result was a nice, slightly sweet, elegant cake. I brought it to a family friend's bbq and they wanted a pic with their dog. He's a sweetie but he hasn't been trained not to steal food so precautions had to be taken…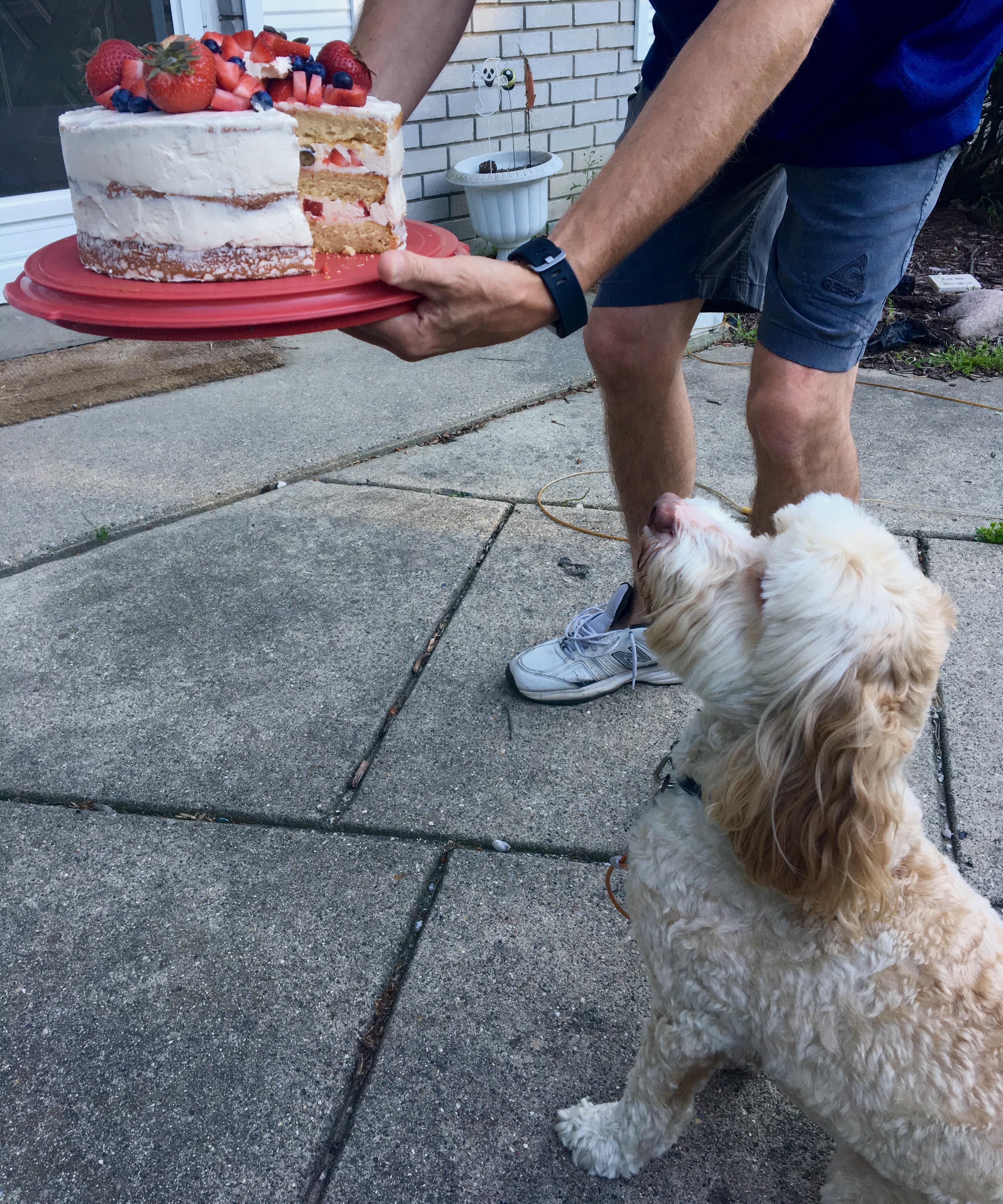 A couple notes:
Swiss meringue buttercream has a tendency to curdle and look absolutely disgusting at some point when you add the butter. Don't worry, just keep whipping, it'll eventually look like frosting.
A naked cake is really just a regular cake with the crumb coat applied, but no outer layer of frosting.
Since the cake isn't fully frosted and you can see the layers underneath, leveling the layers is particularly important. I use a giant, 12″ serrated knife and hold it flat. Other options include using toothpicks to measure the cake thickness you want, or using a cake leveller.
How to put the frosting between the layers:

Put a generous coat of frosting on the bottom side
Add fruit and then spoon frosting on top and smooth a bit
Put a crumb coat on the top side !!This is super important or you'll get fruit juices seeping into the cake!!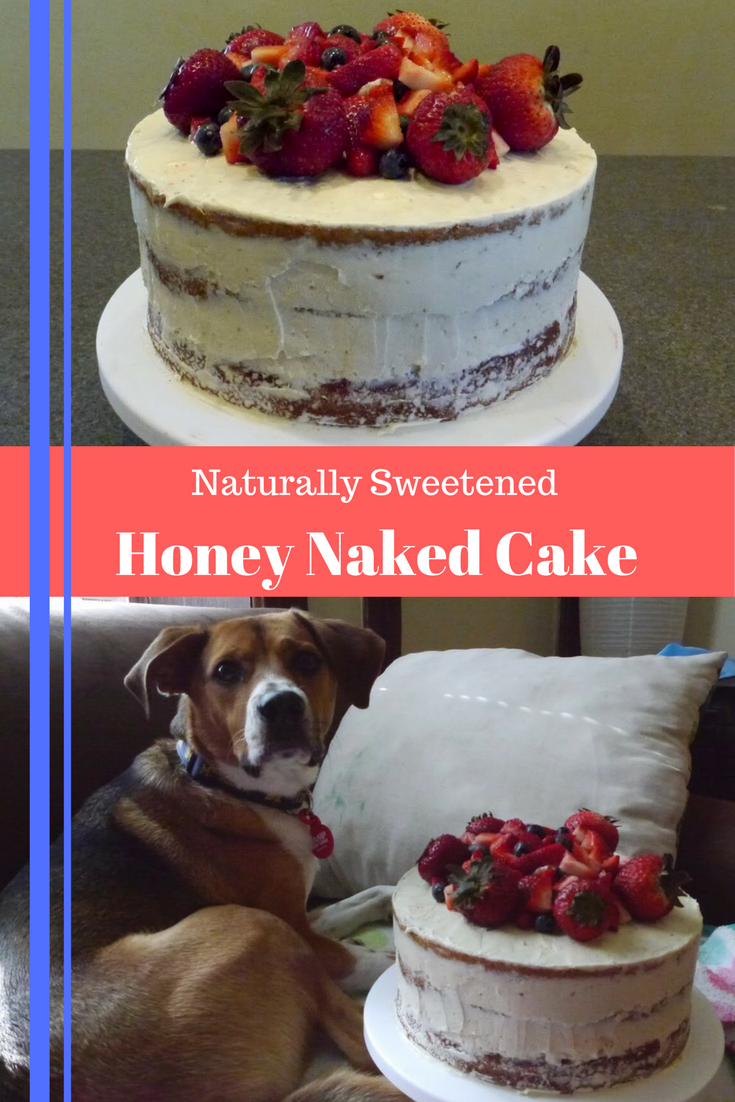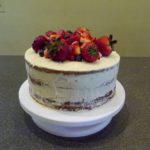 4th of July Naturally Sweetened Honey Naked Cake
A light honey cake with honey Swiss meringue buttercream and fresh berries. The cake is sweetened entirely with fruit and honey with no added sugar.
Ingredients
Honey Cake Layers
3

sticks

unsalted butter (room temperature)

1.5

cups

honey

6

eggs

4.5

cups

all-purpose flour

1/2

tsp

baking soda

4.5

tsp

baking powder

3/4

tsp

salt

3/4

cup

whole milk

strawberries for top and between layers

blueberries for top and between layers
Honey Swiss Meringue Buttercream
6

sticks

unsalted butter (room temperature)

6

egg whites

1

cup

honey
Instructions
Bake the Cakes
Preheat oven to 350° and grease 3 9-inch round baking pans

Add honey and mix until smooth

Beat in eggs one at a time

Sift together salt, flour, baking soda, baking powder, and salt

Add dry ingredients in 3 parts, alternating with the milk. Start with the dry ingredients

Split batter into 3 pans and bake for ~30 minutes or until a toothpick inserted in the center comes out dry

Let the cakes cool to at least room temperature before assembling the cake
Make the Frosting
In a bowl, combine egg whites and honey

Place the bowl on the double boiler and whisk constantly until the mixture reaches about 150-160°F

Remove from heat and continue whipping until stiff peaks form

Let sit for ~5 minutes to cool

Beat until it looks like frosting. It may curdle in the process, just keep going, it'll come together eventually (but shouldn't take longer than 5 minutes)
Assemble the Cake
Apply a generous layer of frosting to the bottom layer

Spoon frosting over fruit and spread gently

Apply a crumb coat to the bottom of the next layer. This is the most important step.

Repeat for the next layer

Apply a crumb coat to the sides of the cake a generous layer to the top
---
---