Patriotic Strawberry Shortcake Cupcakes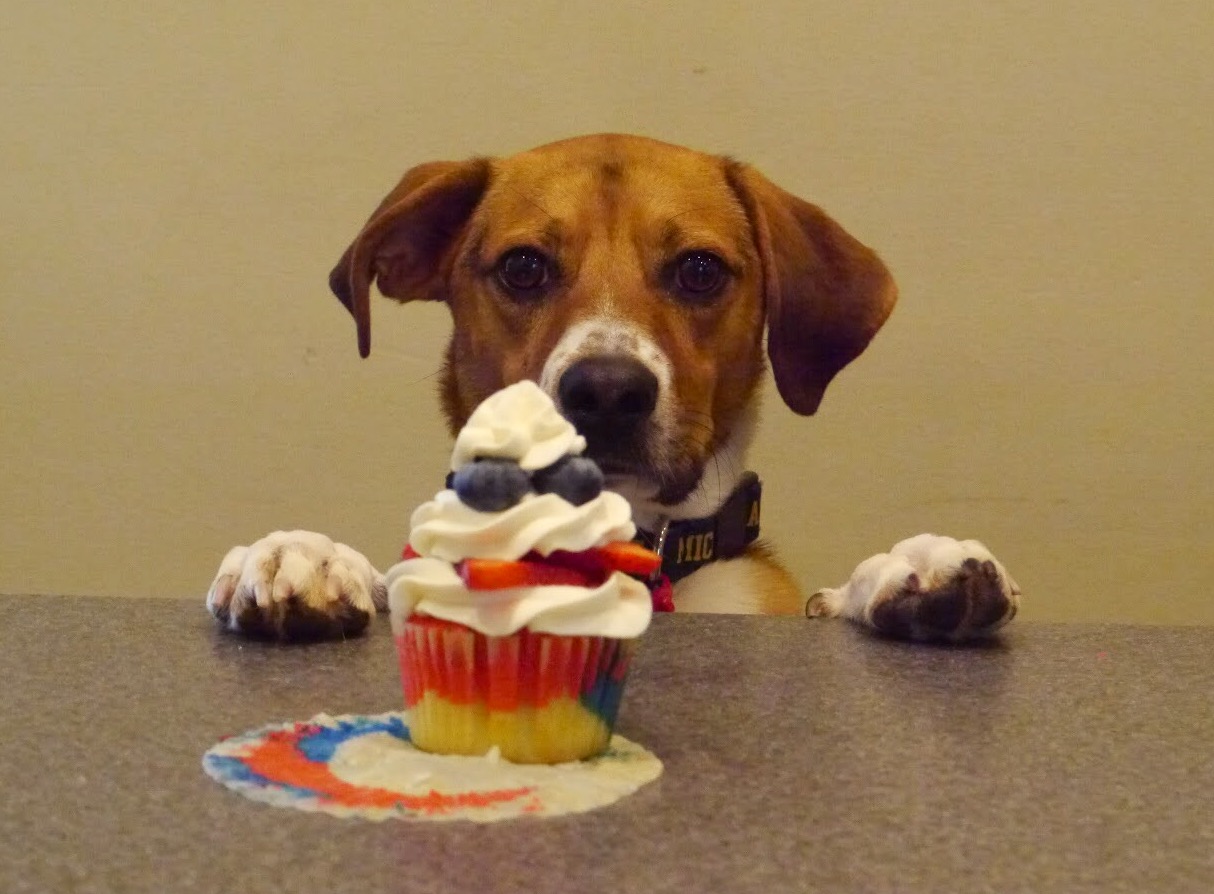 Jump to Recipe
DISCLAIMER: This recipe is for humans not dogs!
My brother, Tim, has been home for most of the summer, but he's heading back to the east coast to where he goes to school at the end of this week. He was hoping I could make something for the Fourth of July that he could bring back to his girldfriend. He also emphasized that she likes strawberry shortcake. I pointed out that anything that resembled a strawberry shortcake was going to need to stay chilled the whole way back east from Michigan where I live, but he seemed to come up with a solution. (I learned long ago with my brother to just let him do what he wants and assume that things will fall into place). He asked me to see if I could make strawberry shortcake cupcakes and red, white, and blue them up.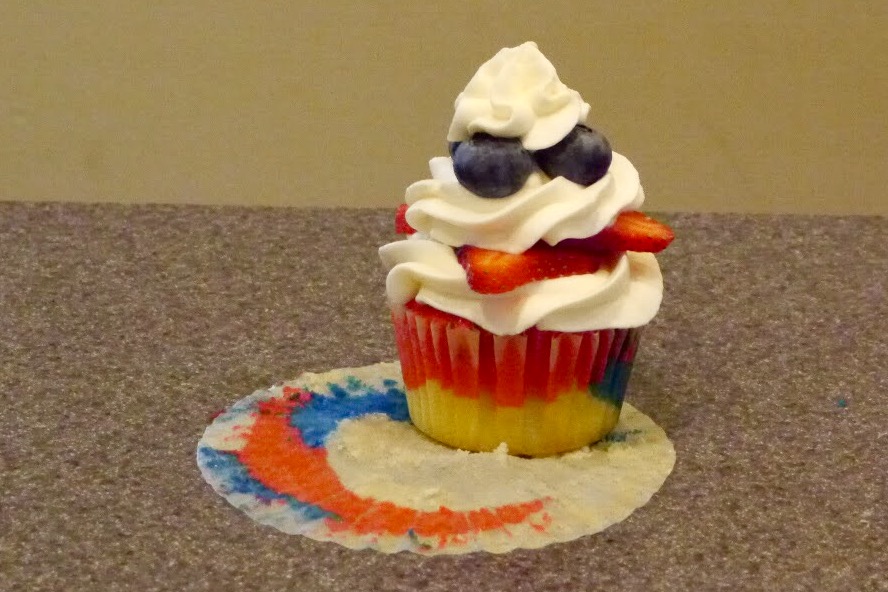 The nice thing about strawberry shortcake is that shortcake itself is pretty simple and it's white. (Imagine trying to turn chocolate cake red, white, and blue). Strawberry shortcake cupcakes also wouldn't be difficult since it's essentially plain yellow cake. I briefly toyed with the idea of using genoise cake like a Japanese style strawberry shortcake which is my personal favorite kind of cake, but I got nervous just thinking about it. Genoise cake rises only with egg whites and its finicky enough when you're making one big cake. I don't even want to think of the challenges of keeping the batter from deflating while spooning it into cupcake liners and then hoping that they all rise about the same. Shortcake, on the other hand, is a pretty simple recipe that's hard to ruin.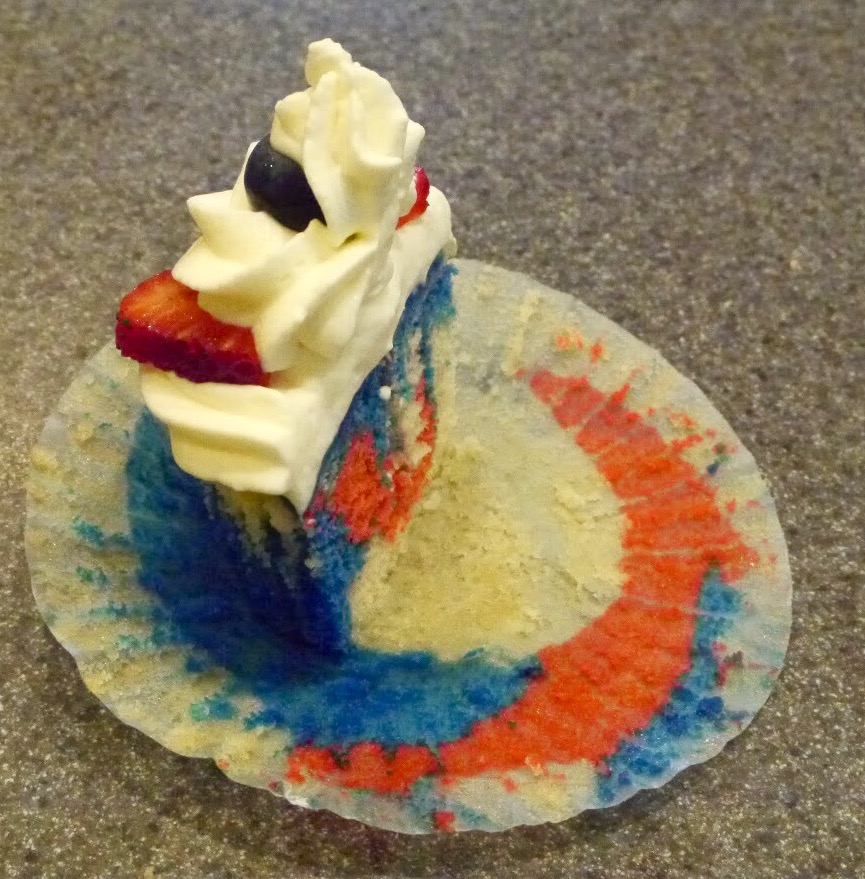 To make the cupcakes multi-colored, I split the batter up into three bowls after I finished mixing it up. I dyed one bowl red, one bowl blue, and left the last bowl plain. I always use gel food coloring. You only need a bit on a toothpick to tint an entire bowl. I've found that using liquid food coloring doesn't color things as vibrantly and requires a lot more. Once the batter was colored, I spooned a bit of each colored batter into the cupcake liners. Then I swirled the colors together with a toothpick — gently so I didn't turn them purple — before baking. The end result definitely looked like "patriotic strawberry shortcake cupcakes." I was pretty pleased with myself (and hopefully my brother and his girlfriend were as well).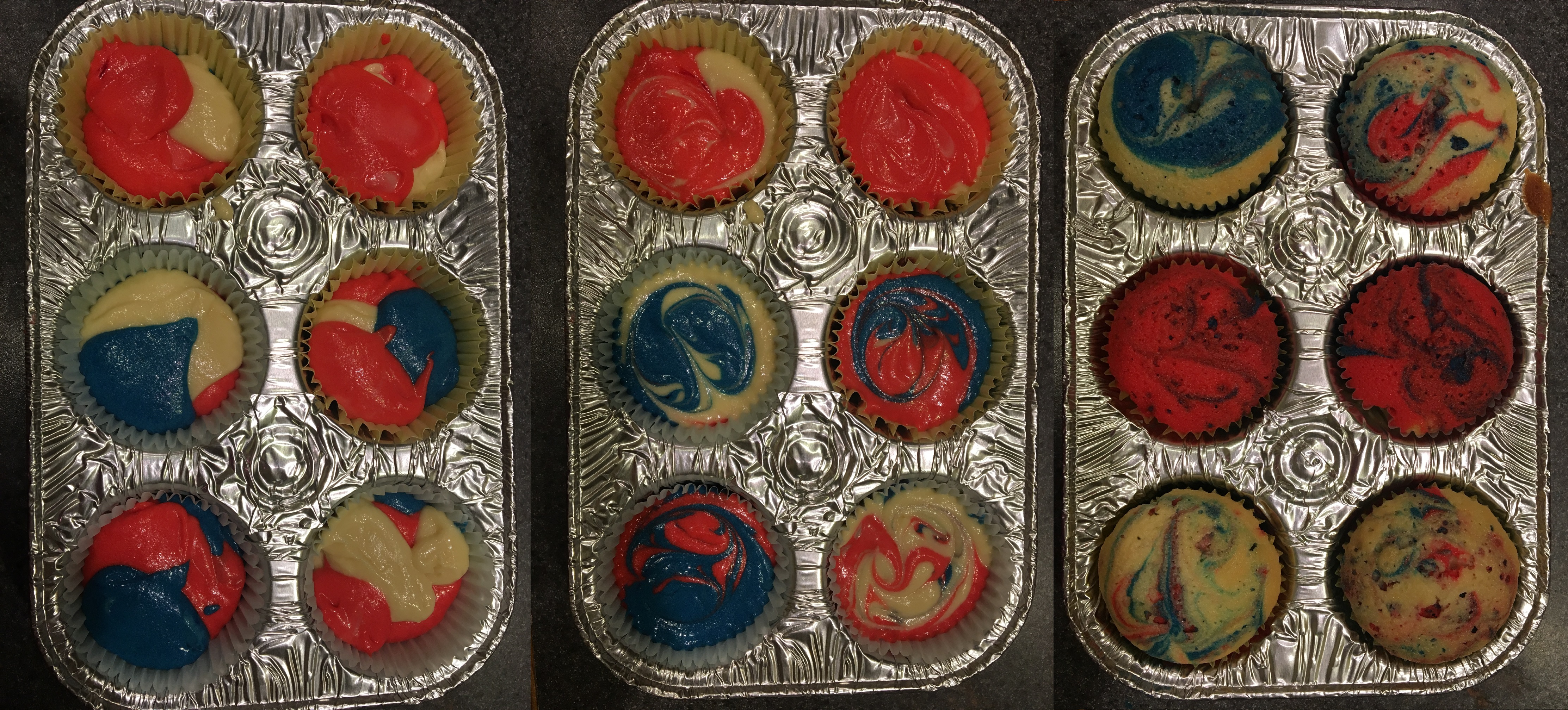 Whenever I do anything with whipped cream frosting, I always stabilize it. Stabilized whipped cream frosting is whipped cream with gelatin mixed in. This makes it much more unlikely that your frosting collapses on you, and, if you want to pipe it, you can. (This doesn't mean you can suddenly pipe flowers out of whipped cream, but it will hold a simple shape). Essentially, the only extra step is pouring liquid gelatin into your cream once it reaches the "soft peaks" stage. Once the gelatin is in, whip it up to stiff peaks. NOTE: if you overwhip whipped cream and it gets all curdled and grainy, you can revive it by adding in some more unwhipped cream.
How I frosted:
I used the Wilton open star #21 tip. This tip gives you the nice, sharp edges I was going for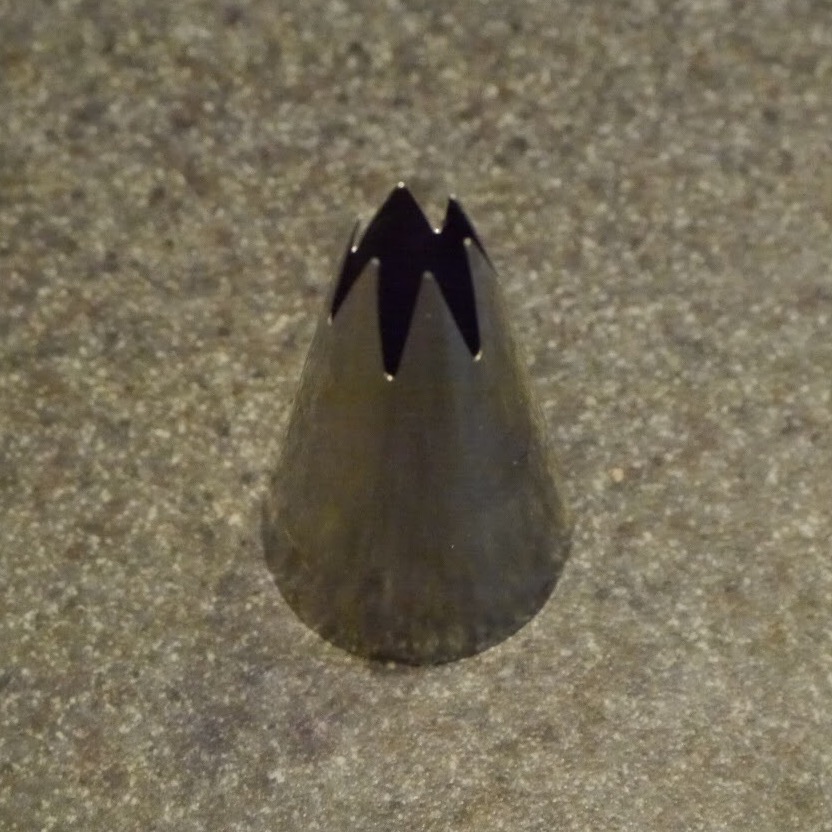 Then, pipe a ring around the perimeter of the cupcake.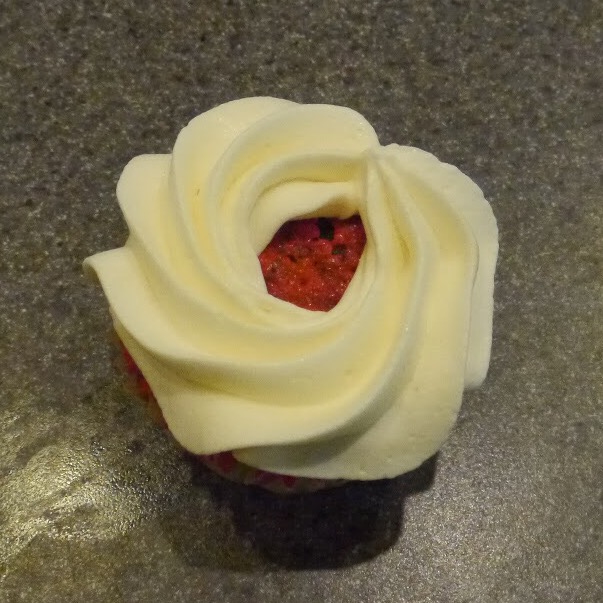 Fill in the center.
After filling in, place strawberries.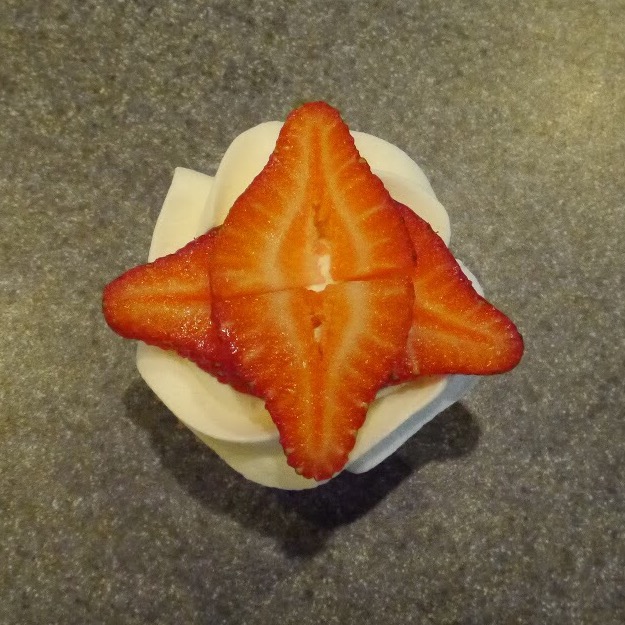 Next, pipe a smaller ring on top of the strawberries.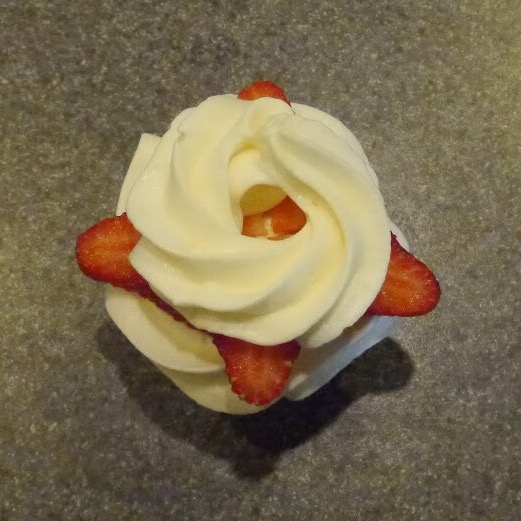 Fill in the center again.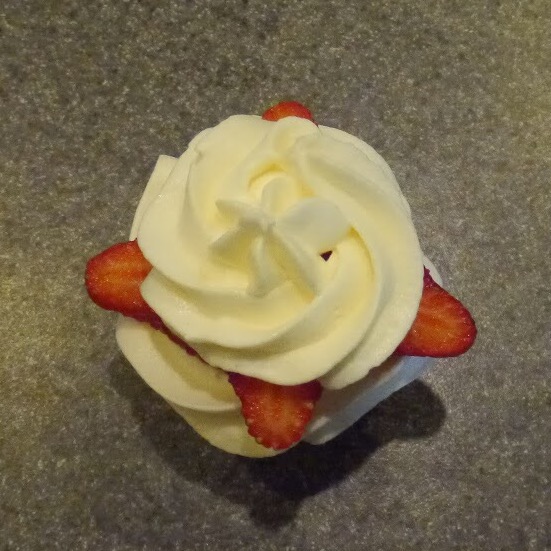 Place blueberries on top.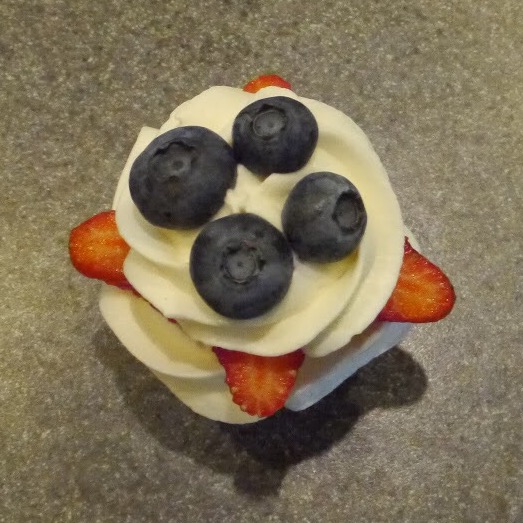 Finally, pipe a small peak on top of the blueberries.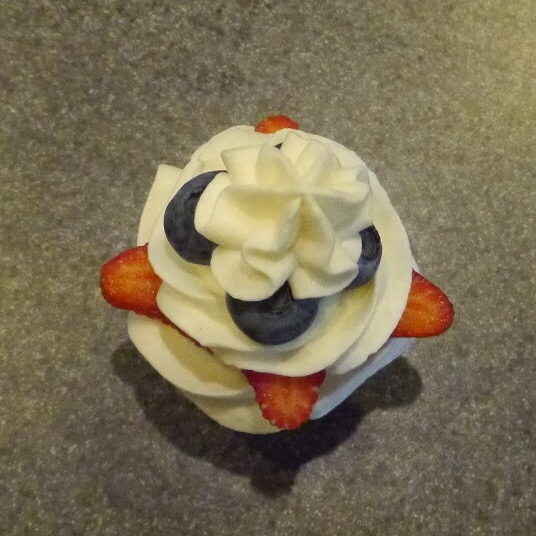 A couple notes:
If you're vegan/vegetarian, taking the gelatin out of the recipe will not cause an issue. The only difference will be that piped frosting may not hold edges as well.
On the flip side, if you plan on piping the whipped cream, gelatin will be a big help. It keeps the whipped cream from "deflating" after a while.
I am a big proponent of gel food coloring. It may be a bit more expensive and a bit harder to find than normal liquid food coloring but it's much more effective in my opinion. A small amount lasts a while too.
If your whipped cream gets overwhipped (you'll know), just add in some unwhipped cream.
If you make these before an event, store them uncovered in the refrigerator. Because the fruit has so much moisture, you'll get a lot of condensation inside the container if you close it.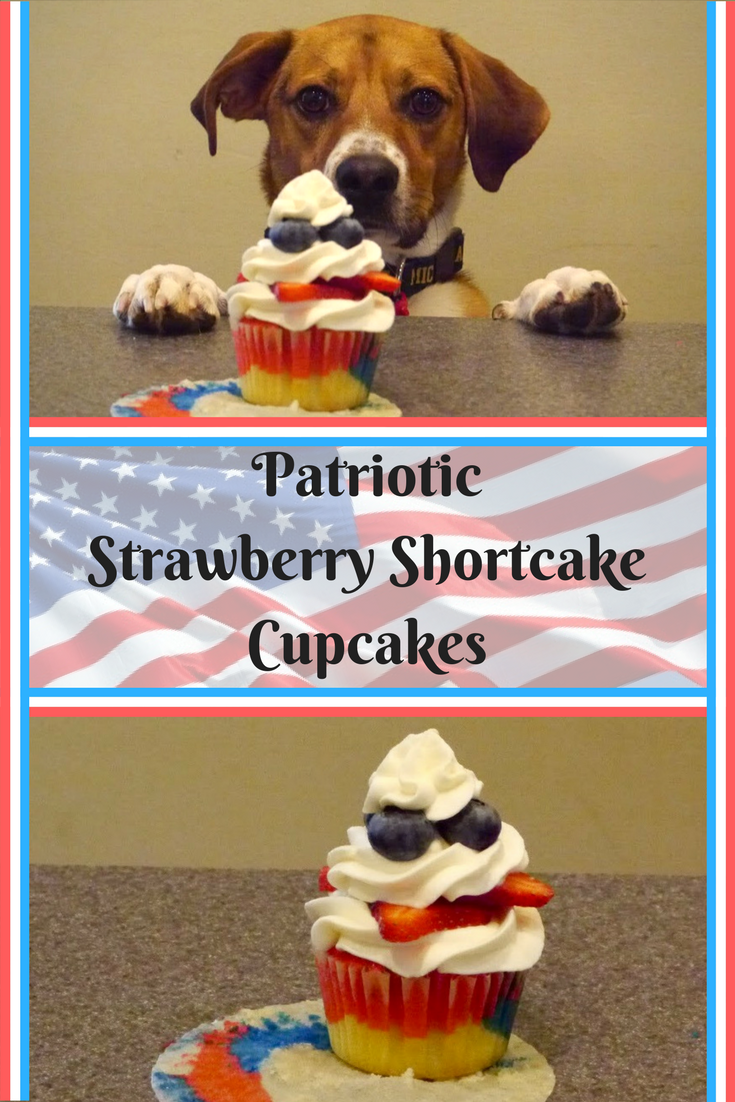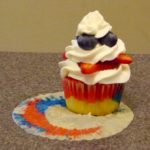 Patriotic Strawberry Shortcake Cupcakes
Easy to make red, white, and blue strawberry shortcake cupcakes
Ingredients
Cupcakes
1

stick

butter (room temperature)

1

cup

granulated sugar

2

eggs

1

tsp

vanilla extract

1

pinch

salt

1

tsp

baking powder

1/2

cup

whole milk

1.5

cups

all-purpose flour

red and blue food coloring

strawberries and blueberries for topping
Stabilized Whipped Cream Frosting
2

cup

heavy whipping cream

2/3

cup

powdered sugar

2

tsp

unflavored gelatin

8

tsp

cold water
Instructions
Bake the cupcakes
Add in sugar and beat for ~2min until the mixture is light and fluffy. (I always think it looks like mashed potatoes)

Beat in eggs, one at a time

Add in vanilla extract, salt, and baking powder

Add flour in 3 parts, alternating with milk.

In other words: 1/2 cup flour, 1/4 cup milk, 1/2 cup flour, 1/4 cup milk, 1/2 cup flour

Bake for 20-30min or until toothpick comes out clean

Let cool completely before frosting (or your frosting will melt).
Make whipped cream frosting
Bloom gelatin by sprinkling gelatin over water in a small bowl and letting it sit for 5min

Combine cream and powderd sugar in a mixing bowl

Microwave gelatin for 10secs or until it has dissolved completely

Slowly pour gelatin into cream while continuing to whip until it forms stiff peaks

Refrigerate until ready to use
Assemble cupcakes
Cut strawberries into triangular shapes

Put a layer of whipped cream on top of cupcakes. I did this by piping a ring and then filling in the center.

Place strawberries in a circle

Put another, smaller, layer of whipped cream on top of the strawberries

Place a few blueberries on top of this layer

Top with a peak of whipped cream
---
---