Chambord and Amaretto Crepe Cake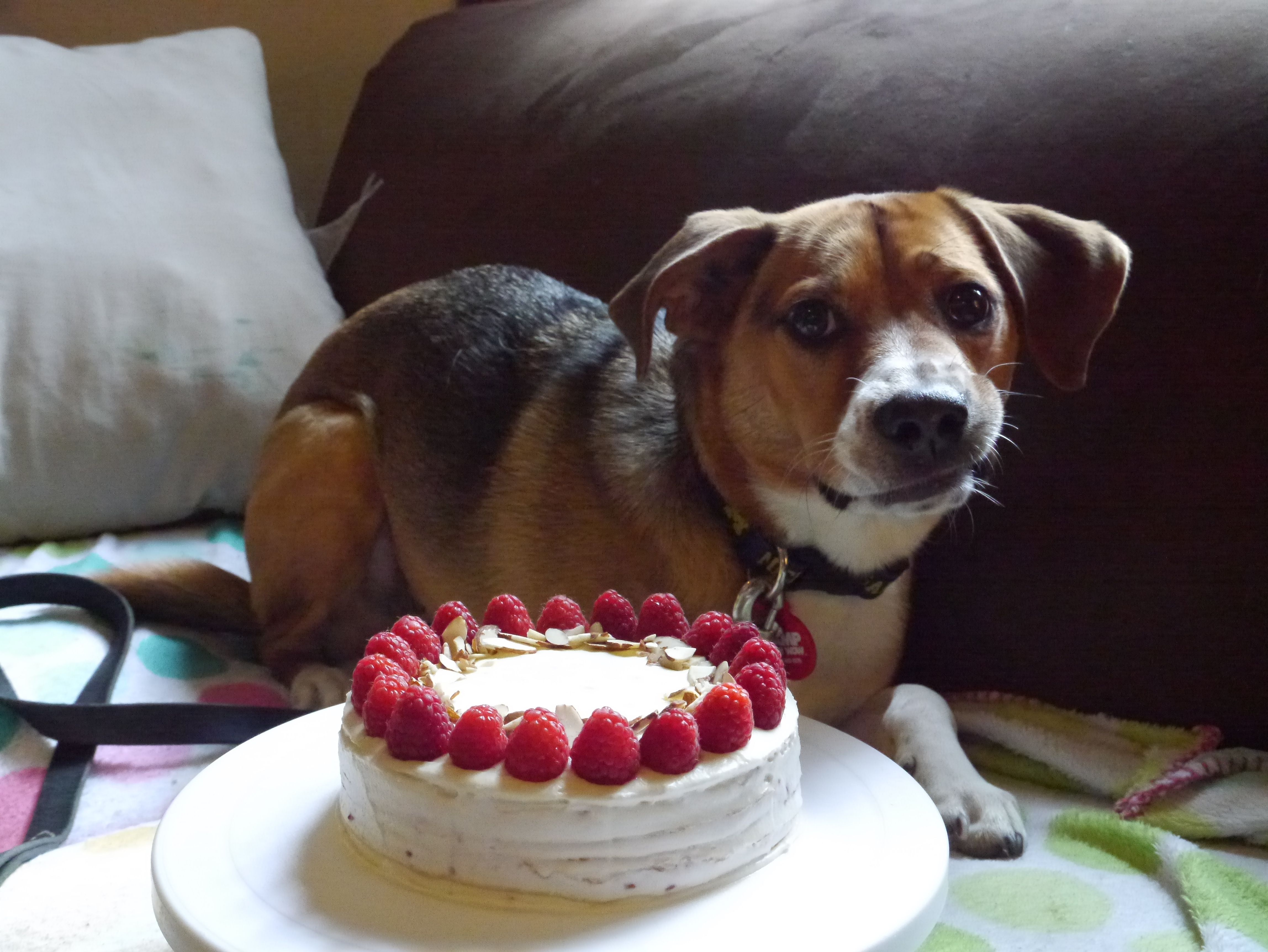 Jump to Recipe
DISCLAIMER: This recipe is for humans not dogs!
My friend hit me up this weekend to do some baking, and we wanted to make something light and summery. We decided to go with a crepe cake (aka mille crepe if you're feeling fancy) because crepes aren't as heavy as regular cake. I had some leftover Chambord and Amaretto from previous projects I decided to throw in as well. (If you've never had Chambord before it's super sweet liqueur, seriously don't drink it plain, that's raspberry and vanilla flavored and comes in a super fancy potion bottle). We threw together some whipped cream, put an almond twist on the crepes, and managed to put together something that tasted pretty good in a couple of hours.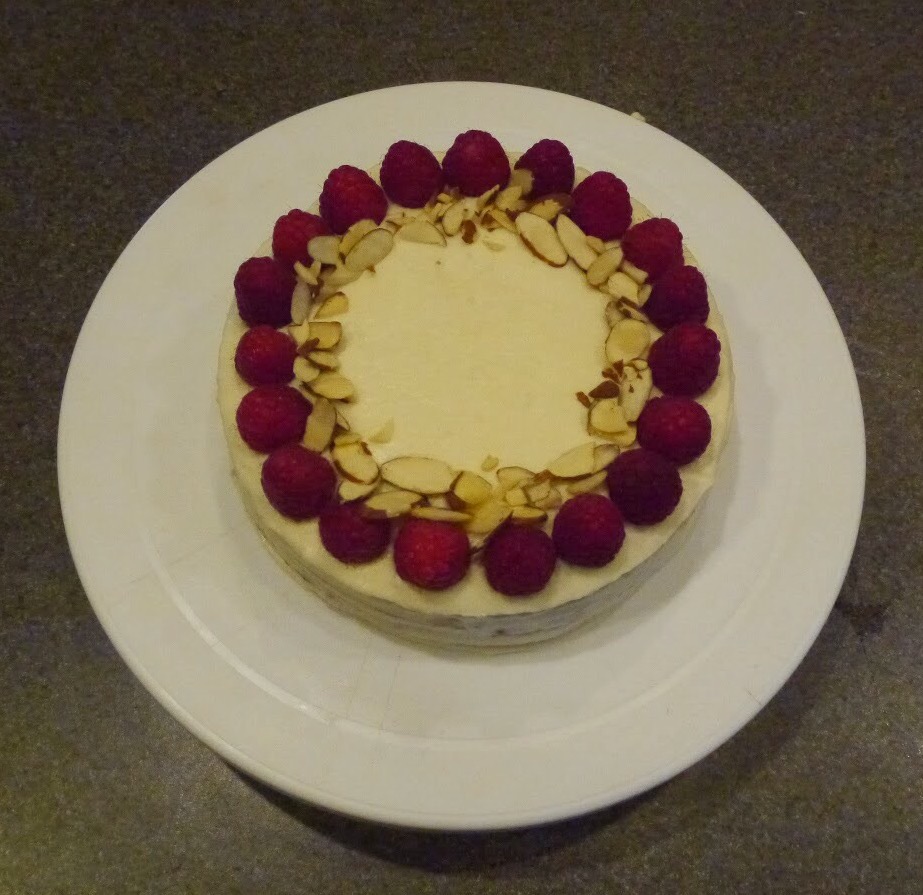 We did need to do some tweaking though. The original crepe recipe I used didn't have sugar (ew) and the crepes tasted mostly like flour. Add to that, the first batch of Chambord whipped cream we put together got overwhipped. Overwhipped cream gets all grainy and curdled. Luckily, you just have to add some more unwhipped cream to the batch to fix it, but we were out of heavy whipping cream. So, I had to make an emergency run to the store to buy more. But, we managed to solve our stumbles and found a better way to make the whipped cream so that we wouldn't have issues the next time.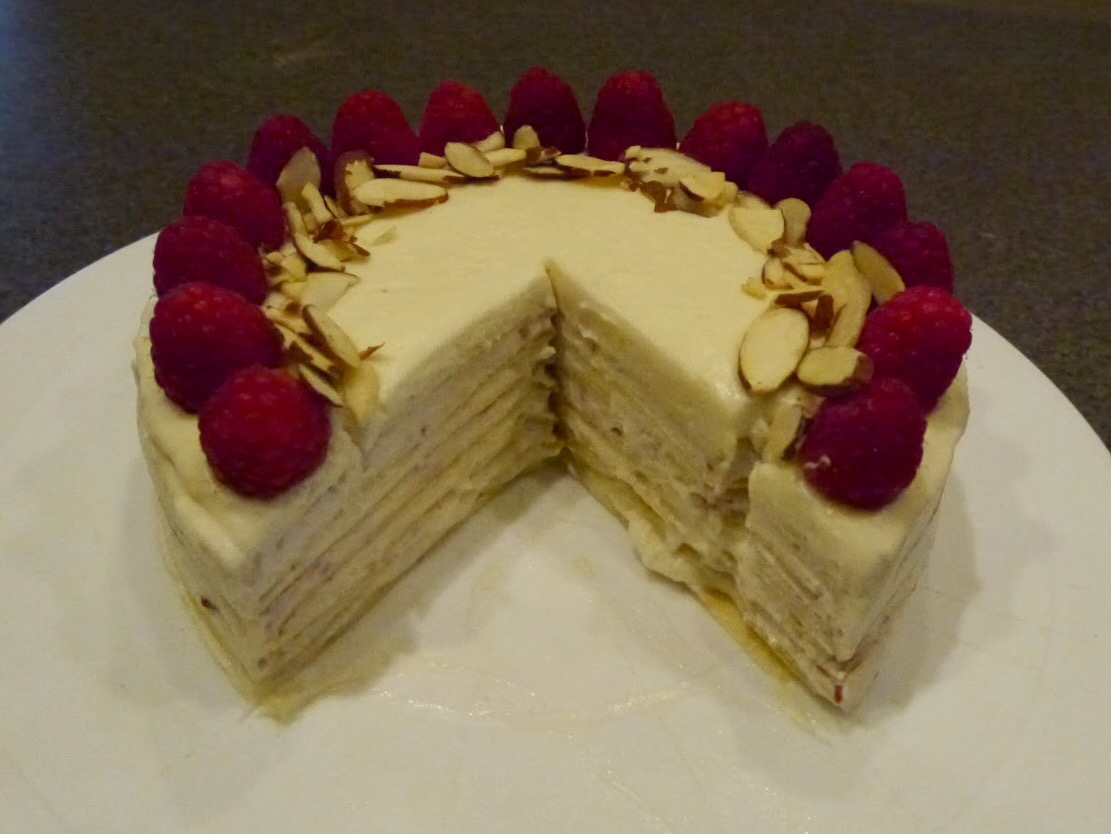 Personally, I was a much bigger fan of the Chambord whipped cream than the Amaretto. Both tasted good, but fruity whipped cream is one of my favorites. I was also a fan of decorating the top with raspberries and sliced almonds. It only took a couple minutes but looked really cute. Since we were going for a very light crepe cake, I made the layers of whipped cream pretty thick. However, if you want a more "cake-y" textured cake, I would suggest multiplying the crepe recipe by 1.5 and using double the number of crepes with thinner layers of cream. (Our crepe recipe left us with a few extra crepes – a strategic move on our part since I was worried about ripping crepes).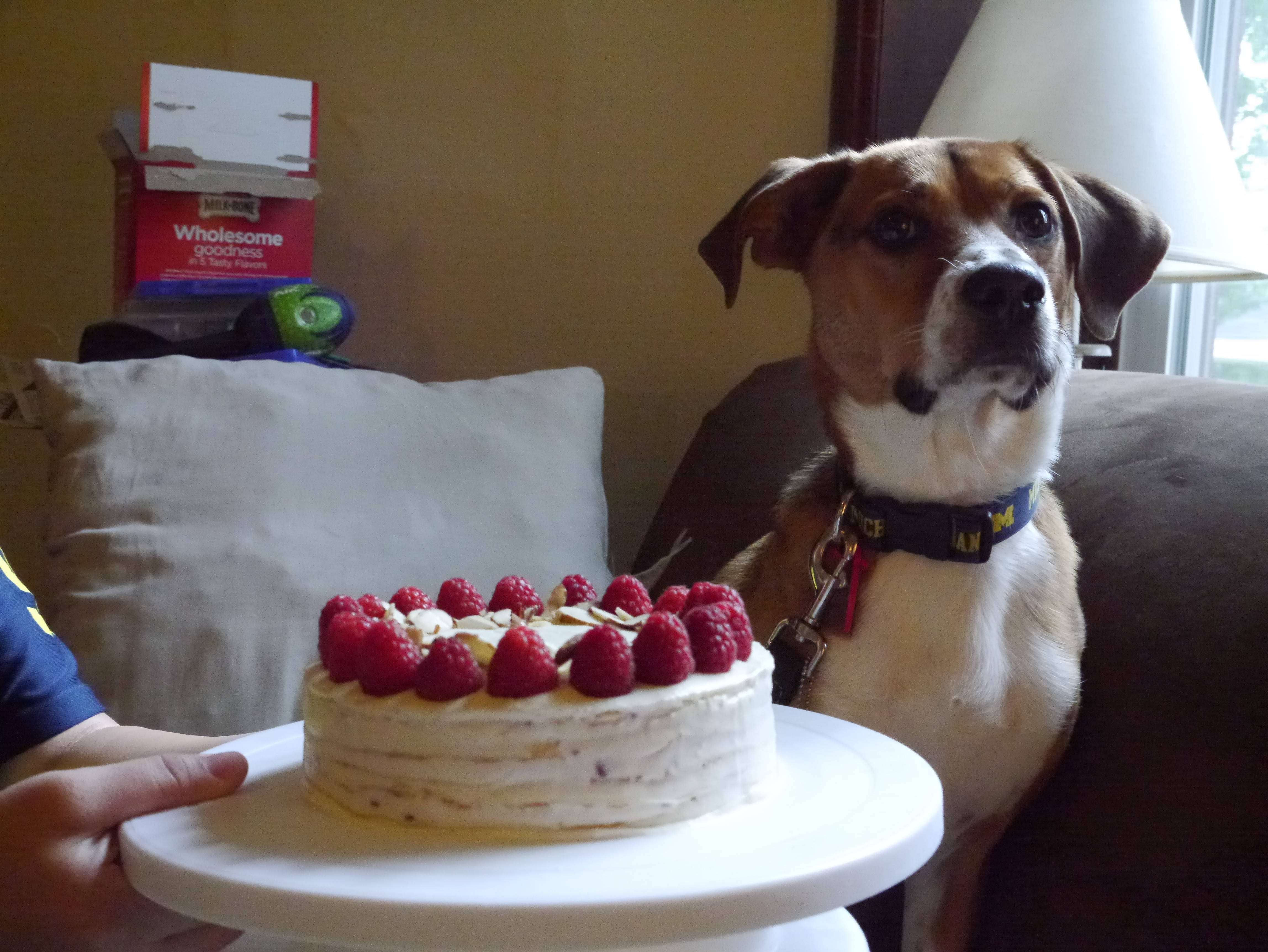 A couple notes:
The recipe will make more crepes than you need so don't worry about ripping a few
I used the ring from a 6-inch springform pan to make sure all my crepes were the same size. This also takes the edges off so that they're mostly the same thickness throughout and you don't get a dome-shaped cake.
Overwhipped cream can be fixed by adding some unwhipped cream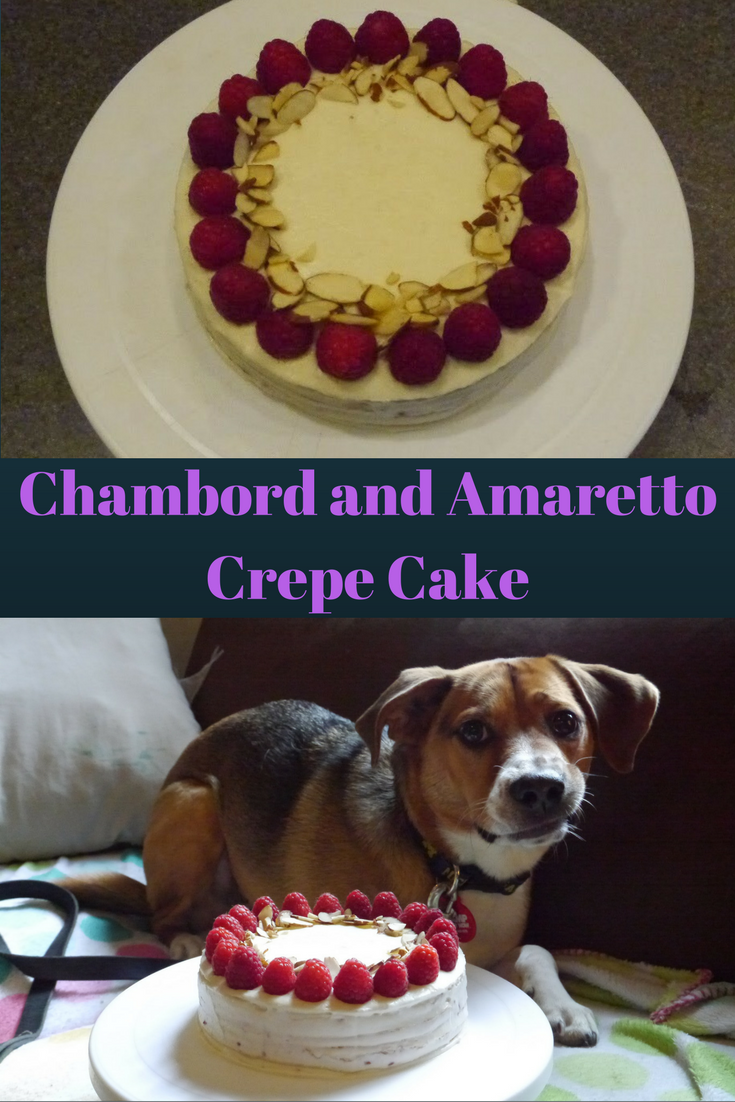 Chambord and Amaretto Crepe Cake
A light fruity crepe cake with a slight kick
Ingredients
Crepes
2

eggs

3/4

cup

whole milk

1/2

cup

water

1

cup

all-purpose flour

3

tbsp

melted butter

2

tbsp

granulated sugar

1

tsp

almond extract
Chambord Whipped Cream
2

cups

heavy whipping cream

2

tbsp

Chambord

2

tsp

vanilla extract

1/2

cup

powdered sugar

2

tsp

unflavored gelatin

8

tsp

cold water

2

tbsp

raspberry preserves
Amaretto Whipped Cream
2

cups

heavy whipping cream

2

tbsp

Amaretto

1

tsp

almond extract

1/2

cup

powdered sugar

2

tsp

unflavored gelatin

8

tsp

cold water
Instructions
Make Chambord Whipped Cream
Bloom gelatin (sprinkle gelatin over cold water) and set aside for 5min

Add together heavy whipping cream, Chambord, powdered sugar, and vanilla extract in a mixing bowl

Whip until soft peaks form

Microwave gelatin for 10sec until dissolved

Pour gelatin into whipped cream in a slow stream while whisking

Whip until stiff peaks form

Fold in raspberry preserves

Keep refrigerated until ready to use
Make Amaretto whipped cream
Bloom gelatin (sprinkle gelatin over cold water) and set aside for 5min

Add together heavy whipping cream, Amaretto, powdered sugar, and almond extract in a mixing bowl


Whip until soft peaks form

Microwave gelatin for 10sec until dissolved

Pour gelatin into whipped cream in a slow stream while whisking

Whip until stiff peaks form

Keep refrigerated until ready to use
Make crepes
Mix together all ingredients until incorporated

Place a nonstick pan (or pan sprayed with butter) on high heat

Pour 1/4 cup of batter into center of pan and spread the batter in a circle by tilting the pan

Let cook until the edges get crispy. NOTE: I did not worry about flipping the crepes for this recipe, just make sure they're cooked through

Let crepes cool before assembling the cake
Assemble the cake
Using a 6-inch round cookie cutter or the outer ring of a 6-inch springform pan, cut crepes so that they are 6-inch rounds in shape

Inside the spring form pan, place a crepe and then spread whipped cream on top

Alternate between different types of whipped cream until you reach the top of the springform

Add one more layer of whipped cream, and smooth

Slowly lift springform ring

Decorate with raspberries and sliced almonds
---
---