Triple Chocolate Mousse Cups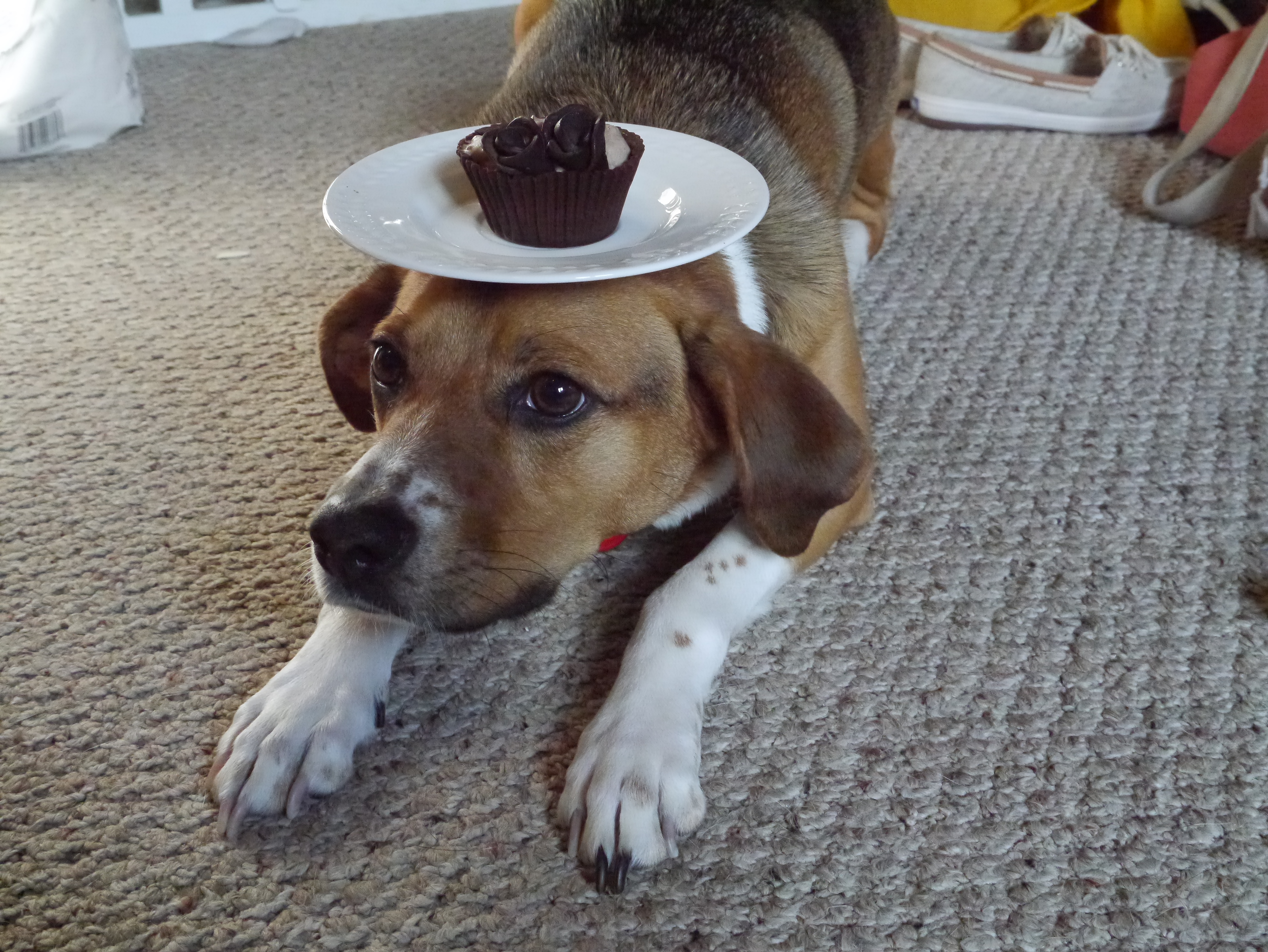 Jump to Recipe
DISCLAIMER: This recipe is for humans not dogs!
I had a friend in need of some cheering up and she's a huge fan of chocolate. It was also 90° so I really wanted something cold and not heavy. Mousse seemed like the obvious solution. Since I was working with a bunch of chocolate anyway, I also decided to give modeling chocolate a go. It worked pretty well, but I forgot that since it was so hot out and I don't have A/C, I would need to work super fast before it melted on me. In the end I just sat in front of my open refrigerator and put together the flowers.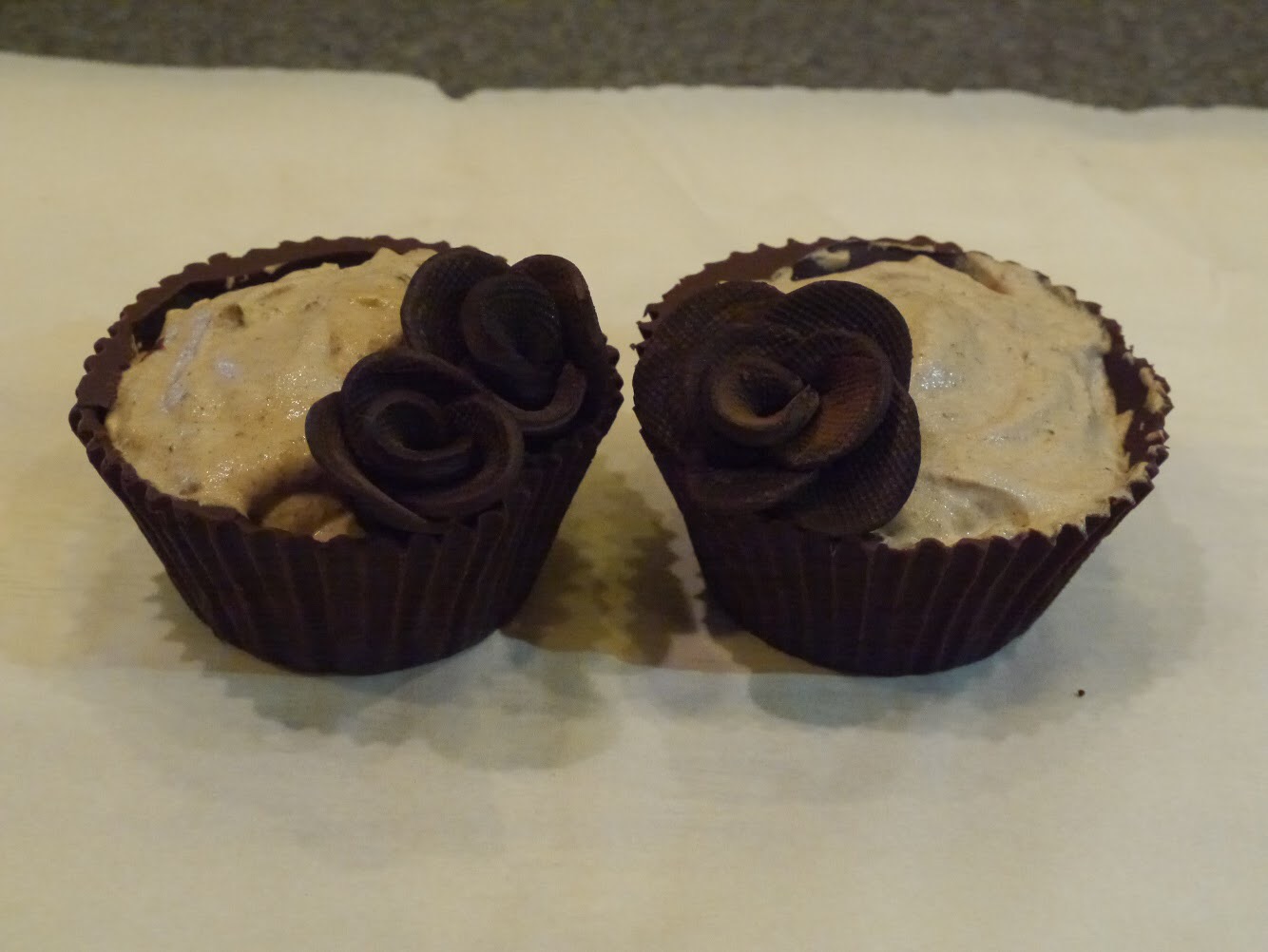 The recipe consists of 3 parts but it moves quickly since there's no actual baking involved (there was no way I was turning on my oven today!) There's the dark chocolate cups, the dark chocolate mousse, and the modeling chocolate flowers.
I made the chocolate cups first and then tossed them in the fridge to harden while I dealt with the rest, but if you plan on making your modeling chocolate, I'd take care of that first since it really should sit overnight (although you can probably cut some time off using a freezer, but I've never tried). I always just use the allrecipes recipe for plastic chocolate. I've linked it here, but, basically, melt a pound of chocolate and then mix in 3/4 cup of light corn syrup and let it sit for a while. To make the chocolate cups, I just spread melted chocolate on cupcake liners and let them sit upside down until they hardened.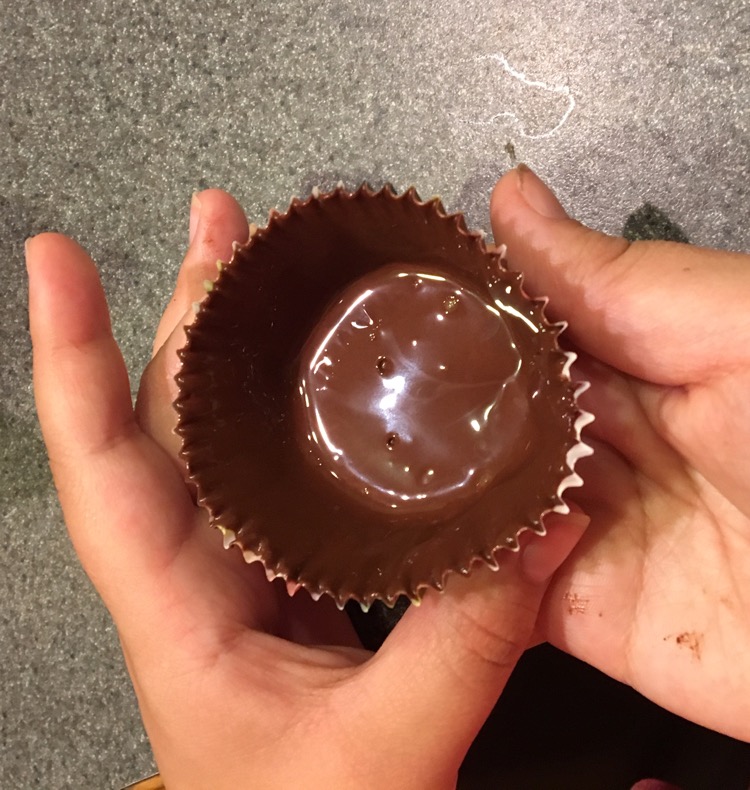 To make the chocolate roses, first, roll out a handful of modeling chocolate. Use cocoa powder like you would use flour when rolling out dough. When it is about 1/8″ thick, use a fondant cutter to cut out small circles. The size of the circle will determine the size of the rose. I used a 1″ diameter circle. take your first circle, and roll it into a cone shape. This is the middleof the rose bud. Use as many remaining circles as you'd like to complete the flower. (The more circles you use the more "full" the rose). To add petals, flatten one half of the circle to make it more petal-like, and then wrap it around the cone. I usually end up with 3 petals in my first layer around the cone. Each petal should overlap slightly with the next.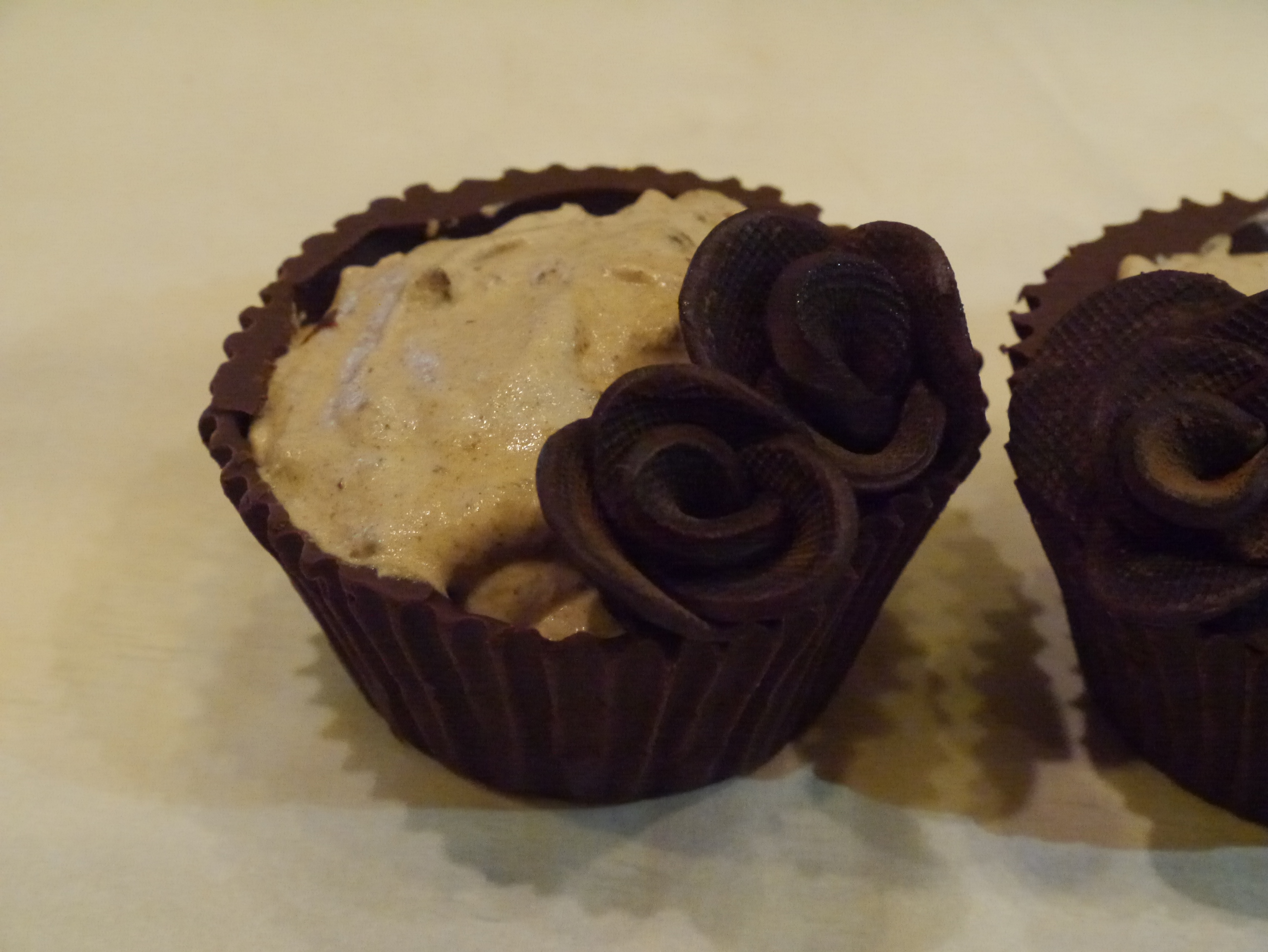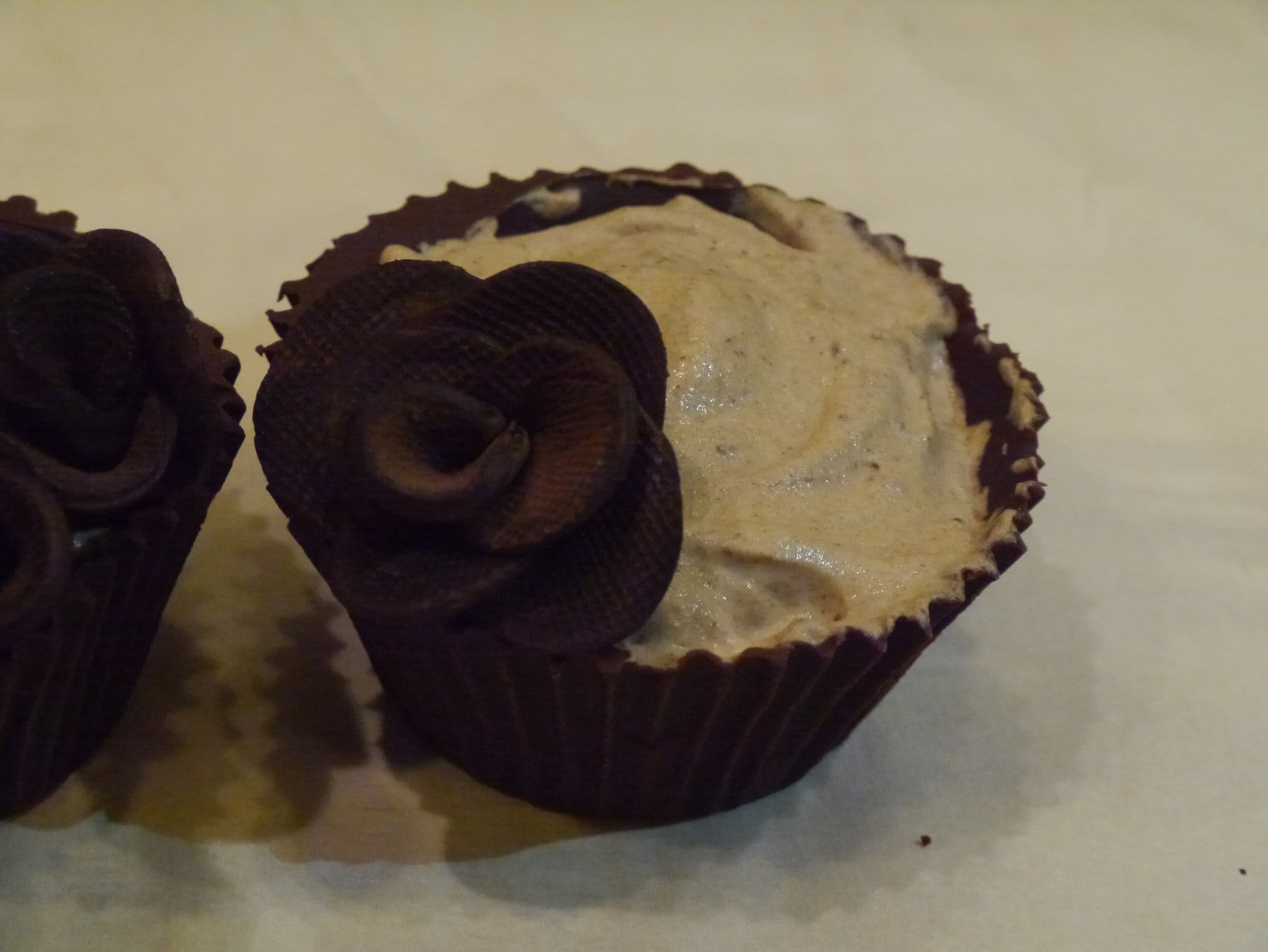 For the mousse I just made plain old chocolate mousse, nothing fancy. Overall they turned out pretty good and were much easier than I expected! Pascal wasn't complaining either.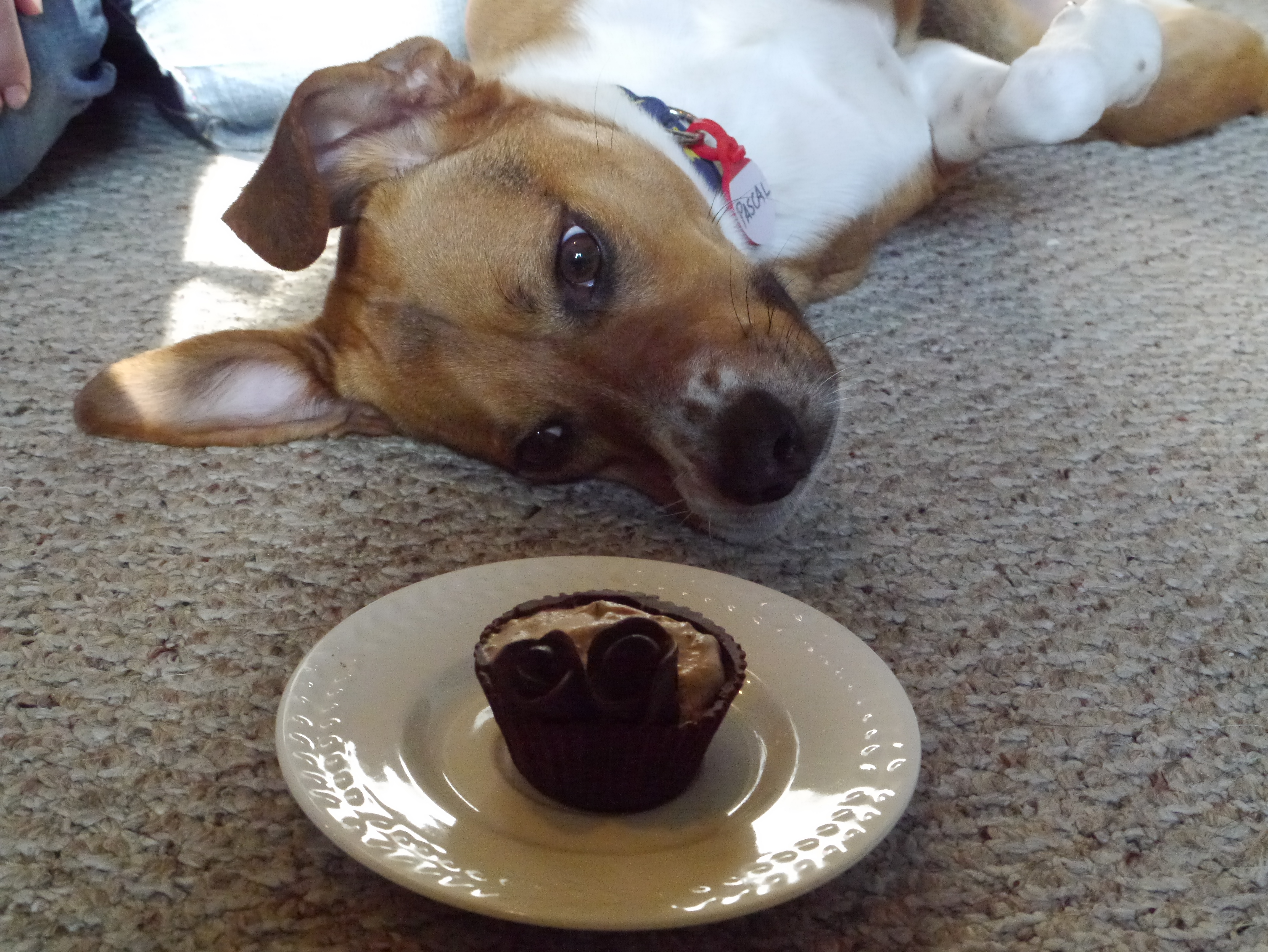 A couple notes:
Modeling chocolate gets soft when you handle it. If it's tough, just squish it down on the counter or in your hand and you'll feel it getting soft quickly.
Put cocoa powder on your hands and the surface you're rolling the modeling chocolate on; it'll keep the chocolate from sticking to you or the surface.
Keep all the ingredients for the mousse cold at all times (except for the chocolate.)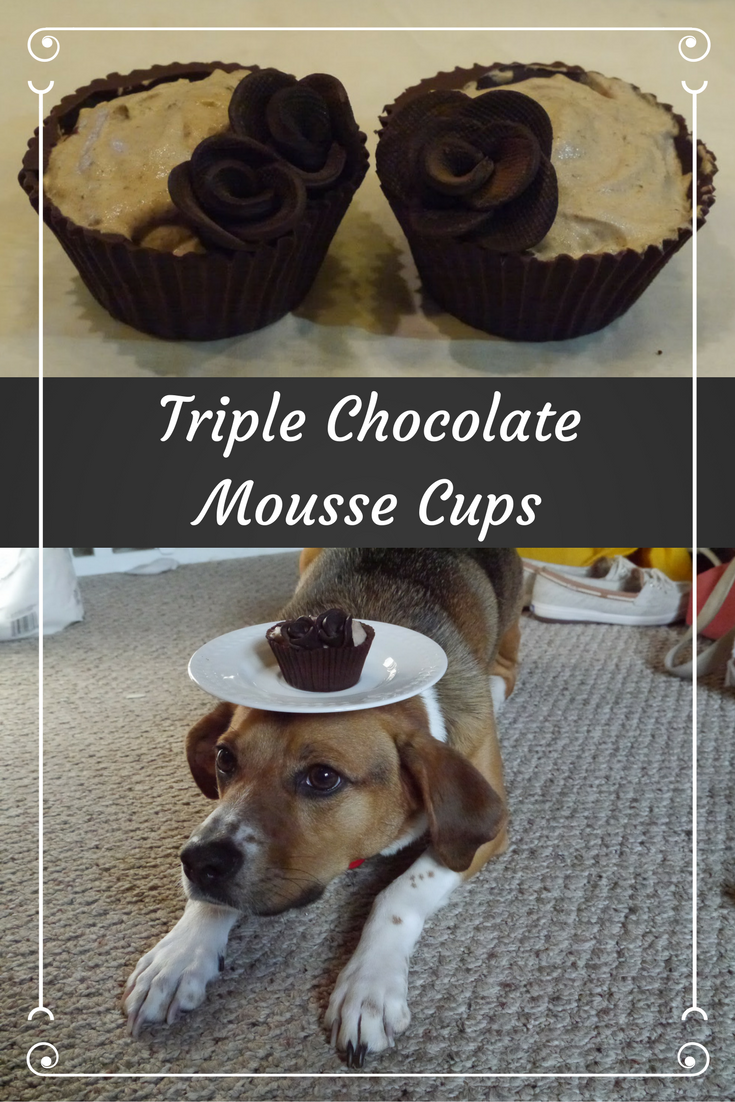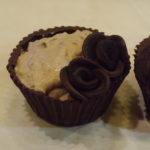 Triple Chocolate Mousse Cups
Dark chocolate cups filled with dark chocolate mousse topped with dark chocolate flowers
Ingredients
Chocolate Cups
7

oz

dark chocolate (chips or chopped)

8

cupcake liners
Dark Chocolate Mousse
2.5

oz

dark chocolate (chips or chopped)

7

oz

heavy whipping cream

1.5

egg whites

1/2

cup

granulated sugar
Instructions
Make Chocolate Cups
Melt chocolate in a double boiler
Using a spoon, spoona thick layer of chocolate on the bottom of a cupcake liner, and then rotate while "painting" chocolate onto sides
Repeat for next 7 cupcake liners

Let cool upside down on parchment paper

Once the chocolate has hardened, carefully peel off liners. Keep cool until you're ready to fill with mousse.
Make Chocolate Mousse
Melt chocolate in a double boiler

Set chocolate aside to cool slightly

Whip egg whites to soft peaks

Slowly add in sugar and continue whipping until egg whites form stiff peaks

Fold egg whites into chocolate

Whip whipping cream until it forms soft peaks

Fold whipped cream into egg white and chocolate mixture
Assemble Cups
Make your chocolate roses (see above for instructions)

Spoon desired amount of mousse into chocolate cups
---
---