Nutella Cake with Fresh Cherry Mousse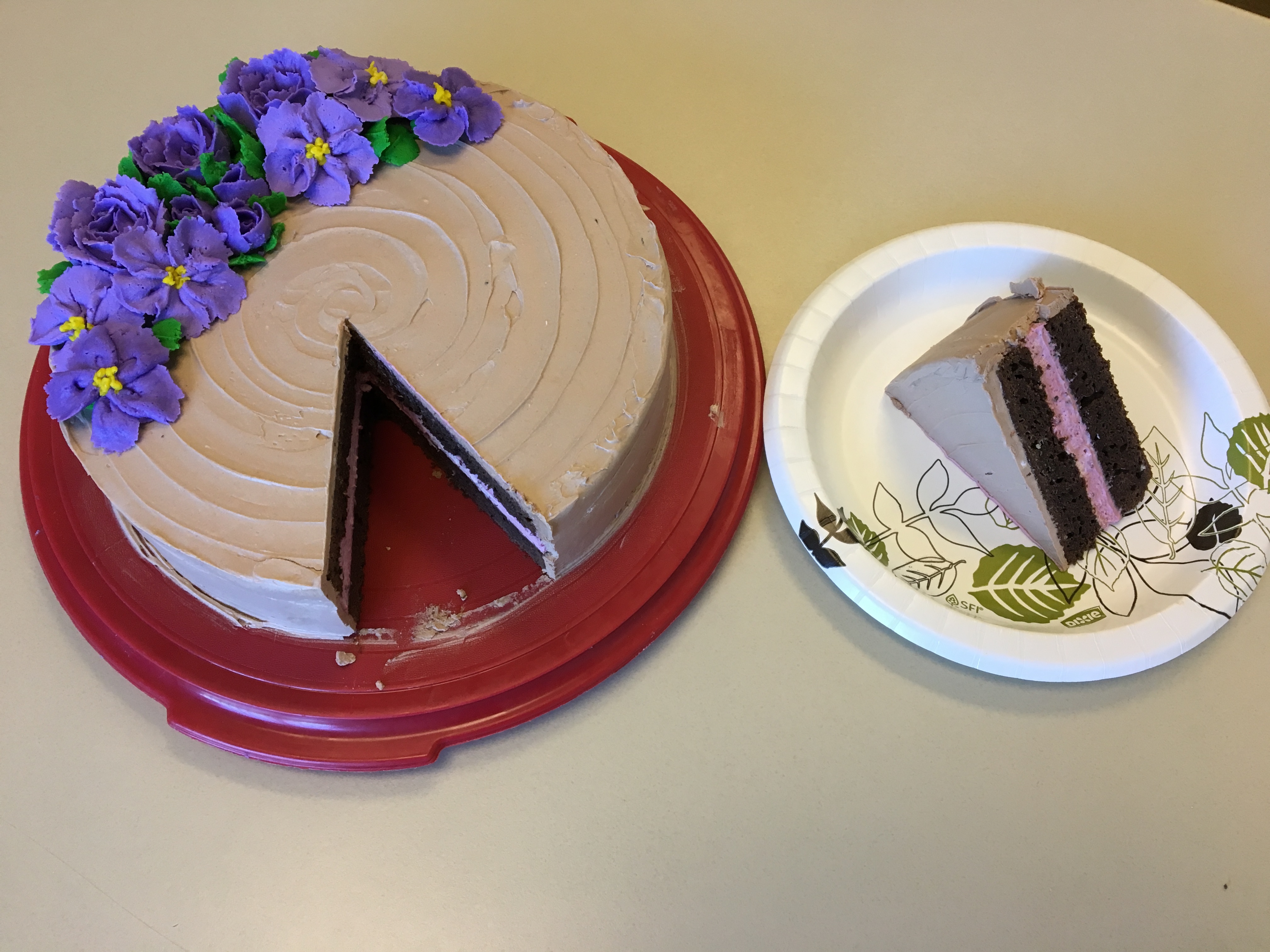 Jump to Recipe
DISCLAIMER: This recipe is for humans not dogs!
Two of my co-workers are leaving this week (bye, Meghan and Sirichai), so I did my usual thing and brought a cake into the office. When I'm making cakes (or other desserts) specifically for people, I usually fire off 5-10 questions that pop into my head and try to combine some of the answers into what I decide to make. My questions this time around were:
What's your favorite color?


M: purple fasho




S: none

What's your favorite animal?


M: sheep




S: dog

Chocolate or vanilla?


M: chocolate




S: chocolate

What's your favorite fruit?


M: strawberry




S: cherry

What's your favorite candy?


M: sour patch watermelon

Is frosting yummy or gross?


M: frosting is gucci as long as it's not everywhere and overwhelming
After some very serious deliberation, I decided on Nutella cake with Nutella frosting and cherry mousse that I would decorate with purple buttercream flowers. I got to working and ended up with my batter exploding over my stove and then setting paper towel on fire while cleaning it up. If you decide to make this cake, I suggest using a very large pot for the first step. However, batter spill aside, the Nutella cake turned out looking and tasting good.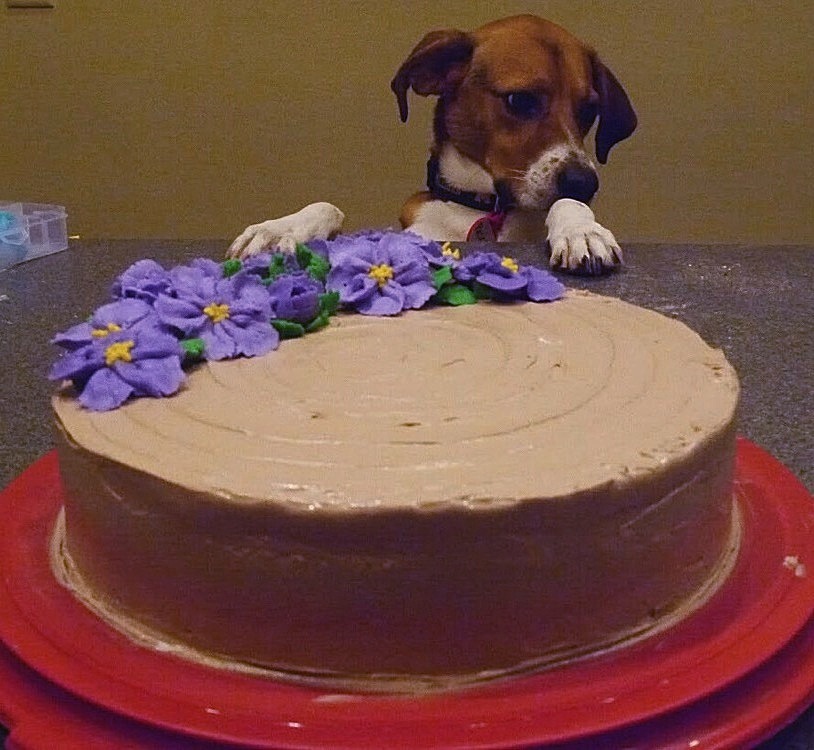 For the buttercream flowers, I made roses, rose buds, and 5-petal violets using a Wilton 104 petal tip. I filled in the negative space with the leaves. As an extra tip, I've always found that popping buttercream flowers in the freezer for a couple minutes before transferring to the cake makes handling a lot easier to avoid damaging your flowers. I use Swiss meringue buttercream (SMBC) to side almost all my cakes because it's wonderfully smooth and I hate the taste of American buttercream (ABC), but if you plan on piping flowers, make some ABC. It's a lot stiffer and SMBC has a tendency to wilt if you try to pipe it into shapes. I get most of my flower-making tipes from this book, which you can read for free if you have an Amazon Prime subscription.  
A couple notes:
For real, use a large pot. The baking soda causes the batter to expand significantly when it starts to boil.
Let the Nutella cakes cool! Mousse turns to liquid when it's warm. So does buttercream. You don't want your would-be beautiful cake to melt while assembling.
For a nice squared cake, level off the round tops. It's easiest to do this with a cake leveler or a long (mine is a 12″) serrated knife.
I find the easiest and fastest way to cover a cake in buttercream is to pipe are the side using an extra large piping tip such as this one, and then covering the top with the leftover frosting. Use a smoother and offset spatula to smooth.
If you're having trouble making the top perfectly smooth, use the cheat I used, and using an offset spatula, spin your cake table and make a spiral pattern on the top.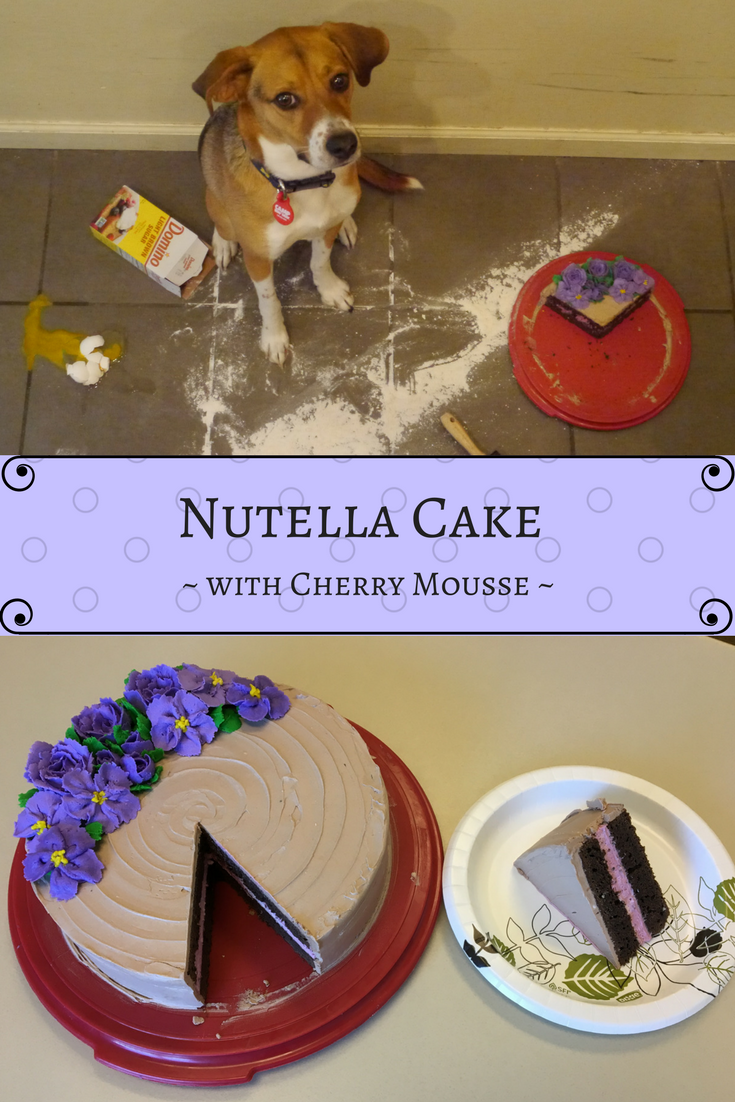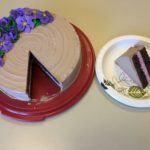 Nutella Cake Covered with Nutella Swiss Meringue Buttercream and Filled with Fresh Cherry Mousse
A dense, chocolate-y cake covered in light fluffy nutella buttercream and filled with sweet cherry mousse.
Ingredients
Nutella Cake
2.5

cups

light brown sugar

4

oz

semisweet chocolate

chips or chopped

2

sticks

unsalted butter

1/3

cup

unsweetened cocoa powder

1

cup

Nutella

2

tsp

instant espresso powder (optional)

1

tsp

baking soda

2

cups

water

4

eggs

3

cups

all-purpose flower

1

pinch

salt
Nutella Swiss Meringe Buttercream
2

egg whites

1/2

cup

granulated sugar

11.5

tbsp

unsalted butter (1 stick + 3.5tbsp)

120

g

Nutella
Fresh Cherry Mousse
13

oz

pitted cherries

5.5

tbsp

granulated sugar (separated)

1.5

tbsp

cold water

1

tsp

unflavored gelatin

1

cup

heavy whipping cream
Instructions
Bake the Cake
Preheat the oven to 350°F and prepare 2 9-inch cake pans

In a very large pot or saucepan, combine light brown sugar, semisweet chocolate, butter, cocoa powder, nutella, espresso powder, baking powder, and water

Place pot on stove and stir on medium heat until the sugar dissolves. (If the sugar doesn't dissolve first you could end up with a nice layer of hard caramel on the bottom and cake without sugar)

Increase the heat to high and stir continuously, bringing the batter to a boil

Remove from heat immediately after it comes to a boil and set aside to cool for 20min

Beat eggs in, one at a time

Stir in flour and salt, be careful not to overmix

Pour batter evenly between the 2 cake pans and bake for ~40min or until a toothpick comes out clean

Cool the cakes. I go so far as to stick them in a refrigerator or freezer to make leveling and stacking easier
Make the Mousse
Combine the cherries and 3 tbsp of granulated sugar and throw them into some kind of baking pan. (I used an 8in brownie pan but anything works really)

Put the pan in the oven for 15min, stirring every 5min

Puree the cherries and transfer to a bowl. For a super smooth mousse, strain the puree as you transfer to a bowl, but for the purposes of putting it in a cake, I wasn't too concerned with some bits of cherry so I didn't bother dirtying another thing to clean and waiting for the puree to strain

Prepare an ice bath (or if you're like me and making a bunch of ice is difficult, make some room in your freezer)

Bloom the gelatin by sprinkling it over 1.5tbsp of cold water and waiting 5min

Combine 2/3 cup of your cherry puree (which should be almost all of it, you can discard the extra), with the remaining 2.5tbsp of granulated sugar in a small pot or saucepan

Place on heat and stir continuously until the mixture comes to a boil and continue for another 30secs

Remove from heat and allow to cool for 1min

Whisk in gelatin until smooth

Again, if you want a super smooth mousse, you should strain it again at this point. I chose not to.

Place the cherry mixture in your ice bath (or the freezer) and stir until the mixture has cooled and thickened

Allow the cherry mixture to continue to cool and beat the heavy whipping cream until it forms stiff peaks using a stand mixer

Fold the whipped cream into the cherry mixture in 3 parts very gently so it the cream doesn't collapse.

Place the mousse in the refrigerator to cool and harden a bit more
Make the SMBC
Combine 2 egg whites and sugar in a large mixing bowl

Create a double-boiler by placing the bowl in a smaller pot filled partially with water. Heat on high while beating continuously

Using a candy thermometer, continue to heat and beat until the mixture reaches 150-160°F

Remove from heat and continue to beat until the whites form stiff peaks. (If you've already reached this point, set the meringue aside to cool)

Continue to beat until light and fluffy (it should look and feel like frosting)

Add in Nutella and mix until combined
Assemble the Cake
Spread mousse liberally on first layer and stack second layer on top

Cover the cake with your buttercream

Decorate with buttercream flowers or however you please
---
---