Amaretto Cheesecake Cups
Jump to Recipe
DISCLAIMER: This recipe is for humans not dogs!
For Father's Day, I wanted to make some mini cheesecakes since cheesecake is one of my dad's favorites. He's more of a praline person but I had some extra almond extract and wanted to use amaretto. Instead of doing a traditional crumb crust, I went with a cookie cup so that I wouldn't have to worry about finding mini pans and making it easier to eat without silverware since I hate accumulating dishes. Overall I was pretty happy with the outcome. If I ever make it again I'll work on cleaning up the edges of the crust so they're smoother, but the taste was fantastic.

Pascal was feeling skeptical about putting such a funky-smelling liquid into food.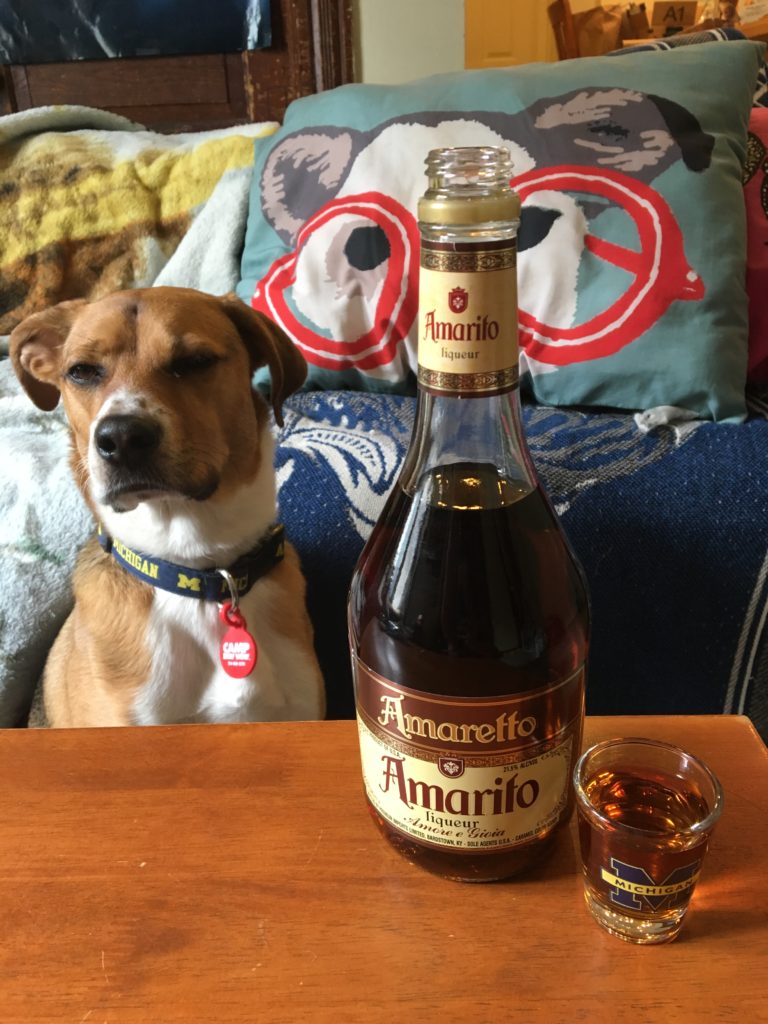 I made the cookie dough first since it needed to chill before being rolled out. I decided that the easiest way to make cookie cups was to use a muffin tin and line the tins with rolled cookie dough. To do this, one of the most important parts in order to prevent a disaster when trying to remove your beautiful finished product is to line the tins with parchment paper. To do this, cut a circle out of parchment paper, and then make cuts towards the center so that it fits well within the tin.
A couple notes:
Make the cookie dough well in advance. It needs to chill for at least 3 hours before rolling out. It can be made the night before and chilled overnight.
Be sure to line your pans with parchment paper so you can get the cheesecakes out at the end.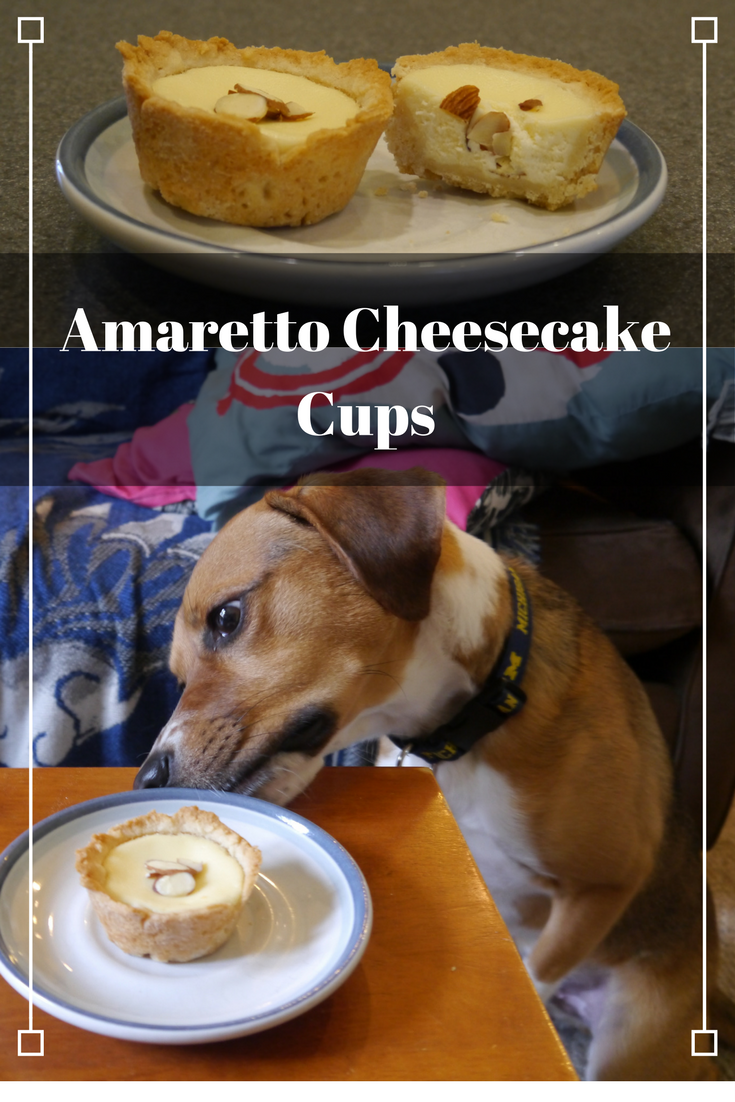 Amaretto Cheesecake Cups
Mini amaretto cheesecake inside amaretto cookie cups
Ingredients
Amaretto Cookie Cups
2.5

cups

all-purpose floud

1

cup

granulated sugar

2

sticks

unsalted butter (room temperature)

1

tsp

baking powder

2.5

tbsp

Amaretto liqueur
Amaretto Cheesecake
12

oz

cream cheese

1/2

cup

granulated sugar

1.5

tbsp

all-purpose flour

2

eggs

1/2

cup

sour cream

1/2

tsp

almond extract

2.5

tbsp

Amaretto liqueur

sliced almonds
Instructions
Cookie Dough
Beat together room temperature butter and sugar at high speed until fluffy

Mix in Amaretto liqueur and baking powder until combined

Slowly mix in flour (You can put it in all at once, I just suggest adding it slowly so the flour doesn't fly back out into your face)

Mix until dough comes together and starts to get sticky. I switch to dough hooks for this step because the dough starts to climb up my beaters
Making Cookie Cups
Make parchment paper lining for muffin tins

Take chilled cookie dough and roll out into large circles

Press cookie dough into muffin tin carefully, make sure to fill in any holes

Using a knife or fork, remove extra cookie dough from top of tin
Amaretto Cheesecake
Blend together cream cheese and sugar until light and fluffy

Add flour. Mix until incorporated.

Add sour cream, almond extract, and Amaretto liqueur. Beat until combined.

Spoon batter into cookie cups. The cups should be almost entirely full but batter should not be spilling out of the cups.

Bake for ~30min or until done. Cheesecake wobbles slightly in the center when finished, but the edges will be firm.

Decorate with sliced almonds

Chill for 3hrs before serving
---
---